« previous post | next post »
Class discussion of the Facebook pronoun data brought out some interesting points.
We started by looking at the relationship between first-person singular pronouns ("I", "me", "my", "mine") and first-person plural pronouns ("we", "us", "our", "ours") as a function of the age of the poster. Here's the ratio of FPS/FPP frequencies: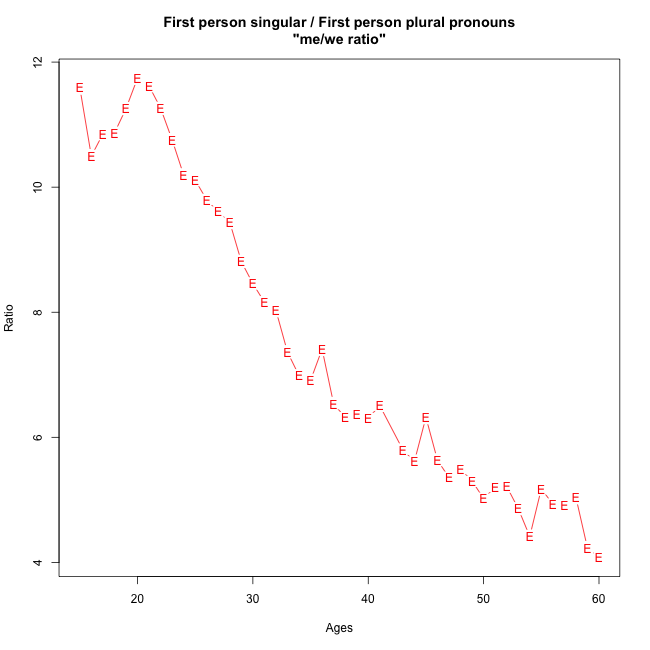 Before checking for confidence intervals, it looks like there's a big effect — from about FPS/FPP = 12 to about FPS/FPP = 4.  And since the Ns are generally pretty large, and the pattern from age to age is pretty consistent, we can be confident that the trend will be a statistically significant one.
If we look at FPS and FPP frequencies as a function of age separately, as we did in the earlier post, we see that they have complementary changes that are both contributing to the trend in the ratio:
And if we look at the FPS/FPP ratios separately for male and female posters, we see comparable patterns, with a small female weighting towards higher FPS/FPP values: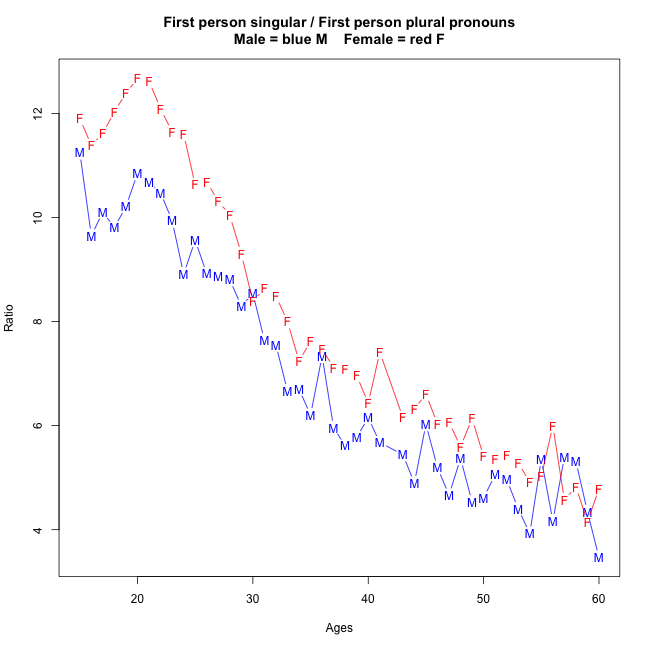 Of course, there are lots of possible hypotheses about what this trend means. The most obvious idea is that people become more other-oriented (at least in their Facebook postings) as they get older. But in a dataset of this kind, we can't tell the difference between lifecycle effects (people changing as they get older) and historical effects (cultural changes over time, with older people retaining to some extent the patterns of an earlier era). So the researchers who think that Kids Today are "Generation Me" might be inclined to interpret this pattern as evidence for their hypothesis. (See e.g. "Lyrical narcissism", 4/9/2011;  "Vampirical hypotheses", 4/28/2011; "Textual narcissism", 7/13/2012; "Narcissism in Emerging Adulthood", 8/6/2013.)
And I'm sure that readers can think of other ideas as well, as the students did in class discussion.
A plot of same-sex and cross-sex references via third-person singular pronouns also shows a clear pattern as a function of age: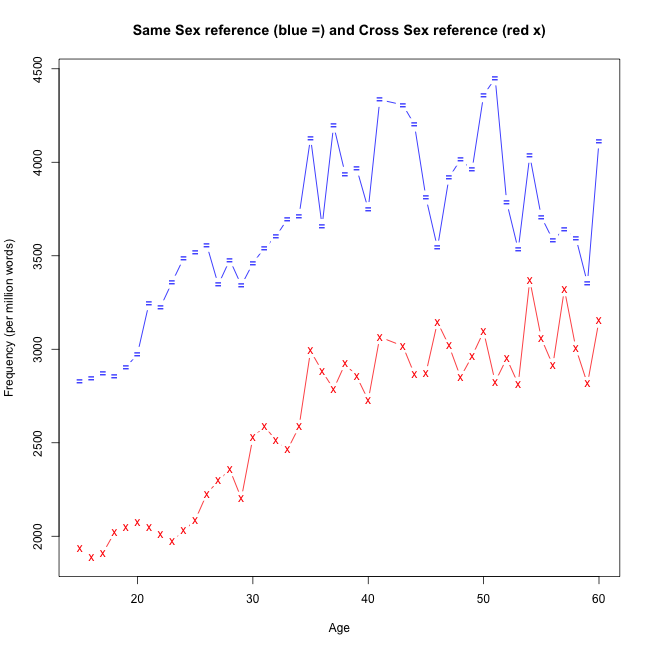 In that plot, the blue = points are same-sex reference (male posters using he, him, his, or female posters using she, her, hers), while the red x points are cross-sex references (male posters using she, her, hers, or female posters using he, him, his).
At every age, Facebook posters refer to their own sex (via gendered third–person-singular pronouns) about 40% more often, on average, than they refer to the opposite sex. And the overall rate of animate third-singular pronoun usage increases steadily from age 15 to about age 35, at which point it levels out. (And gets noisier in this dataset due to smaller sample sizes at older ages.)
But this time, when we separate the data by the poster's sex, the picture changes.
Looking first at the overall rate of animate third-singular pronoun usage, we see that the rate of  overall third-singular animate pronoun usage (she, her, hers, he, him, his) is higher at every age for female posters than for male posters (ignoring the noise caused by the relatively small numbers of older male posters in the sample).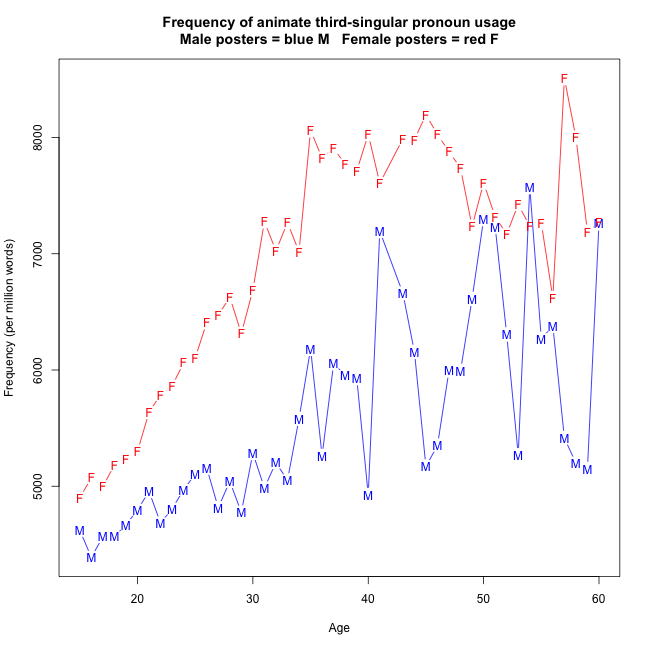 And the female advantage in animate TPS pronoun frequency widens with age.  For ages 15-22, the median animate third-singular pronoun frequency is 12% higher for female posters than for male posters; for ages 35-60, the female advantage is 28%.
An even more radical change emerges in the patterns for same- versus cross-sex third-singular pronoun references, when look separately at the data for male and female Facebookers: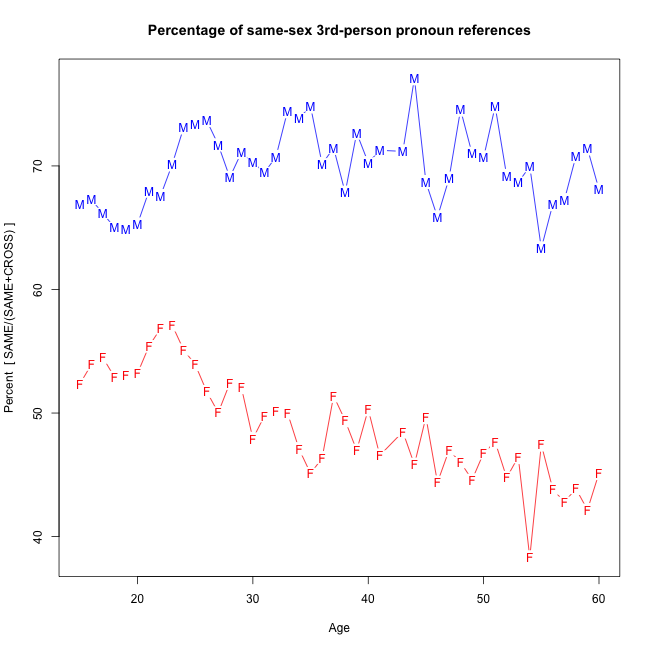 The median percentage of same-sex reference for male posters across the ages in this sample is 70%; the median for female posters is 48%. And the trends across ages of posters seem to be in opposite directions. At least it seems that older female posters are using increasing proportions of masculine pronouns, while male posters are not changing much after age 25 or so. These large differences look like bad news for the state of gender equality in contemporary American society.
As for the changes with age, we should again consider the possibility that this is frozen history rather than a life-cycle change — maybe younger people, especially younger women, are behaving differently from older people because times have changed since the old folks learned their habits. If so, then maybe history is moving towards greater gender equality. Or at least women are moving in that direction, along with males up to the age of 35 or so. A better test would be to look at overall sex differences in word usage as a function of age — that's a project for another day.
And then again, people surely do change in various ways as they get older, and maybe this is one of them.
It would be nice to explore a large collection of samples gathered across a couple of decades from a large number of people under comparable circumstances.  But a disadvantage of the rapid pace of techno-social change is that we're not likely to get this, at least not from current sources of "big data". Can we really expect that Facebook will still exist in 2034, in anything like its current form?
---