« previous post | next post »
Below is a guest post by Kieran Snyder.
---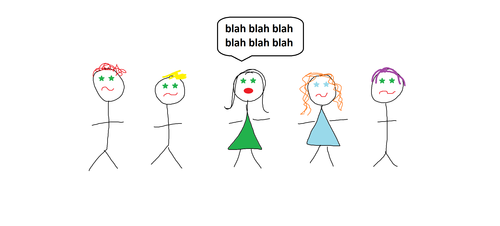 This week's earlier posting on interruptions, in which I presented data to suggest that men interrupt more than women in the tech workplace, and that women are interrupted all the time by everyone, has easily been the most viewed, discussed, tweeted, and shared jenga post so far. This is due in no small part to the cross-posting picked up by Language Log, so many thanks to Mark Liberman for sharing it and to my linguist friends who suggested it. You can take the girl out of linguistics, but it's hard to take linguistics out of the girl.
In case you missed the first post, a quick recap. In this totally observational and directional study, separate from any other factors, men interrupt women about three times as often as they interrupt other men. In a climate where interruptions happen on average once every two minutes and fifty-one seconds, there is less than one instance per hour of a woman interrupting a man for any reason. You get the idea: big tech is not an equitable environment as far as interruptions are concerned. This makes sense, since it is not a particularly equitable environment in terms of hiring and promotions either.
I wondered in conclusion how things would play out differently in single-sex environments, or in coed environments with many more women than men. I've also started tracking a parallel observational study based on how my four-year-old daughter and her friends interact, which I will report on as soon as I have enough data for it to be meaningful.
Commenters raised several excellent follow-up questions in addition to those that I posed in the original article. How much does the formal nature of the corporate setting change the overall interruption rate? Do we see different patterns for supportive interruptions (e.g. clarifying questions, statements of agreement and affirmation) and intrusive interruptions (e.g. conversational hijacks, direct disagreement and confrontation)? What is the average time to interrupt? In other words, how long are men and women respectively able to hold the floor before they are interrupted, and how long do men and women respectively yield the floor to the active speaker before initiating an interruption? These are all terrific questions that I do not right now have data for.
One question that came up a lot that I do have data for, however, is how significant professional seniority is as a variable. Because I tracked individual interrupter and interruptee speaker IDs for every interruption event that I recorded, and because I know all the people in all the conversations, I can look at a few other factors in addition to gender. In particular, because everyone in all the conversations works at the same company, I know everyone's specific professional level within the shared organization. In this post I'll go into the effect of professional seniority.
Here's what I found.
The more senior the speaker, the more they interrupt.
This won't surprise many readers, since several commenters posited that we would see a strong correlation between professional level and willingness to interrupt a colleague. The graph below illustrates interruption rate across professional levels for the 314 total interruptions that I logged. On the x-axis, A represents the most junior level and E the most senior. The speaker population is not distributed evenly across levels, with by far higher concentrations of speakers in levels B, C, and D. The y-axis representations interruption rate in terms of average interruptions/hour (rather than sheer number of total interruptions) as a means of normalizing for the uneven population distribution across levels. Recall that the rate across all speakers is close to 21 interruptions/hour.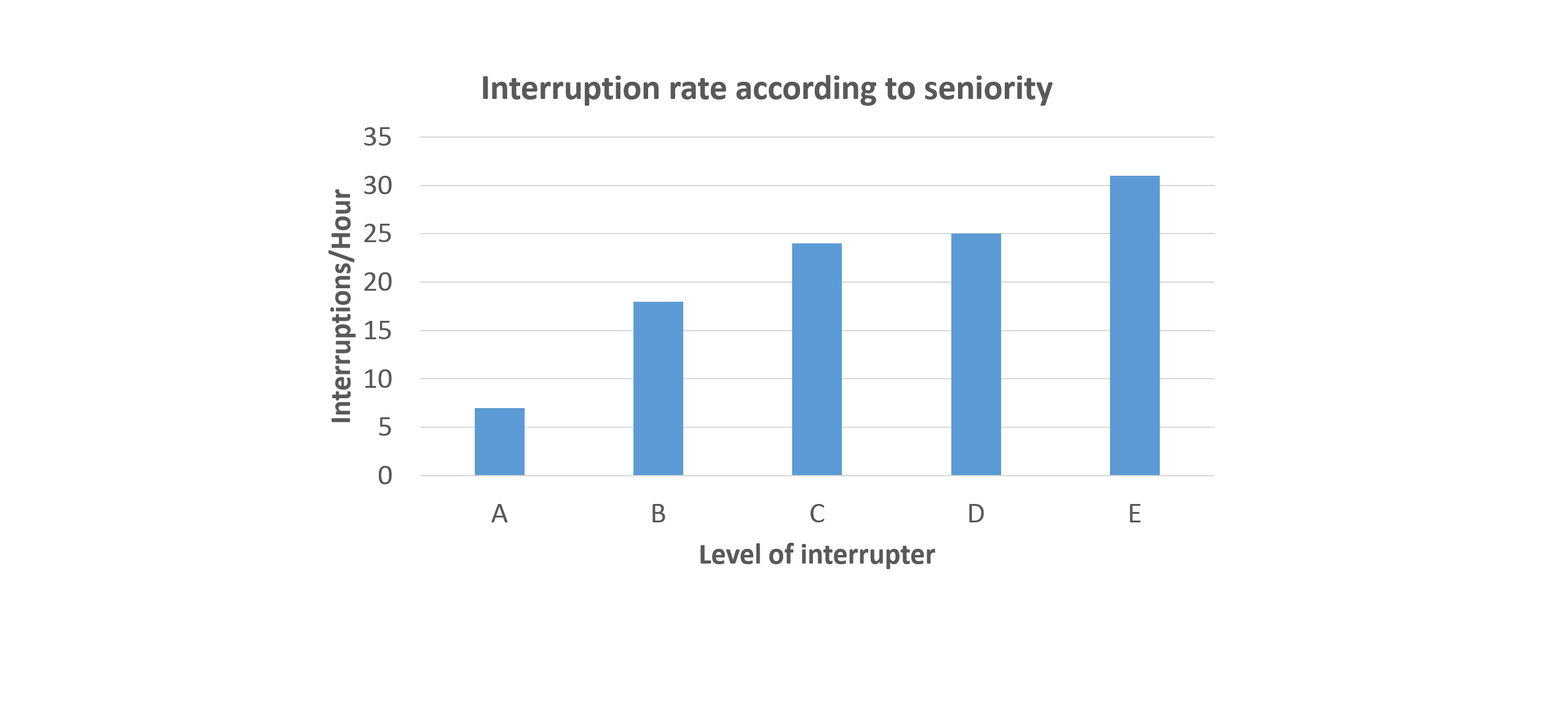 As expected, more senior speakers have higher average interruptions/hour than more junior speakers.
The more junior the speaker, the more likely they are to get interrupted. Mostly.
This is where I regret that I logged only interruptions and not overall speaking events, and also where I'm feeling like the next corporate meeting study someone does needs to use a recorded corpus. When I started on this path, I was mostly just curious what I would see and didn't know that I would find anything worth sharing. Oh well.
The table below makes it look like entry/mid-level (Level B) people get interrupted the most often, and while that is true in terms of sheer number of total interruptions, it doesn't tell the whole story. Of the 314 interruptions I logged, the plurality of them are interruptions of Level B speakers. However, since I only logged interruptions and not overall speaking turns, the numbers I have don't show what proportion of the time that Level As speak that they get interrupted. The reality is that Level As aren't speaking very much at all in these meetings to begin with, so they don't have the opportunity to get interrupted very much. Unfortunately, we'll have to prove that with data in another study.
Just as above, the figure below captures interruption rate in terms of average interruptions/hour.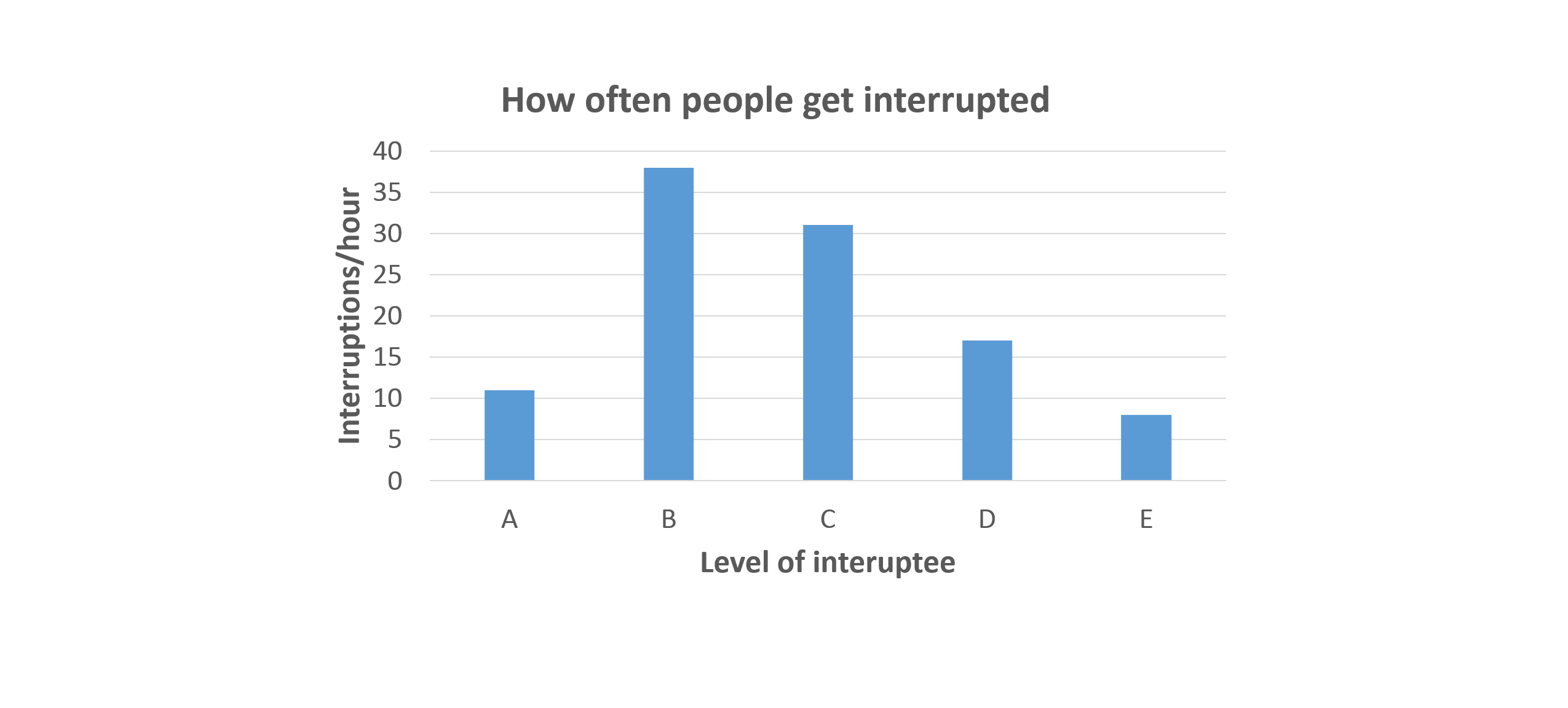 There are no senior women who aren't interrupting their male colleagues.
I mean literally there are none. Not one. Nada.
This one is a big deal so let's dive into it. There were very few women overall in Levels D and E; I am in those levels, but we can't count me since I didn't attempt to log my own interruptions. That leaves three women remaining that I observed in those levels as compared to twelve men, which is not surprising but which starts to make me feel strange about this study in a number of respects.
Recall from the last post that only 13 of the 314 total interruptions logged across 15 hours of speech were instances of women interrupting men. So wait for it – all 13 of those instances came from this set of three women. Probably not too surprising since we've just looked at data showing that senior people are the most likely to interrupt.
But it goes further: Not only do these three women interrupt everyone, gender- and level-agnostic, they represent three of the four biggest interrupters in the study. Their rates of interruption/hour are, respectively, 35, 34, and 32, with one male colleague in Level E coming in at 34 and literally everyone else in every level showing a lower rate. What's more, the next closest woman in the study, a Level B with an interruption rate of 27 interruptions/hour, trails far behind.
Here's how the top ten interrupters break down in terms of level/gender identity and their interruptions/hour rate: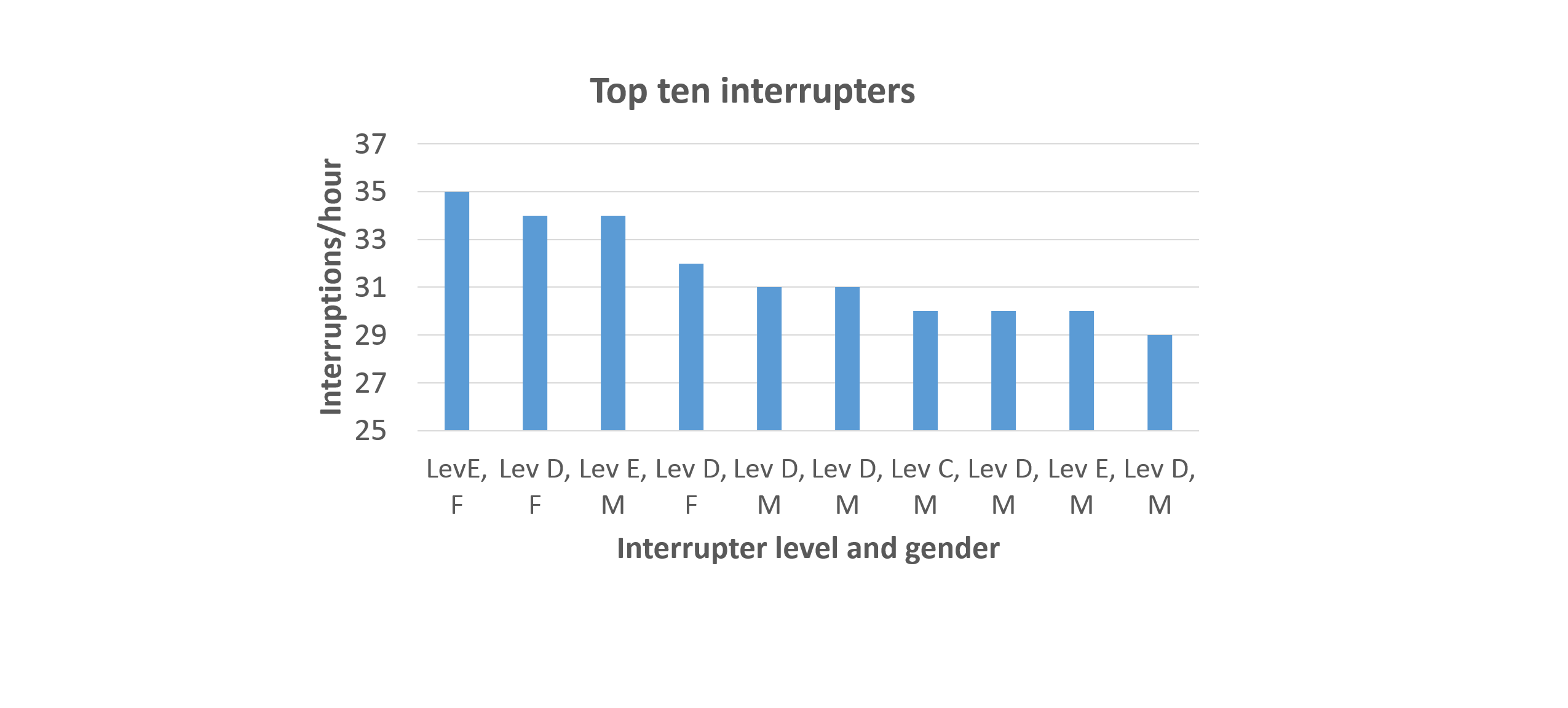 The results suggest that women don't advance in their careers beyond a certain point without learning to interrupt, at least in this male-dominated tech setting. This is really striking, and starts to put directional data behind the stereotype whereby strong female leaders are often dismissed with the pejoratives bossy, unpleasant, and bitchy. As a senior woman in technology who has at times been called all of those things, I'd like to say I'm surprised. I'm not.
There is a vital study that someone ought to do that dives into this more deeply. My observational study includes under 100 speakers, and it relies on my judgment (and only my judgment) to discern interruption events. Even just in this corporate tech setting, more rigor is needed to feel confident of the bold directional claims I present here.
But I'll tell you this: Not a single woman in technology (of any level) that I know is surprised by these results. While the academic linguistic community has appropriately responded with suggestions for follow-ups and rigorous methodology, women in tech have mostly responded, "Yeah, duh."
---
Above is a guest post by Kieran Snyder.
---