« previous post | next post »
Libin Zhang sent in the following photograph of a restaurant in Datong, Shanxi Province: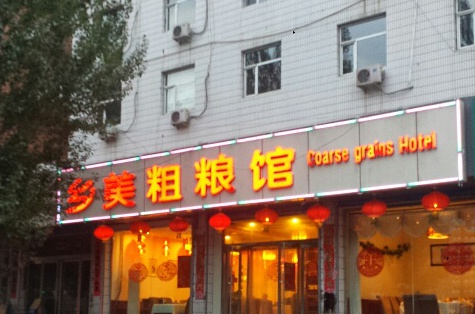 Here's a close-up of the sign, with the lettering much clearer:

It has a competitor just down the street (see the right side of this photograph):

The sign reads:
xiāngměi cūliáng guǎn乡美粗粮馆
("rural beauties coarse grain restaurant")
As is evident from the photograph, the establishment is just a dining room, not a hotel as it self-proclaims. Some of the food inside is made of buckwheat, naked oat (Avena nuda), and other whole grains.
It would probably be better to render cūliáng 粗粮 as "whole grains" or even "whole food", because it does not mean that the food is coarse, but rather that it is made of unrefined grains and other unprocessed and unrefined foodstuffs.
Jeremy Goldkorn quipped: "As quinoa is to foodies in the US, cūliáng 粗粮 is to China's chīhuò 吃货 ('food aficionados; chowhounds')".
If you search for cūliáng guǎn 粗粮馆 ("whole food / grains restaurants") on the Chinese equivalent of Yelp, you will find that almost all the big cities in China have them. For example, here are the searches for Beijing, Shanghai and Guangzhou. According to this Google map, they are indeed quite widespread.
Cūliáng guǎn 粗粮馆 ("whole food / grains restaurants") are particularly popular in Harbin, and in fact have been common there for at least ten-fifteen years. They provide traditional Northeastern countryside style foods, but cook them into delicate dishes. Throughout China, they are generally characterized as serving Northeastern and Shanxi food.
Before closing, I shall briefly reply to Libin's question about the origin of the term jiǔlóu 酒楼 (lit., "ale / brew tower / storied building"). As he says, "it has always perplexed me that it means hotel, though Google translate says it means restaurant. There are some similar words that confuse the hotel-restaurant distinction, like the famous Běijīng fàndiàn 北京饭店 ('Beijing Restaurant –> Hotel')."
We have discussed Chinese words for eating establishments in various Language Log posts (e.g., here, here, and here, but there have been many others), and I recall vaguely that I wrote extensively on these terms elsewhere, but can't provide exact links at this moment.
Anyway, jiǔlóu 酒楼 ("ale / brew tower / storied building") goes back to at least the Tang as the name for drinking establishments, but in more recent times it has become the name for a Cantonese style of restaurant (zau2lau4), while at the same time (on the principle of pars pro toto) also being used to signify a hotel.
Similarly, from late imperial times fàndiàn 北京饭店 ("hotel; restaurant; diner; victualing / eating house") has been used to signify both an eating establishment and a hotel, also on the principle of pars pro toto.
[With extensive notes on "garage" in the comments.]
[Thanks to Jing Wen, Fangyi Cheng, Rebecca Fu, and Kellen Parker]
---