« previous post | next post »
Tom Mazanec came across a poster that was located at a bus stop at one of Princeton's graduate housing complexes, and is an advertisement for a Chinese-language Christian fellowship. Here's a photograph of the poster: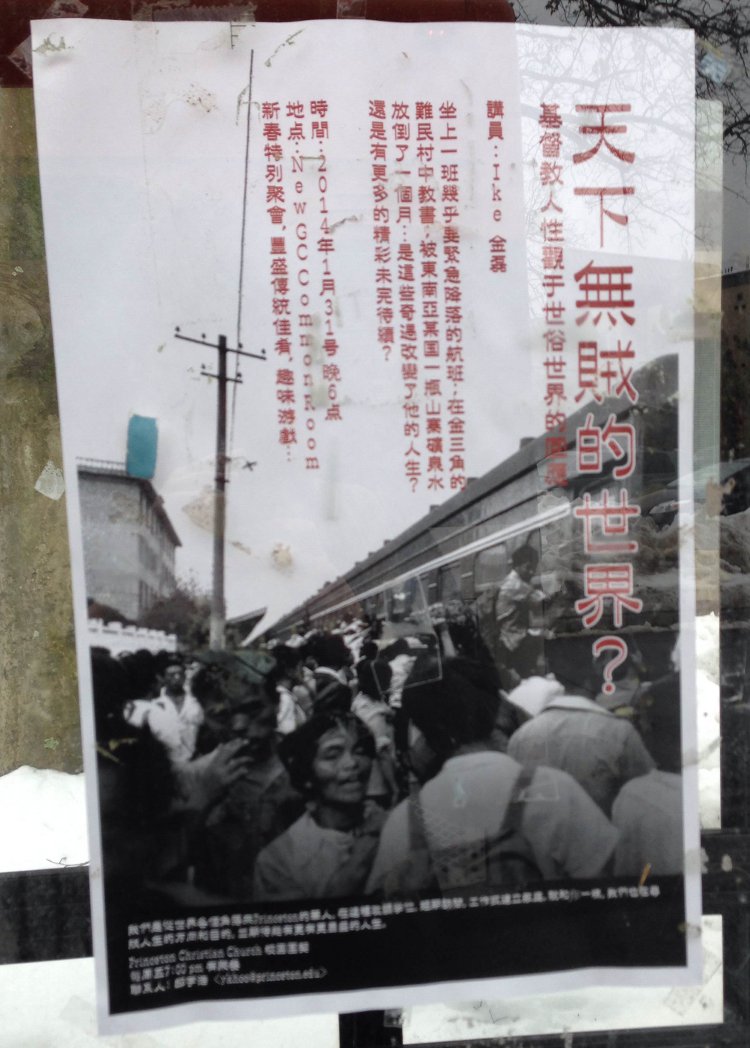 Tom says that what caught his attention was the seeming redundancy of the phrase in large characters: Tiānxià wú zéi de shìjiè 天下無賊的世界? ("A 'World without Thieves' world?"). He wondered if the phrase tiānxià wú zéi 天下無賊 is being understood here as a single lexical unit because of the influence of the famous 2004 movie starring Andy Lau, the English title of which is "A World Without Thieves".
There is no entry for tiānxià wú zéi 天下無賊 in any dictionary of chéngyǔ 成語 ("set phrases; idioms") that Tom checked. Hànyǔ dà cídiǎn 漢語大詞典 (Unabridged Dictionary of Sinitic) has entries for tiānxià wúdí 天下無敵 ("a world without enemies / foes / a match; invincible") and tiānxià wúshuāng 天下無雙 ("a world without equals; peerless"). He only found a single occurrence of the phrase in Academia Sinica's extensive database.
In the biography of Sūn Chuántíng 孫傳庭 in the Míngshǐ 明史 (History of the Ming Dynasty), the great commander says after one of his campaigns, " Cǐ zéi píng, tiānxià wú zéi yǐ 此賊平,天下無賊矣" ("With these thieves defeated, there really are no thieves in the empire / world").
Now, how did this apparent redundancy come about? Basically it's because tiānxià 天下 and shìjiè 世界 have very different sources and implications, even though we may translate both of them as "world".
The first, tiānxià 天下, is a very old, indigenous term that literally means "beneath heaven" and is usually translated as "all under heaven".
It occurs in the earliest Chinese geographical text and is intimately linked to Chinese cosmological and political concepts. Originally, tiānxià 天下 signified the whole of the Chinese empire in the largest sense, but it subsequently came to be extended beyond that to include the entire world.
Recently, particularly in light of China's current "rise", tiānxià 天下 has taken on a new life and has become the topic of energetic discussions about China's destiny and relationships with other nations.
The second, shìjiè 世界, has a distinctly Buddhist background and may be tied to Sanskrit terms like lokadhātu and to ideas about the cosmos.
The constituent characters used to write shìjiè 世界 help to shed light on its metaphysical dissimilarities with tiānxià 天下 ("all under heaven"):
世 generation; world; era; age; life; lifetime
界 boundary; scope; limit; extent; domain
Taking all of the above into consideration, I would say that Chinese who read the question on that poster — Tiānxià wú zéi de shìjiè 天下無賊的世界? ("A 'World without Thieves' world?") — would not be troubled by the redundancy that seems so obvious to someone who processes it through translation.
---