« previous post | next post »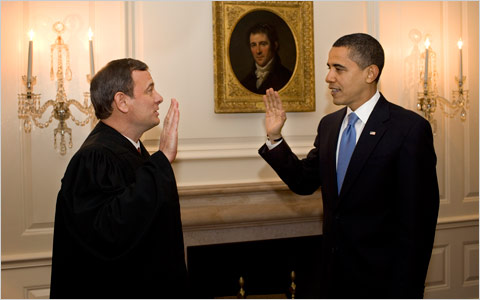 When Chief Justice John Roberts and Barack Obama made a hash of the presidential oath of office on Tuesday, most early commentators — including me — assumed it didn't really matter what they said, since Obama had officially become president at noon (shortly before they actually got to the oath). But some legal scholars pointed out that the oath is still required under the Constitution and argued that a "do-over" should be performed, just to be safe. Today, the do-over proponents won out, and at 7:35 pm EST, Roberts again swore in Obama in the Map Room of the White House. From the Wall Street Journal's Washington Wire:
"We decided it was so much fun," Obama joked before again stating the words written in the Constitution. "Are you ready to take the oath?" Roberts asked. "I am, and we're going to do it very slowly," Obama quipped.
The oath took 25 seconds, and the recitation was flawless this time. "Congratulations, again," Roberts said. "Thank you, sir," Obama replied.
"The bad news for the [press] pool is there's 12 more [inaugural] balls," Obama joked.
This will be of no comfort to conspiracy theorists on the right (who said Obama was not president because the oath was invalid) or on the left (who said Roberts intentionally sabotaged the oath because Obama had not voted for his Supreme Court confirmation). It may also put a crimp in the activity of Youtube satirists, who have been having a field day with the flub.
The do-over is, however, a boon to speech-act theorists, who will have an object lesson in the performativity of oath-swearing to dissect for years to come.
Meanwhile, on the New York Times op/ed page, Steven Pinker makes a compelling case that John Roberts moved the word faithfully out of the phrase "will faithfully execute" because his "inner copy editor" was trying to enforce the old "split verbs" prohibition. This idea was floated in our comments section by Coby Lubliner, and Mark Liberman agreed with Coby's "astute observation." Mark, who has written about the "split verbs" rule here and here, figures this grammatical injunction was beaten into Roberts during his legal training, since it's apparently a favorite of law review editors. (I've got more to say on this point in my latest Word Routes column on the Visual Thesaurus.)
[Update: You can compare the audio for the two oaths on CNN here.]
---