« previous post | next post »
Karen Serago sent in the following photograph taken by her husband, Ben Yu, of a restaurant in Taiwan that specializes in duck dishes: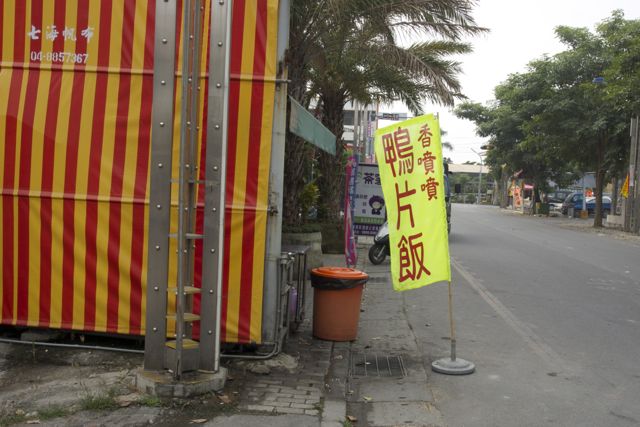 The large characters on the sign out front say yā piàn fàn 鸭片飯 ("rice with sliced duck" or "rice with duck slices").
Everyone who reads it, however, is automatically going to think of yāpiàn fàn 鸦片飯 ("opium rice").
Now, yā piàn 鸭片 ("duck slices") and yāpiàn 鸦片 ("opium") are ostensibly perfect homophones. However, while others may not make a distinction between the two (most people claim that they are identical in sound), I personally would pronounce them slightly differently, with a tiny pause between the two syllables of yā piàn 鸭片 (indicated by a space in the spelling) and a full, strong 4th tone on the second syllable, whereas for yāpiàn 鸦片 I would run the two syllables together and not give such an emphatic 4th tone on the second syllable. That's just my own preference; I'd be interested to hear what other people have to say about the comparative pronunciation of these two terms.
I think that some (most?) people from Beijing would probably put an -r at the end of yā piàn 鸭片 ("duck slices") but not at the end of yāpiàn 鸦片 ("opium"), though it would be nice to have that confirmed (or denied) by native Beijingers.
N.B.: See below at the end of this post for extensive survey documentation of how various individuals pronounce yā piàn 鸭片 ("duck slices") and yāpiàn 鸦片 ("opium").
It's not just the fact that these two terms are homophones that makes one think of yāpiàn 鸦片 ("opium") when one sees yā piàn 鸭片 ("duck slices"), they are also near homonyms and homographs (I know that I'm going to get into trouble here). The second syllable / character is the same in both terms, while the first syllable is identical in both, and the orthography of both first characters shares the bird radical (niǎo 鳥), though the phonophores are different: yá 牙 vs. jiǎ 甲. I have given the pronunciation of the two phonophores in Modern Standard Mandarin (MSM), but note that they sound more alike in the various southern topolects:
牙 Cantonese ngaa4, Hakka nga2, Chaozhou / Teochew ghê5
甲 Cantonese gaap3, Hakka gap7, Chaozhou / Teochew gah4
For those who have been wondering, whereas yā 鸭 means "duck", yā 鸦 literally means "crow", but in the word yāpiàn 鸦片 ("opium") it serves a strictly transcriptional purpose (although some might argue that it also simultaneously conveys meaning; conceivably the yā 鸦 could signify the blackness of the crow which is like the color of the dried latex of the poppy, and the piàn 片 ["slice"] could refer to some aspect of the preparation of the opium).
Be that as it may, the transcription yāpiàn 鸦片 for "opium" is already to be found in the Materia Medica (Běncǎo gāngmù 本草綱目) of Li Shizhen (1518 – 1593), and it certainly was deeply entrenched in the Chinese vocabulary by the middle of the 19th century. Although there are other transcriptions and translations for "opium" in Chinese (see here), yāpiàn 鸦片 is far and away the best known, and — in that form — it had an enormous impact on Chinese history, society, and culture. Consequently, when people see yā piàn 鸭片 ("duck slices"), they cannot help but think of yāpiàn 鸦片 ("opium").
So inescapably does yā piàn 鸭片 ("duck slices") draw one to yāpiàn 鸦片 ("opium") that — unless they want to achieve some sort of humorous effect — speakers will naturally avoid saying yā piàn 鸭片 when they want to refer to sections of duck meat and say instead something like yā kuài 鸭块 ("duck pieces"), yā sī 鴨絲 ("shredded duck") or yā tiáo 鸭条 ("duck strips"), though these (especially the last one) sound a bit odd too.
yā kuài 鸭块 281,000 ghits
yā sī 鴨絲 230,000 ghits
yā tiáo 鸭条 56,800 ghits
yā piàn 鸭片 214,000 ghits
Despite the (intentionally) awkward name, "opium rice" is very famous in Taiwan, as can be seen here, here, and here.
Oh, the smaller characters to the right side on the sign say xiāngpènpèn 香噴噴 ("puffingly fragrant"). It would seem that this dish, yā piàn fàn 鸭片飯 ("rice with sliced duck" or "rice with duck slices"), is so delicious that it is highly addictive.
SURVEY: Idiolectal pronunciation of yā piàn 鸭片 ("duck slices") and yāpiàn 鸦片 ("opium") by native speakers and extremely advanced, highly fluent foreign speakers of Mandarin.
1. Chinese-American professor of Chinese language (my first Mandarin teacher!):
Please remember that I am not a reliable native speaker source.
But I would pronounce both the same: yāpiàn.
I have heard people say yǎpiàn but I don't know which character would correspond.
2. Korean-German specialist on Mandarin and Cantonese:
I asked two young (age <25) speakers (and of course didn't tell them about yāpiàn or yǎpiàn as choices). One (from Henan) told me that in both cases only yāpiàn is correct. The other (from the Northeast) told me that both are yāpiàn, but that yǎpiàn is an alternate reading for 鸦 片 which one might hear from older people. The same person also tells me that 鸭片 would be an ad-hoc compound and infrequently used.
3. One of the best American-born speakers of Mandarin I know:
I would follow what I have read in standard Mandarin dictionaries and pronounce them the same, i.e., both first syllables in first tone and both second syllables in fourth tone. But my wife, who is a native speaker of Pekinese, says she pronounces the first syllable of 鸦片 in what sounds to me like a half-third tone.
4. Native Beijinger and respected college teacher of Mandarin:
I don't quite know what 鸭片 is, and I would certainly not give an r-accent to it.
As for 鸦片, ya3 or ya1, I hear them both and I pronounce it both ways, but with a slight inclination towards ya1.
5. Native speaker and respected university professor of Mandarin:
Interesting. In their "fowl" meanings, there is no variation in tone. duck is always ya1; so is raven ya1 as in wu1ya1. But ya3pian4 seems to be a possible pronunciation of opium along with ya1pian4.
6. Highly advanced American-born speaker of Mandarin with expertise in phonology:
I would use relatively longer duration on both syllables for the first one (lingering a bit), and shorter duration on both syllables for the second one (a bit choppy), I think. No neutralization in either case.
Had to think about this one quite a while to figure out if there would be a real difference or if I was just imagining some sort of difference in my head. At first, I tried to work something out in terms of neutralization, like: "Mandatory full tones for the first one, but neutralization optional for the second one??" But finally I got out of that box and thought about duration instead.
Even if my response above regarding duration is "wrong" for distinguishing this pair (from a native speaker's perspective), I'm glad you posed the question because it made me think about duration as a somewhat neglected "dimension" — surely quite important to be aware of in some situations, if not this one in particular!
(By the way, the Gwoyeu Tsyrdean and several modern dictionaries that I looked at later indicate no neutral tone for opium, but both Mathews and Fenn show it with a neutral tone. Curious.)
7. Native speaker from Hunan but educated (B.A. and M.A.) at Tsinghua in Beijing:
I think that in Mandarin the pronunciations of the two words are the same. However, there might be a difference in the pronunciation of the topolect in my hometown, although I am not sure about the sound of "鸦".
8. Native speaker who is a university instructor of Mandarin:
I will naturally pronounce 鸭片 with an '-r' ending.
9. One of the best American-born Mandarin speakers and teachers I know:
I think that native Mandarin speakers would, yes, pronounce these slightly differently. More elongation on the first-tone ya for the duck strips, I would say.
VHM: Four other native speakers from Taiwan and the Mainland (all college and university instructors of Mandarin) said that they pronounce 鸭片 and 鸦片 the same way.
[Thanks to Fangyi Cheng, Jing Wen, Maiheng Dietrich, Melvin Lee, Grace Wu, Liwei Jiao, Gloria Bien, Stephan Stiller, Thomas Bartlett, Perry Link, Jiajia Wang, Zheng-sheng Zhang, and Conal Boyce]
---