« previous post | next post »
Below is a photo that Bryan Van Norden took of a baseball cap a guy was wearing at a casino in Atlantic City. Someone else at the table asked him what it meant, and he said he thought it was Chinese for "good luck." Bryan explained that he was wrong.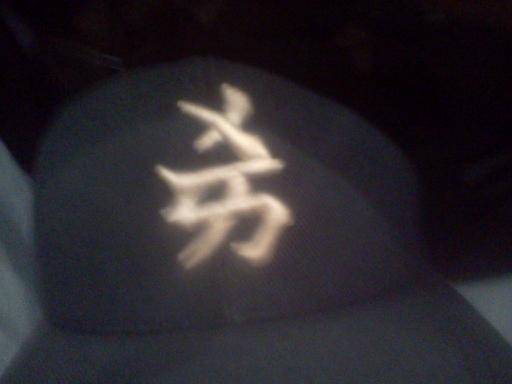 The symbol on the cap actually consists of two "letters" of the phonetic symbols that were introduced in the Republic of China during the 1910s. Called chu4-yin1 fu2-hao4 / zhùyīn fúhào / ㄓㄨˋ ㄧㄣ ㄈㄨˊ ㄏㄠˋ 注音符號 ("phonetic symbols") or bopomofo (after the first four symbols of the notation system), they are still in use in Taiwan today.
The two symbols on the cap are ㄨ and ㄞ. Together they would be pronounced "wai". Not having a tone indicated, wai could mean either of the following:
wài 外 ("outside; foreign; exterior", etc.)
wāi 歪 ("devious; crooked")
There are several other obscure characters that may be pronounced "wai" and mean such things as "mouth awry", "sprain; twist", "river bend and mountain recess", "scoop", and "inclined; slanting; askew". I doubt that the gentleman who was wearing this cap would have been happy had he known that "wai" not only does not mean "good luck", but has a slew of inauspicious meanings attached to it.
But the story doesn't end there.
Back in about 1999, the New Era Cap Company of Buffalo, New York put some baseball caps featuring zhuyin fuhao on the market (who knows why?). You can still find them on eBay, some of them at pretty steep prices. Sometimes the phonetic symbols have a relation to the team name, sometimes it's not so obvious what the relationship is.
The Atlantic City casino gentleman's cap pictured above is actually for the Yankees, and if you look at the logo on the real Yankees cap shown on the website whose link is provided here, you can see that the two phonetic symbols stacked one atop the other bear a slight resemblance to it.
Ju ㄐㄩ for the Giants is easy, since that is indeed the first syllable of the name of the San Francisco Jùrén 巨人 ("giants").  Xi ㄒㄧfor the Cubs is not so transparent, and neither is en ㄣ for the Mets. Bo (ㄅ) and Fo (ㄈ) may have been used as standalone symbols, perhaps for the Braves and the Marlins, though they must be used in combination with other symbols when transcribing Mandarin sounds.
Jason Cox tells me that he recalls these caps being so unpopular that he never saw one being worn, so it is quite a throwback for one to show up on a man's head in Atlantic City now more than a decade later. It is also a remarkable coincidence that Jason mentioned these caps to me a couple of weeks ago, while Bryan independently and quite unexpectedly sent me the photograph of the Atlantic City cap just this afternoon. Weird concurrence!
[Thanks to Jason Cox and Grace Wu]
---