« previous post | next post »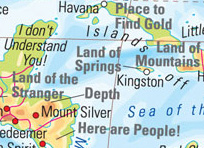 As reported by Der Spiegel and picked up by the New York Times blog The Lede, two German cartographers have created The Atlas of True Names, which substitutes place names around the world with glosses based on their etymological roots. It's a very clever idea, but in execution it enshrines some questionable notions of "truth."
The cartographers, Stephan Hormes and his wife Silke Peust, say they were inspired by J.R.R. Tolkien's maps of Middle Earth, which include names like "Dead Marshes" and "Mount Doom." So they've filled their world maps with similarly descriptive toponyms. "We wanted to let the Earth tells its own story," Stephan Hormes told Der Spiegel. "The names give you an insight into what the people saw when they first looked at a place, almost with the eyes of children. Through the maps, we wanted to show what they saw."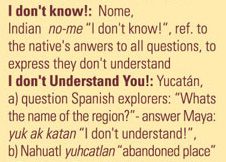 From a brief examination of the "true" names given on the maps, it appears that the cartographers have accepted a good number of disputed derivations and folk etymologies. Some of the popular etymologies are quite persistent. For instance, there's the old story about Yucatán meaning "I don't understand (you)," which goes back to early Spanish sources. The Wikipedia page on the conquistador Francisco Hernández de Córdoba (Spanish, English) traces it back to Fray Toribio de Benavente Motolinia's Historia de los indios de la Nueva España (History of the Indians of New Spain, c. 1541). There are plenty of competing theories, such as Bishop Diego de Landa's story that it's a Hispanicized version of Ci uthan, meaning "they say it." Or perhaps it's from Nahuatl Yokatlan "place of riches" (disputed here), or from a word meaning "massacre" (from yuka "to kill" and yeta "many" — so says Adrian Room's Place Names of the World). Even Hormes and Peust give another possibility: Nahuatl yuhcatlan "abandoned place" (see discussion in this report by David & Alejandra Bolles, who throw a few more potential origins on the fire).
Similarly, the story that the name of the Alaskan town of Nome comes from a phrase meaning "I don't know" (ki-no-me) goes back to 1905 at least. A 1901 letter by George Davidson (recently noted here by Jon Weinberg) provides another popular theory, that the map notation ? Name was misread as C. Nome (for Cape Nome). (The Nome Convention and Visitor Bureau accepts this derivation.) Wikipedians suggest that Nome could actually have been named after a similar Scandinavian toponym, but I don't know how plausible that is.
The Nome = "I don't know" and Yucatán = "I don't understand you" stories are replicated by other popular etymologies that tell of miscommunications between European explorers and indigenous people. Kangaroo is another one, as discussed by Cecil Adams in his column "The Straight Dope." After discovering the parallels between the supposed derivations of kangaroo, Yucatán, and Nome, Adams writes: "Having now had the 'I don't know' yarn turn up in three different parts of the globe, I can draw one of two conclusions: either explorers are incredible saps, or somebody's been pulling our leg."
Some of the etymological glosses given in The Atlas of True Names are misleading in other ways. "New York" is given as "New Wild Boar Village." That's based on the idea that York in England derives from Old English eofor "wild boar" + Latin vicus village. But the Anglo-Saxon name Eoferwic was evidently a folk etymology of sorts, reinterpreting the earlier toponym Eboracum, a Latinization of Celtic Eborakon, said to mean "place of yew trees." So should the "true" name of (New) York relate to boars or yews?
Amazon is given as "The Boat Destroyer," although it's usually said that Francisco de Orellana named the river for the mythical Greek tribe of Amazons after a 1541 battle with local female warriors (or perhaps male warriors whom Orellana mistook to be female). Granted, some take this to be a folk etymology, perhaps a corruption of a Tupi or Guarani word for "wave." The conjecture that it originally came from a native word amassona meaning "boat destroyer" is given by various old sources, but this was disputed as early as 1857 by Daniel P. Kidder and James C. Fletcher in Brazil and the Brazilians. (They say the derivation "has no foundation whatsoever.")
Other examples are more mysterious. Nicaragua means "Here are People"? Many sources say there was a lake the Spanish called Nicaraoagua after a local chieftain named Nicarao combined with agua "water." Regardless, you'd think agua has to figure in there somewhere (Wikipedia suggests "surrounded by water"), so I have no idea where the "people" might come in. [Update: Looking at the website again, I see they explain this as Nahuatl nican "here" + arahuac "people".]
I'm sure Language Log readers could come up with any number of additional problematic names in the atlas. But there's a more fundamental flaw to this project. Calling these glosses "true names" is nothing more than the etymological fallacy on a grand geographic scale. Does rendering New York as "New Wild Boar Village" really tell you "what the people saw when they first looked at a place, almost with the eyes of children"? Or how about Vancouver rendered as "From the Cowford"? (Vancouver was named after George Vancouver, whose name is from Dutch van Coevorden, denoting someone from the town of Coevorden, lit. "cow-ford.")
Even when the toponyms are more descriptive, rather than relating to the settlers' origins, the names are hardly pure and childlike. In many parts of the world, place names actually tell messy narratives of colonial encounters or other cultural contact situations. Wiping away all that history might make the world seem more like Tolkien's Middle Earth, but it doesn't tell us anything "true." The makers of the atlas say it "restores an element of enchantment to the world" — sorry, call me disenchanted.
[Update #1: On her MSNBC show, Rachel Maddow reported on the atlas — video is here, starting about 3 minutes in. She was quite taken with the Yucatán story, commenting, "If ever there was a more perfect summary of colonialism, I do not know of it." A little too perfect, I'd say.]
[Update #2: Stephan Hormes writes in to say that he included numerous caveats in the introduction to the atlas:
Not all translations are definitive. The reader may be offered a number of possible alternatives, or the translation may be prefixed by 'probably' or 'presumably'.
The atlas shouldn't replace a scientific work about etymology, it is meant as an invitation to the people to start looking at the world through fresh eyes.
If you're looking for mistakes, you'll always find some, even in ordnance survey maps. There's a saying in German whether you look if the glass is half full or half emptied. I think we have approximately 80% of true names, 20% are disputed or still remain unknown.
Just take the Atlas of True Names as an idea to visualise the world of etymology to a broad audience at a glance. And these people haven't seen such a world before.
Of course, none of those caveats were picked up by the media accounts that I was going by. My apologies for coming down a bit too hard on a work that was never intended to be scholarly. In a more charitable post, Languagehat treats the atlas more in the spirit of fun in which it was presented.]
---