« previous post | next post »
Crazy English: crazier than you imagined!
An anonymous tipster sent me this photograph taken in a washroom at the Kunming Airport: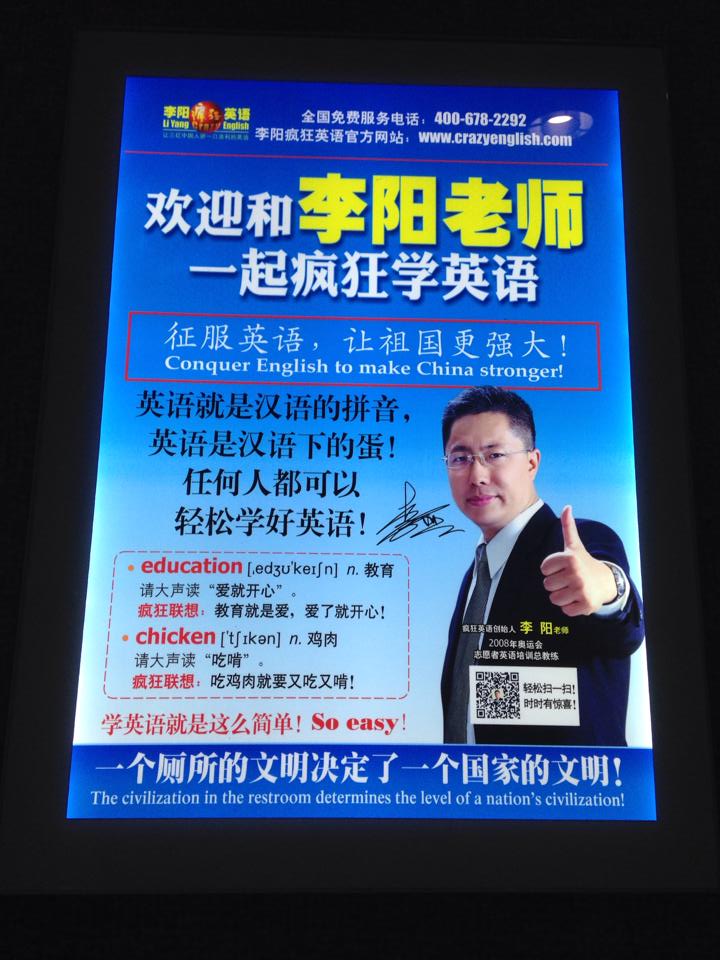 Before annotating and explicating the Chinese on this poster, just a brief review of some of the posts about Crazy English, bathroom language, and the Kunming airport on Language Log and elsewhere:
If you're curious about Li Yang as a wife-beater, search the web under Li Yang + domestic violence OR wife beating OR divorce. If you add the name of his abused American wife, Kim Lee, you'll find many more links, including some that lead to articles like this one in the People's Daily (from the Shanghai Daily): "It's normal to beat wife in China – Li Yang."
All right, now down to business. Since the contents of this poster are so incredible, I will translate almost everything on it that I can make out with the naked eye. When the English on the poster is passable, I will incorporate it in my treatment without comment.
quánguó miǎnfèi fúwù diànhuà 全国免费服务电话
nationwide free telephone number
Li Yáng Fēngkuáng Yīngyǔ guānfāng wǎngzhàn 李阳疯狂英语官方网站
Li Yang Crazy English official website
huānyíng hé Li Yáng lǎoshī yīqǐ fēngkuáng xué Yīngyǔ 欢迎和李阳老师一起疯狂学英语
Welcome you to crazily study English together with teacher Li Yang
zhēngfú Yīngyǔ, ràng zǔguó gèng qiángdà! 征服英语,让祖国更强大!
Conquer English to make the fatherland stronger!
Yīngyǔ jiùshì Hànyǔ de pīnyīn 英语就是汉语的拼音
English is spelling for Sinitic
Yīngyǔ shì Hànyǔ xià de dàn! 英语是汉语下的蛋!
English is an egg laid by Sinitic!
rènhé rén dōu kěyǐ 任何人都可以
Anybody can do it
qīngsōng xuéhǎo yīngyǔ! 轻松学好英语!
Learn English easily!
jiàoyù 教育
education
qǐng dàshēng dú 请大声读
Read loudly
ài jiù kāixīn 爱就开心
If you love you'll be happy
fēngkuáng liánxiǎng 疯狂联想
Crazy association
jiàoyù jiùshì ài, àile jiù kāixīn 教育就是爱,爱了就开心
Education is love; if you love you'll be happy
jīròu 鸡肉
chicken meat
qǐng dàshēng dú 请大声读
Read loudly
chī kěn 吃啃
eat-gnaw
fēngkuáng liánxiǎng 疯狂联想
Crazy association
chī jīròu jiù yào yòu chī yòu kěn 吃鸡肉就要又吃又啃
When you eat chicken, you have to eat and gnaw
xué Yīngyǔ jiùshì zhème jiǎndān 学英语就是这么简单
Learning English is that simple
yīgè cèsuǒ de wénmíng juédìngle yīgè guójiā de wénmíng 一个厕所的文明决定了一个国家的文明
Civilization in a restroom determines a nation's civilization
Never mind the wife beating and the craziness, people still flock to Li Yang to learn English, as they do to countless other teachers and schools in China. The craze for learning English in the PRC has not yet peaked. Of course, there are those who wish that English did not play such a prominent role in the lives and minds of the Chinese citizenry.
Note that, so far, this is only a proposal. I doubt seriously that parents and students will want to lessen the emphasis on English, which is arguably the most important key to success for Chinese, both inside and outside the country.
Cèsuǒ yīngyǔ wànsuì! 厕所英语万岁!
Long live toilet English!
Fēngkuáng yīngyǔ wànsuì 疯狂英语万岁!
Long live Crazy English!
---