« previous post | next post »
The whole world knows about Fukushima. Lest its reputation forever be associated with nuclear disaster, ending up as an East Asian Chernobyl, the city wishes to refurbish its image as a dynamic, forward-looking, productive place. To that end, the Fukushima Industries Corporation (a leading manufacturer of commercial freezer refrigerators and showcase freezers) has devised a new mascot: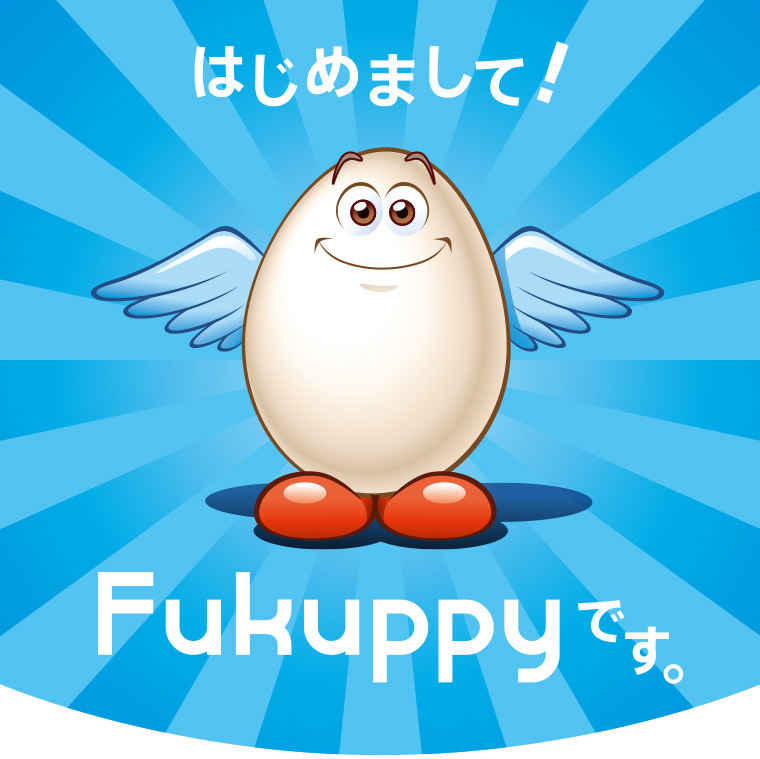 "Hajimemashite. Fukuppy desu." = "My name is Fukuppy. Nice to meet you."
The website where Fukuppy is introduced has the following fascinating Q & A:
Q: Where were you born?
A: I was born in a Fukushima [i.e., Fukushima Industries, which explains the Roman lettering] refrigerator.
Q: Are you a boy or a girl?
A: I'm still an egg, so I don't know. But I call myself "boku" [implying, perhaps, a sort of jaunty "good, middle-class, urban" boyishness].
Q: What about your personality?
A: I love eating and I'm very curious. I think I'm kind and have a strong sense of justice, but everyone else says I'm a bit of a goofball. But I never forget to polish myself to keep myself shiny!
Q: What's your job? And what kind of special skills do you have?
A: I patrol refrigerators, kitchens, and supermarket display cases with these wings I'm so proud of. I can talk to veggies, fruits, meat, and fish, so I can check on their health. Another important job is produce new things to make the people of the world happy.
The idea of an egg is interesting, though, saisei 再生 ("rebirth") is one of the going talking points on Fukushima. It's been used as a kind of protest against gov't/TEPCO(Tokyo Electric Power Company)-led fukkō 復興 ("reconstruction; revival; renaissance"), which is a functional equivalent of fukkyū 復 旧 ("restoration; rehabilitation; restitution"); there are those who want to go back to the way things were, but many others see this as an opportunity to bring about positive change in the structure of Japanese socioeconomics that have made the Tohoku region (the northeastern portion of Honshu, Japan's largest island, where Fukushima is located) an "internal colony" (kokunai shokuminchi 国内植民地) or "national sacrifice zone."
But what about the construction of Fukuppy's name? The Japanese seem to have picked up the habit of attaching "–pii" ピ イ at the end of practically any word or name to make up a new, lovable, or catchy nickname. There are old, established examples like ochappī おちゃっぴい for playful, noisy, young girls ("chatterbox; saucy / talkative / precocious girl"), which can be found in dictionaries. Almost makes me think of the last part of "puppy"!
Fukuppy's name, of course, is formed by taking Fuku(shima) as the first part, and the Fuku- 福 of Fukushima 福島 means "happiness", "good fortune", etc. to begin with. So Fukuppy is actually a very nice name for a mascot in Japanese.
Thus it would appear that the moniker for Fukushima's new mascot was created by combining the idea of "happiness" with "Fuku(shima)". However, through Google, I came upon a 24 year old girl from Hokkaido, a nursing student, who had seemingly independently named herself Fukuppy, So "Fukuppy" is not only felicitous, it is also fairly obvious for a company logo or prefectural mascot.
There are hundreds of people calling themselves with names having -ppii / -ppy attached at the end. For example, there are "rippy mama", "kerokeorokeoppii", "happii (歯っぴい), "torippy", "furoppii", "rappy", and so forth. In most cases I have no ideas what these names mean.
Oh, by the way, it's not just the Fukushima Industries Corporation that has adopted an egg as its logo. This comes from the Fukushima Prefecture Facebook page: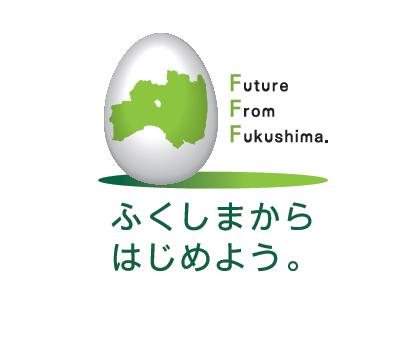 [Hat tip to Mark and Jeremy Mandel; thanks to Nathan Hopson, Cecilia Segawa Seigle, and Miki Morita]
---