« previous post | next post »
From a current Starbucks ad, a nice example of a non-projective English sentence: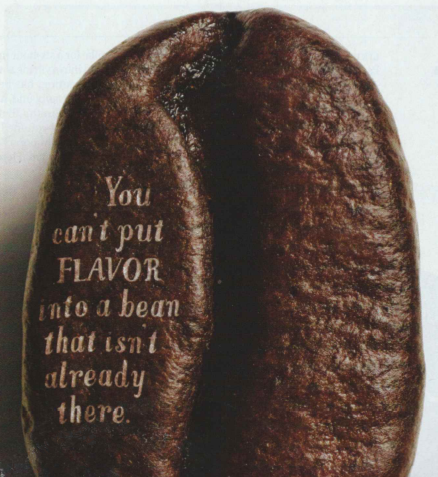 For those of you who are not up-to-date on the terminology of computational linguistics, here's an explanation of what "non-projective" means, from Ryan McDonald and Georgio Satta, "On the Complexity of Non-Projective Data-Driven Dependency Parsing", Proceedings of the 10th Conference on Parsing Technologies, Prague 2007:
Dependency representations of natural language are a simple yet flexible mechanism for encoding words and their syntactic dependencies through directed graphs. […] Figure 1 gives an example dependency graph for the sentence Mr. Tomash will remain as a director emeritus, which has been extracted from the Penn Treebank. Each edge in this graph represents a single syntactic dependency directed from a word to its modifier. In this representation all edges are labeled with the specific syntactic function of the dependency, e.g., SBJ for subject and NMOD for modifier of a noun. To simplify computation and some important definitions, an artificial token is inserted into the sentence as the left most word and will always represent the root of the dependency graph. […]
The dependency graph in Figure 1 is an example of a nested or projective graph. Under the assumption that the root of the graph is the left most word of the sentence, a projective graph is one where the edges can be drawn in the plane above the sentence with no two edges crossing. Conversely, a non-projective dependency graph does not satisfy this property. Figure 2 gives an example of a nonprojective graph for a sentence that has also been extracted from the Penn Treebank. Non-projectivity arises due to long distance dependencies or in languages with flexible word order. For many languages, a significant portion of sentences require a non-projective dependency analysis. Thus, the ability to learn and infer nonprojective dependency graphs is an important problem in multilingual language processing.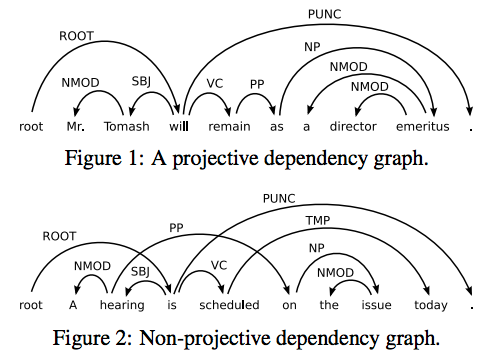 Why is "You can't put flavor into a bean that isn't already there" non-projective? Well, the prepositional phrase "into a bean" is part of the complement of the verb "put", while the relative clause "that isn't already there" modifies the noun "flavor". So the arc connecting "put" to "in" will cross the arc connecting "flavor" to the relative clause.
The unconstrained problem of parsing non-projective sentences is NP-hard, if  scoring depends on grandparent or sibling features — which is necessary for good performance. In other words, unconstrained non-projective dependency parsing is impossible in practical terms, for the same reasons that context-sensitive languages are in general algorithmically  intractable. So there's been a lot of recent work on how to define what we might call "mildly non-projective" dependency parsers, which can handle things like the Starbucks example, but retain plausible performance. A notable recent example is Emily Pitler et al., "Finding Optimal 1-Endpoint-Crossing Trees",  TACL 2013.
---