« previous post | next post »
David Moser saw this photograph of a child's essay via Twitter: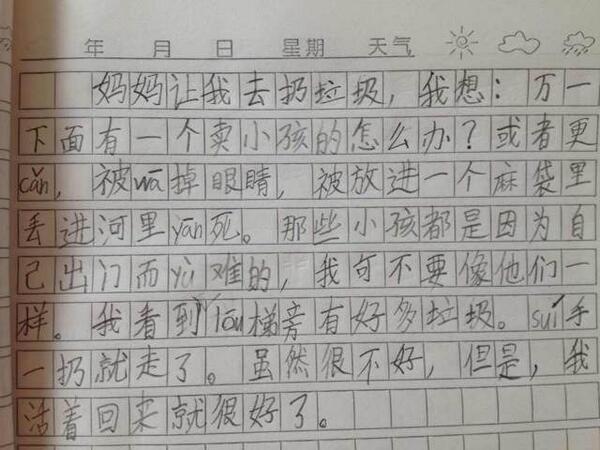 Since David sent this essay to me about a week ago, I've seen it on many other Chinese sites. While we can't be sure of the age of the child who wrote it (Chinese friends estimate 3rd grade), two aspects of the essay make it interesting for anyone who is able to read it. One is the level of terror that this poor kid has to live under. He/she is afraid of having his/her eyes torn out (which an organ trafficker recently did to a six-year-old boy while playing in Linfen, Shanxi Province), of being thrown into a river to drown, etc., all the things that happen to kids in China.
The second aspect is that you can see the kid's level of character writing by the insertion of Pinyin when he / she doesn't know how to write the character in question. Apparently teachers allow students to just use Pinyin if they need to express characters they haven't studied yet or have studied but forgotten.
Here are the characters for which the child substituted Pinyin Romanization:
cǎn 慘 ("wretched; tragic; miserable; cruel; brutal; inhuman; merciless")
wā 挖 ("gouge; dig; scoop; excavate")
yān 淹 ("drown; submerge; flood")
yù 遇 ("meet; encounter")
lóu 楼 ("floor; story [of a building]")
suí 隨 ("follow; allow; comply with")
It is evident that this child's spoken vocabulary is larger than his / her ability to write characters at the same level.
There used to be a formal, and very successful, program called zhùyīn shìzì, tíqián dúxiě 注音识字提前读写 (Phonetically Annotated Character Recognition Speeds Up Reading and Writing), or Z.T. for short, which actively encouraged children to use Pinyin Romanization for characters they were unable to write. See "How to learn to read Chinese".
Whether the child has forgotten the above characters or never learned them, at the time he / she wrote this essay he / she was unable to produce them and resorted to Pinyin.
Here are some relevant Language Log posts:
Pinyin can also come in handy for words that adults know how to say but have no idea how to write:
All of these developments, spurred by reliance on IT devices, is leading to the emergence of digraphia in China, even without the intervention of government. This child's essay indicates that digraphia is already starting to happen, with students resorting to Pinyin when they cannot recall how to write a certain Chinese character.
Here is a glossary of up-to-date internet terms, most of which are not to be found in standard dictionaries. It is conspicuous how many of the entries in this glossary are non-Sinographic, being derived from English and written in Pinyin or even with numbers (which are being used for their sounds) instead of characters.
Another form of digraphia that is taking place in the Sinosphere is that between Mandarin in Taiwan and in Mainland China.
All of these developments evince a healthy focus on successful written communication without regard to a single, rigid form of writing.
[Thanks to David Moser]
---