« previous post | next post »
Sunday's post on "Listless vessels" opened with this clip:
The movement has got to be
about what are you trying to achieve on behalf of the American people
and that's got to be based in principle
uh because if you're not rooted in principle
uh if all we are is listless vessels that just supposed to follow
you know whatever happens to come down the pike on Truth Social every morning
that- that's not going to be a durable movement
And in the 30th comment, Yuval wrote
FWIW, both utterances of "principle" sound like 'princible' to me.
He's absolutely right — but what those two words "sound like" leaves an important theoretical (and practical) question open.
First, let's look at (and listen to) Ron's "principles".
Here's the first one, followed by an image of the waveform and spectrogram, with the closure of (what the dictionary says is) the /p/ of _ple in outlined in red: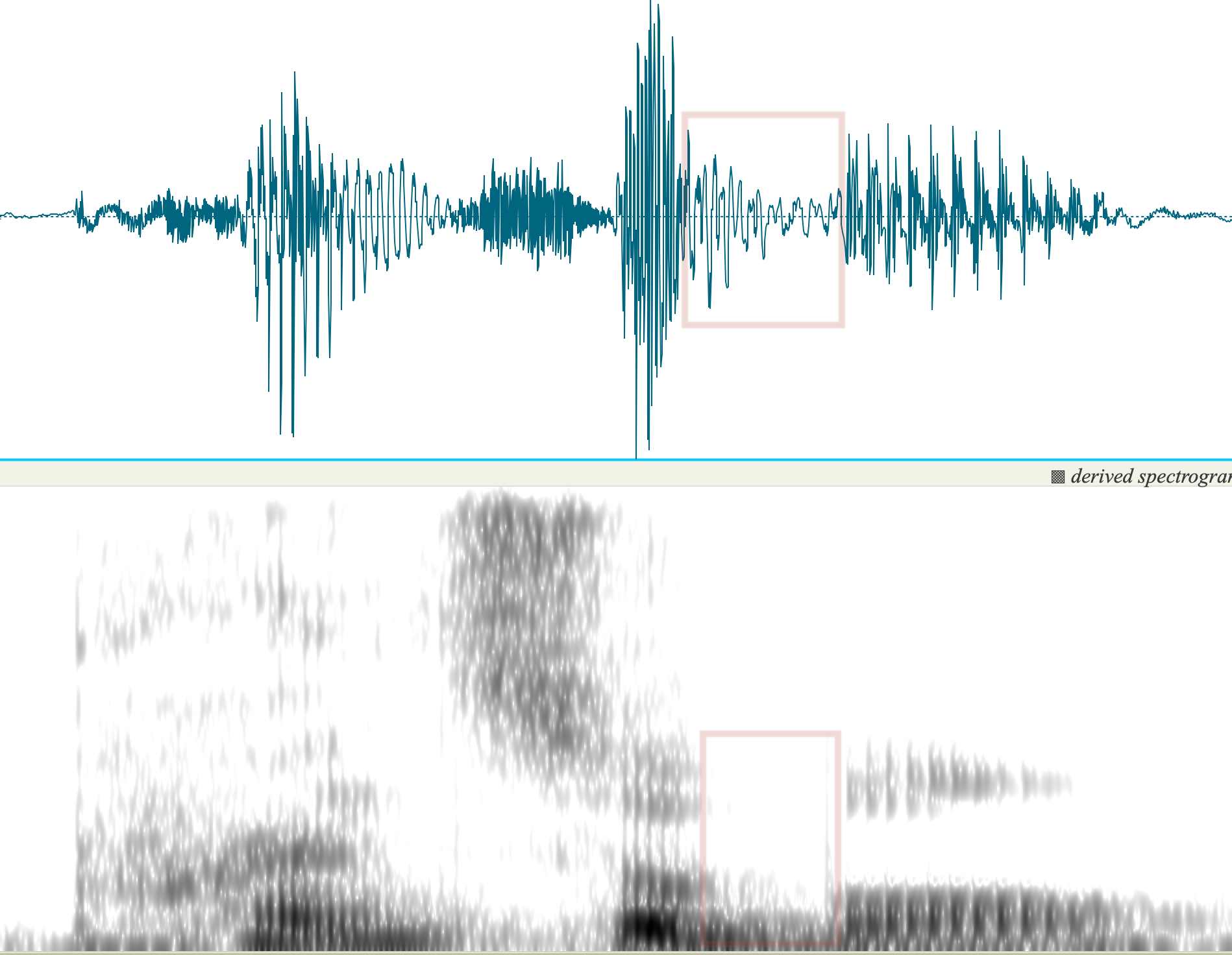 If you're at all familiar with interpreting images of waveforms and spectrograms, you'll see that the voicing continues throughout the closure, and the release is weak, short, and voiced (unlike the burst of the word-initial /p/).
And here's the second one: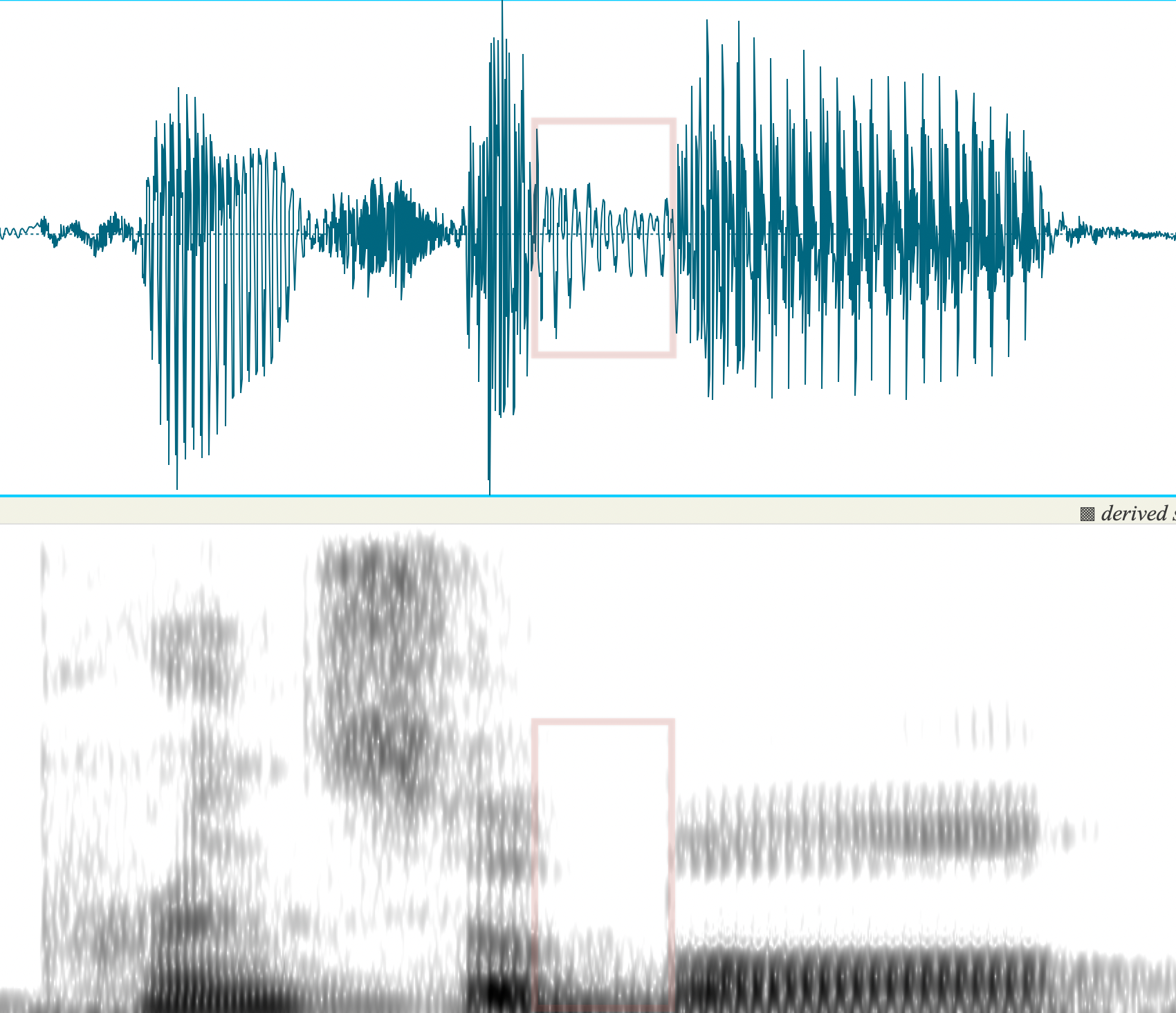 Same thing.
This is an instance of a much more general fact about English in general, and American English in particular — consonants are "lenited" (== weakened), especially in intervocalic position, when they aren't part of the onset of a stressed syllable. "Lenition" often means that voiceless stops become voiced, voiced stops become fricative-like — and more extreme changes in phonetic performance are also common.
The best-known example of this type of allophonic variation is the "flapping and voicing" of /t/, that results in "latter" sounding the same as "ladder". What Gov. DeSantis does with the second  /p/ in "principle" is another example of the same sort of thing.
And that sort of thing happens to the word "principle" a lot. The NPR podcast corpus I've mentioned before has 2,160 examples of the word "principle", of which I selected 200 at random. Most of them exhibit a variety of lenitions in the final two syllables — which are sometimes further reduced to something like [svl̩] in IPA-ese. Gov. DeSantis' less-reduced pattern is common — here's Barbara Bradley Hagerty, from "Catholics Split On Obama's Birth Control Decision", NPR All Things Considered 2/10/2012:
Now, she says, the country can implement health care reform,
which has at its core a principle dear to the church
And zeroing in on "principle":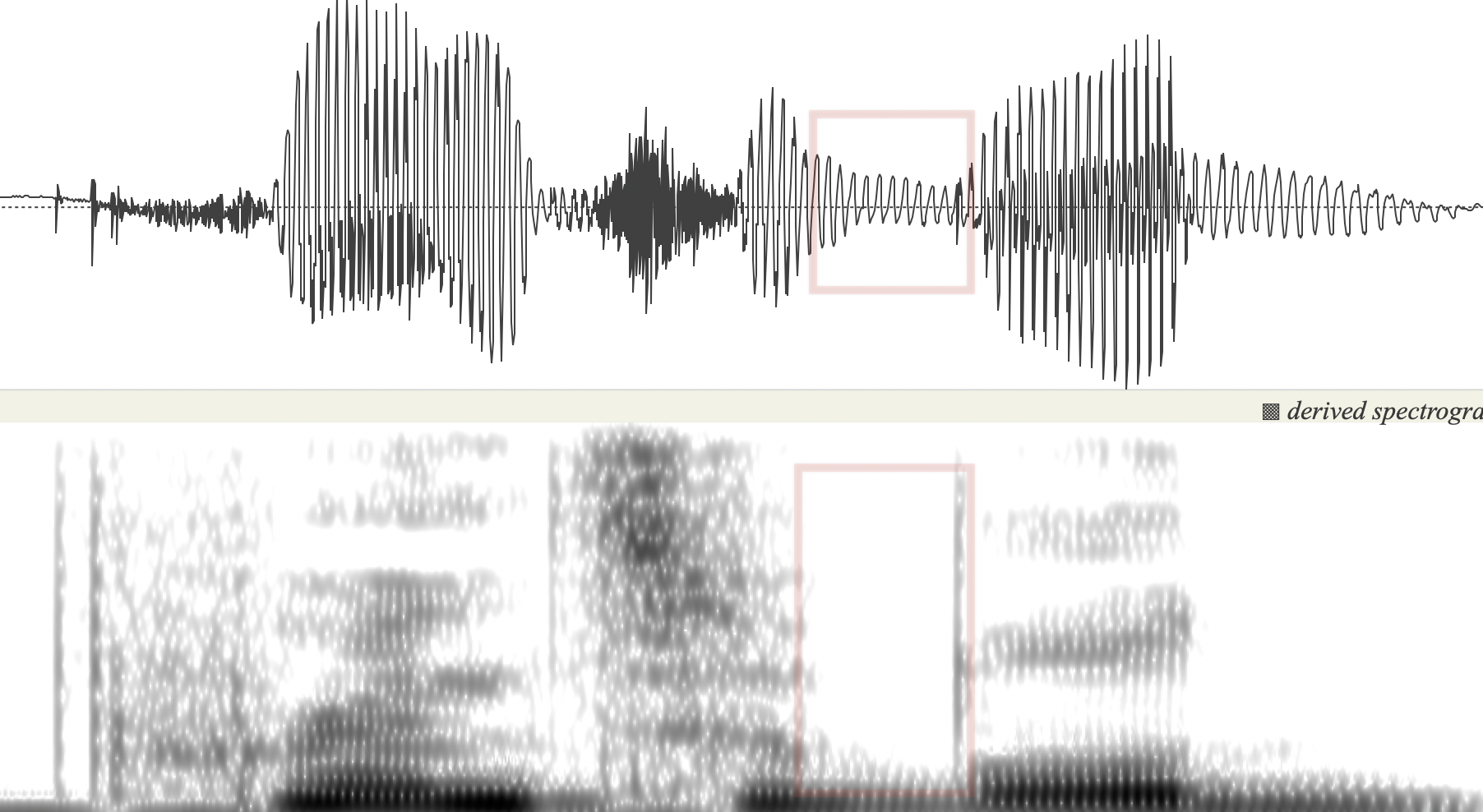 Again the realization of the /p/ is voiced throughout, though there's a slightly stronger release than in the DeSantis examples.
So what's the "important theoretical question" that I brandished at the start of this post?
Have these instances of (the phonological category of) consonant /p/ really turned into instances of (the phonological category of) consonant /b/? Or are these examples just one region in a spectrum of variably-lenited and co-articulated phonetic implementations of the abstract phonological pattern in question?
In other words, is (this kind of) allophonic variation a mapping of symbols to symbols? Or is it just of part of the (necessary) translation of symbols into (articulatory and acoustic) signals?
In my 2018 paper "Towards Progress in Theories of Language Sound Structure", among other places, I argue that the null hypothesis should be the phonetic implementation theory, claiming that in every case where anyone has looked seriously into patterns of allophonic variation, that hypothesis wins empirically. In the cited chapter, I look in depth at some phenomena in English and in Spanish — many other cases in many languages have been studied over the years, e.g. Jiahong Yuan and Mark Liberman, "Investigating Consonant Reduction in Mandarin Chinese with Improved Forced Alignment", InterSpeech 2015.
What does this mean about Ron's "princibles"? I predict, in advance of doing the work, that a large sample of the phonetic implementations (by American speakers) of the second /p/ in "principle", although often voiced, would be different from a comparable sample of  implementations of  the /b/ in "sensible" — and that the differences would not fit very well with the hypothesis that some instances of /p/ were simply turned into /b/. And similarly for other near-minimal-pairs.
---