« previous post | next post »
In an interview on Friday ("DeSantis plans to do what Trump couldn't | Full Interview with Will Witt", The Florida Standard 8/18/2023), Ron DeSantis referred to (some of?) Donald Trump's followers as "listless vessels":
The movement has got to be
about what are you trying to achieve on behalf of the American people
and that's got to be based in principle
uh because if you're not rooted in principle
uh if all we are is listless vessels that just supposed to follow
you know whatever happens to come down the pike on Truth Social every morning
that's- that's not going to be a durable movement
Needless to say, negative reactions have occurred. Some are listed in Andrew Zhang, "MAGA world lashes out over DeSantis' 'listless vessels' remark", Politico 8/19/2023:
The Trump campaign and MAGA world on Saturday blasted Florida Gov. Ron DeSantis for remarks appearing to label some of the former president's supporters "listless vessels."
"DeSantis goes full-blown Hillary and call[s] MAGA supporters 'Listless Vessels,'" Trump campaign spokesperson Steven Cheung wrote on X […]
"To Hillary Clinton, Trump supporters are 'deplorables.' To Ron DeSantis, they are 'listless vessels.' The truth is, Trump supporters are patriots," MAGA, Inc. spokesperson Karoline Leavitt said in a statement.
But since this is Language Log, not Effects Of Political Insults Log, what's the linguistic angle?
The first point is that "listless vessel" seems to be a stock DeSantis phase. In an interview on Fox News immediately following his disastrous attempted campaign  launch on Twitter Spaces, DeSantis used the same phrase to describe Joe Biden ("Ron DeSantis: I'm running to lead a 'Great American Comeback'", Fox News 5/24/2023):
We see the federal government making it more difficult for families
to make ends meet and we have a president
who is a listless vessel
uh not energetic
and not dealing with the key challenges
that are facing our country
but it does not have to be this way
And back on June 2, David Weigel tweeted (X-ed?) about two other instances from Ron and Casey DeSantis:
A DeSantis-ism you heard a lot this week: "Listless vessels." That's how Ron describes students getting constitutional educations ("so when they graduate they're not listless vessels") and how Casey describes sell-out DC politicians ("they become listless vessels").

— David Weigel (@daveweigel) June 2, 2023
In several other examples from recorded speeches, DeSantis uses the term "listless vessels" to describe students whose education has not filled them with what he considers the proper ideas about history and politics. Here's a link to a later (June 22) South Carolina Town Hall where he explains that
every single person we produce
is going to be a citizen of this Republic
and I think it's incumbent upon us
to make sure that when they're graduating
and going out in the real world they're not just listless vessels
that they actually have a foundation of knowledge
about the principles that have made this country unique
Here's a link to a LeadershipPA speech on April 3, 2023, where he puts the same message a bit differently:
we owe it to them to make sure these students are graduating with a foundation,
knowledge about what it means to be an American,
not just graduating listless vessels
uh who really have no idea of what they have in our country
And a link to DeSantis' speech at the National Conservatism Conference back in September 2022, where again the "listless vessels" are students who haven't been filled with the proper ideas:
… we have an obligation to produce people
who are going to to be able to discharge the duties of being an American citizen
and you don't do that
by graduating people who are listless vessels
you got to give them a proper foundation
so they can make sense of the world around them …
So the idea that uneducated or mis-educated students are "listless vessels" is clearly a standard trope for him. It's a plausible extension of his worldview to apply the term to Joe Biden — but characterizing Trump supporters as uneducated or mis-educated?
For Casey DeSantis, the phrase seems usually to describe politicians who don't do (what she considers to be) the right things, e.g. in this "Meet & Greet" from August 4  in Iowa:
but when you see people just the bloviating
and the constant I'm going to do this and I'm going to do that
and then they become listless vessels up in Washington
and they give you a million reasons why they couldn't do it
Google Books believes that the phrase can be also found in DeSantis' 2011 book "Dreams from Our Founding Fathers":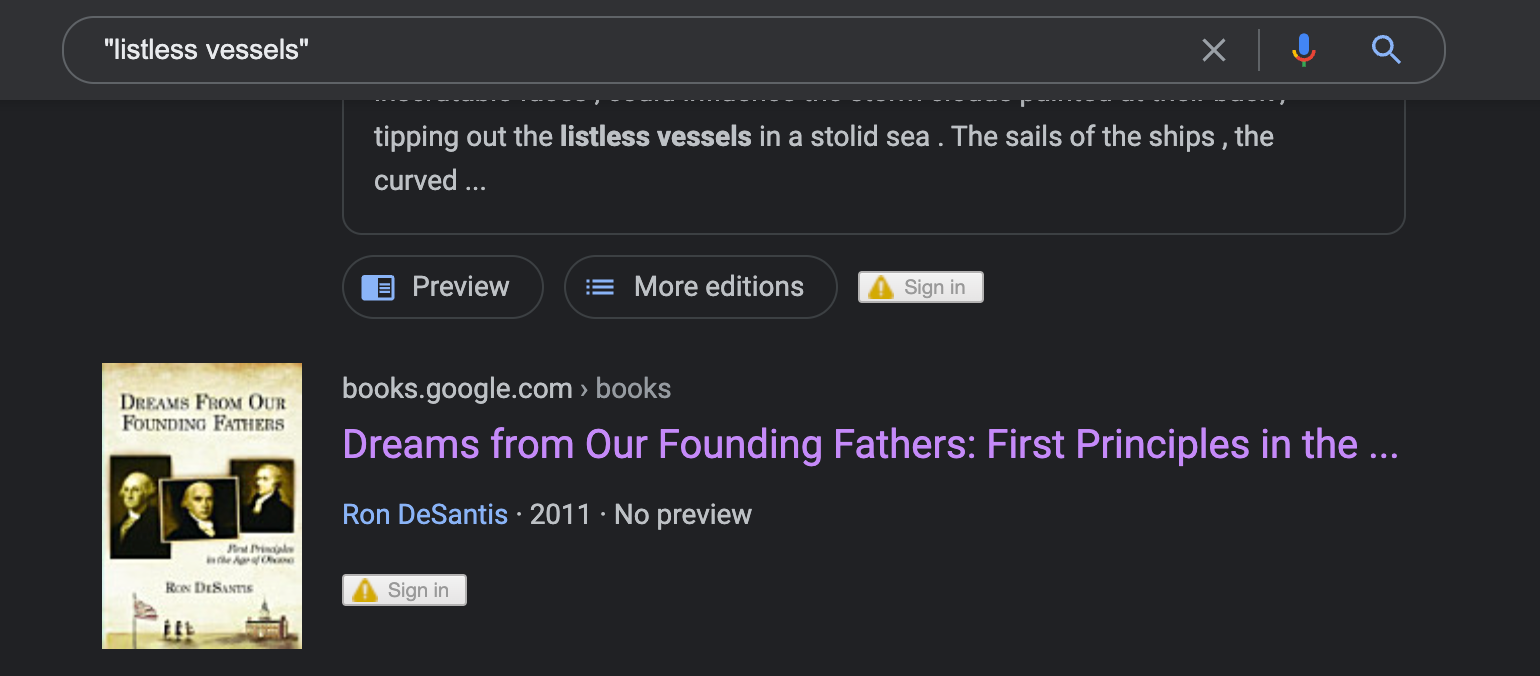 But all traces of that book, both digital and paper, have apparently been purged. So maybe or maybe not.
Anyhow, the second linguistic question is where Ron (and Casey) DeSantis got the phrase, and what it means to them. In the other examples that I can find online, the "listless vessel(s)" are boats. Thus here
Apart from an assortment of listless vessels and the wake of the sea there was no movement to be seen. No birds following ships for scraps, no activities on shore, no gantries, cranes or vehicles moving. Silence, except for the waves …
Or here:
It was hard to imagine they were of the gods, who, with their vacant, inscrutable faces, could influence the storm clouds painted at their back, tipping out the listless vessels in a stolid seas. The sails of the ships, the curved …
Or here, from the Northwestern Christian Advocate in 1897, where the "vessel" is a boat, but the context is a religious metaphor:
When the kedge is let go in a chosen place the crew may slowly warp their otherwise listless vessel to its chosen berth "within the vale," and be safe from tempest and wreck. Bishop Cranston's metaphor is defensible, correct and really forceful and beautiful to the minds of those "who go down to the sea in ships."
The metaphor is a dangerous rhetorical weapon, but it is safe and effective in expert hands.
And Ron DeSantis was in the U.S. Navy…
In this article published today on PolitiZoom, the author jokes for a while about ships, listing or otherwise, and then cites this X to the effect that it's a religious concept:
Commenters are confused because they don't know fundie-talk. Listless = apathetic, purposeless. Because they haven't been properly indoctrinated. Vessels = containers. Empty containers until filled with Very Very Christian Fundie Purpose.

— Gluten-free Seitan (@David_Jorgonson) August 20, 2023
That idea makes sense, and there's plenty of discussion Out There about people being vessels to be filled by God. But I haven't found any use of the term listless to describe those human "vessels" who haven't yet been filled. And applying the "listless vessels" metaphor to people waiting to be filled by Donald Trump's "truths" seems to send things off in a direction that DeSantis presumably didn't intend.
Update — In the headline of a short 8/20/2023 National Review piece, Rich Lowry evokes (and perhaps exaggerates) the somewhat antique flavor of the DeSantis phrase: "'Away, You Starvelling, You Elf-Skin, You Dried Neat's-Tongue, Bull's-Pizzle, You Stock-Fish, You Listless Vessel!'".
---