« previous post | next post »
…or maybe we should call it a "semantic jump"? It's a pun that illustrates how word meanings can evolve along sensible paths that become obscure as time passes and culture changes. Which is one of the reasons that the reconstruction of linguistic history gets harder as time depth increases.
Here's the upper scene in the latest Perry Bible Fellowship comic: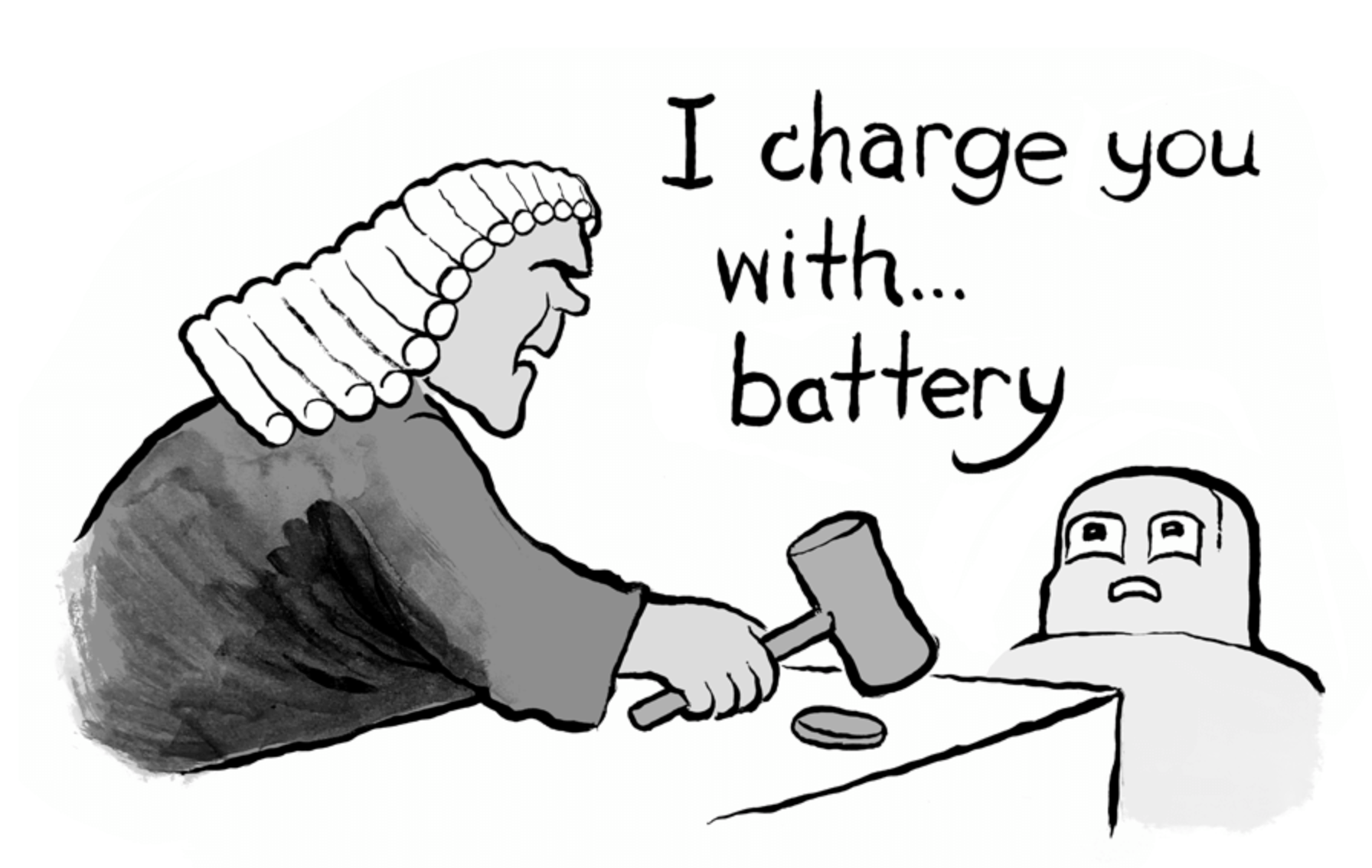 …and the lower scene: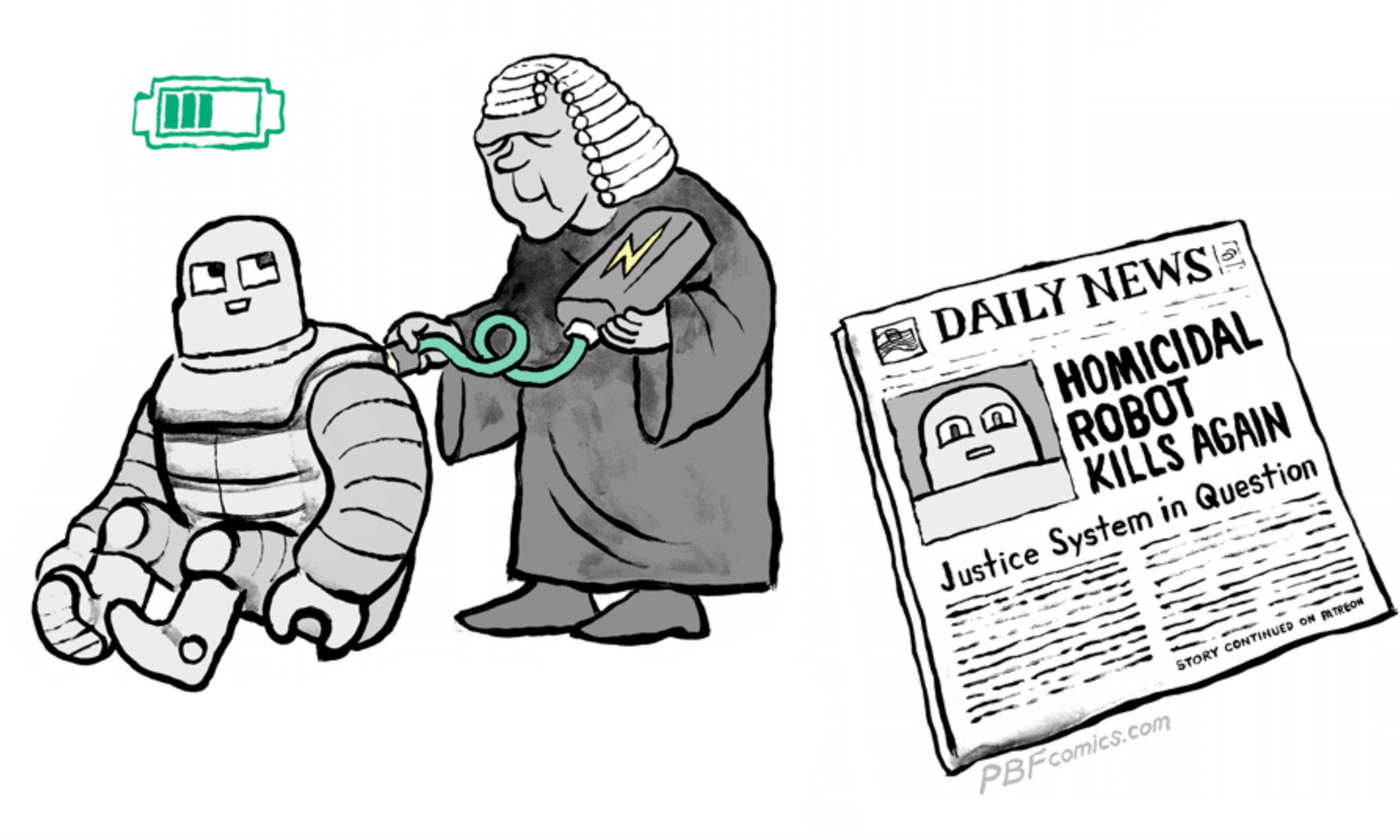 It never occurred to me before to wonder, why do we use the same word battery both for "The infliction of unlawful physical violence on a person" and also for "A device used to power electric devices" — among many other meanings?
And also, why do we use the word charge for "An official description of a crime that somebody may be guilty of" or "To formally accuse of a crime", and also for "The energy content of a battery, or a device containing a battery" or "To replenish the energy content of a battery"? (Again, among many other senses.)
I'll leave the history of charge for another day, and focus this morning on battery, whose history is obvious in retrospect, but still interesting.
Battery was borrowed from French batterie, which according to the 1694 edition of the Dictionnaire de l'Académie Française had three senses:
Combat ou querelle où il y a des coups donnez.
Il signifie aussi le lieu où l'on place le canon pour le faire tirer.
Il se prend encore pour les canons mesmes.
Fight or quarrel where there are blows given.
It also means the location where one positions the cannon in order to fire it.
It is also taken for the cannons themselves.
The OED's earliest citation is from 1531,
1531  T. Elyot, The boke name the Gouernour   Intermedlynge..Sometyme..is violent, as batry, open murdre.
This is attributed to sense I.1.a, glossed as
An assailing with blows: spec. in Law, an unlawful attack upon another by beating or wounding, including technically the slightest touching of another's person or clothes in a menacing manner.
The 1694 French glosses don't mention any specific legal usage, and the 1531 English citation is just about "intermeddling" that "sometimes is violent", again not in a legal context. Which raises the (side) questions: does batterie have a technical meaning in French law? When did battery become a term of art in Anglophone law? And what was the historical relationship? I'll leave those puzzles to the comments section…
Anyhow, battery's semantic drifts (or jumps) continued onwards in both languages (and probably in others). The  1714 edition of the Dictionnaire de l'Académie Française added
Batterie, Se dit aussi, De la maniere de battre le tambour. 
Il se dit aussi, d'Une certaine maniere de joüer sur la Guitare. 
On appelle, Batterie de Cuisine, Les Ustensiles qui servent à la cuisine, & qui sont ordinairement de cuivre battu. 
Batterie is also used for the way of beating the drum.
It is also used for a certain way of playing the guitar.
One calls Batterie de Cuisine the utensils used in cooking, which are usually of beaten copper.
OK, but what about the "device used to power electric devices" sense of battery?
The OED's offers sense group II, "The apparatus used in battering or beating", starting with II.4.a "A number of pieces of artillery placed in juxtaposition for combined action", with the earliest citation in 1555, consistent with the equivalent 1694 French dictionary sense.
The OED also gives us II.7 "The set of stamps, usually five in number, that work in one 'mortar' of a stamp-mill" (earliest citation 1853), and II.8, which refers (in a citation from 1737) to a "vat called the Battery" where "they agitate and beat this Water impregnated and loaded with the Salts of the plant [Indigo]".
And then, in a slightly different direction, the OED offers sense group III, glossed as "A combination of simple instruments, usually to produce a compound instrument of increased power; applied originally with a reference to the discharge of electricity from such a combination."
This group starts with sense III.9, "An apparatus consisting of a number of Leyden jars so connected that they may be charged and discharged simultaneously." The first citation (and apparently the source) is from Benjamin Franklin in 1748:
1748    B. Franklin, Letter in Experiments & Observations on Electricity    An electrical battery, consisting of eleven panes of large sash-glass, arm'd with thin leaden plates.
Here's what (a somewhat later version of) Franklin's "battery" looked like (from "'Electrical battery' of Leyden jars, 1760-1769", The Benjamin Franklin Tercentennial 2006):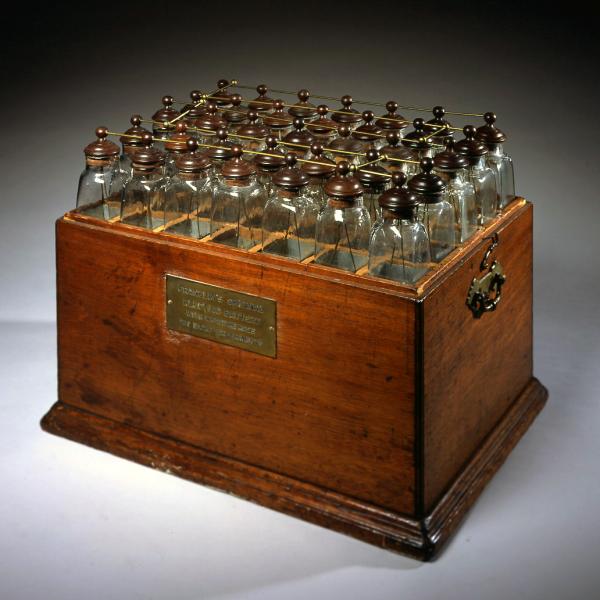 The description from that site:
The individual Leyden jar, the early form of what is now called a capacitor, gathers an electrical charge and stores it until it is discharged. Franklin grouped a number of jars into what he described as a "battery" (using the military term for weapons functioning together). By multiplying the number of holding vessels, a stronger charge could be stored, and more power would be available on discharge.
At the time, an exact and obvious metaphorical reference to OED II.4.a "A number of pieces of artillery placed in juxtaposition for combined action".
Today, not so much: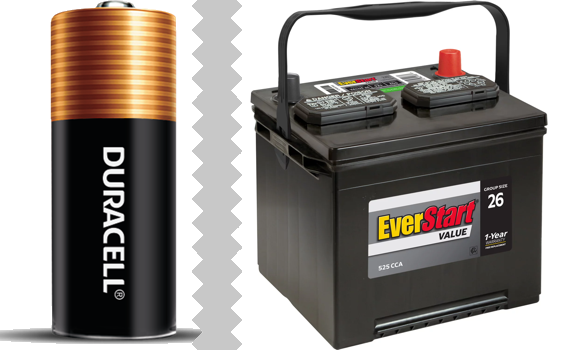 The etymology of bat , which also applies to battery, illustrates another aspect of the cognation puzzle, namely the questions of descent vs. borrowing vs. mixtures of the two:
"a stick or staff used in beating, a war-club, staff used to strike the ball in certain games," c. 1200, from rare Old English batt "cudgel," a western England word at first, probably from Welsh or another Celtic source (compare Irish and Gaelic bat, bata "staff, cudgel"), later reinforced and influenced by Old French batte "pestle," from Late Latin battre "to beat;" all from PIE root *bhat- "to strike."
For some additional background on the historical issues, see "Scrabble tips for time travelers" (2/26/2009) and "Ultraconservative words? Really?" (5/8/2013).
---