« previous post | next post »
Taken at a restaurant in Hangzhou: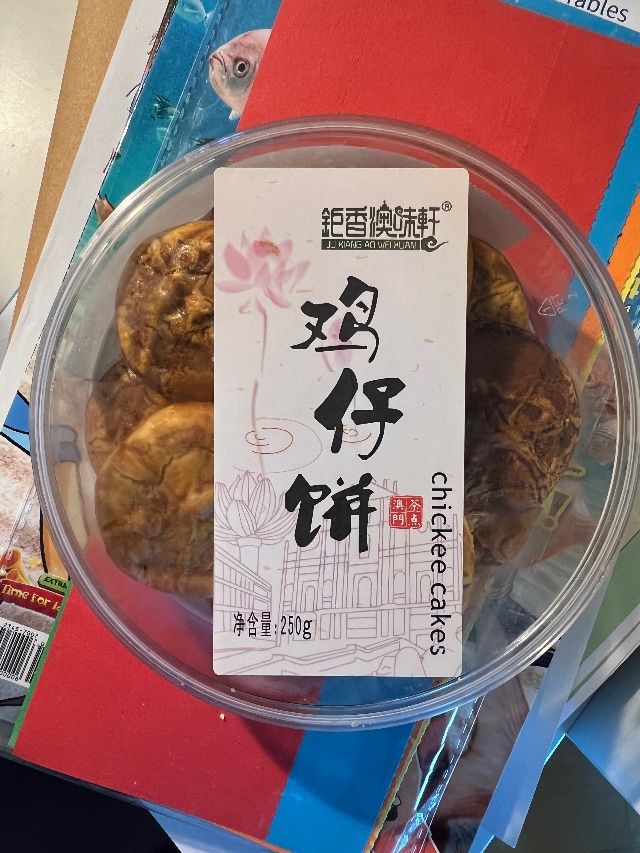 The big Chinese characters say:
Cant. gai1zai2 beng2  MSM  jīzǎi bǐng
鸡仔饼
"phoenix cookie"
This is a type of chewy biscuit made with lard, originating in Guangzhou / Canton.  (source)  Its original name was Cant. siu2fung6 beng2  MSM xiǎofèng bǐng 小鳳餅 ("little phoenix cake").
Here are some recipes for "phoenix cookies".  I noticed plenty of fat and sesame, peanuts, walnuts, etc., but no chicken.
In Cantonese gai1zai2 mui4jan4*2 雞仔媒人 means "busybody", where mui4jan4*2 媒人 by itself would ordinarily mean "matchmaker".
(source)
Cf. niúzǎikù / niúzǐkù 牛仔褲 / Cant. ngau4zai2 fu3 / Hakka ngiù-chṳ́-fu / Minnan [Hoklo / Taiwanese]  gû-á-khò͘ / Wu [Shanghainese] 3nyieu-tse-khu ("jeans; denims; dungarees", lit. "cowboy pants").  (source)
Because the Cant. zai2 / Taishan doi2 /  Hakka zai3 / Minbei ciě 仔 suffix is so essential for grasping the nuances of words containing this morpheme, it will be useful to look at the extensive list of definitions with example sentences in Wiktionary:
The word "chickee" actually means something in English (borrowed from a Native American term), but it does not have anything to do with chickens, little or otherwise):
Chikee or Chickee ("house" in the Creek and Mikasuki languages spoken by the Seminoles and Miccosukees) is a shelter supported by posts, with a raised floor, a thatched roof and open sides. Chickees are also known as chickee huts, stilt houses, or platform dwellings.
(source)
Tiny though it may be, 仔 is protean and powerful in its implications.
Selected readings
---