« previous post | next post »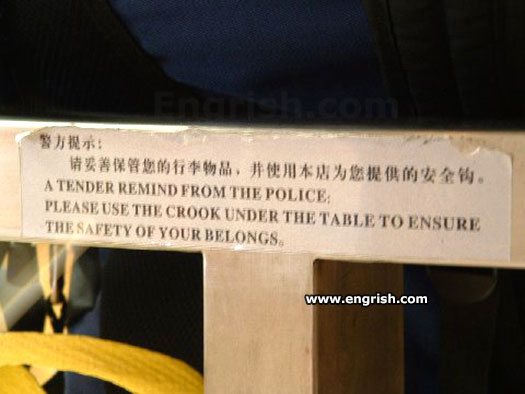 The Chinese notice says:
Jǐngfāng tíshì:
Qǐng tuǒshàn bǎoguǎn nín de xínglǐ wùpǐn, bìng shǐyòng běndiàn wèi nín tígōng de ānquán gōu.
警方提示:
请妥善保管您的行李物品,并使用本店为您提供的安全钩。
"A reminder from the police:
Please take good care of your luggage and belongings, and use the safety hook provided for you by our store."
About twenty years ago, at a table where I was seated with 7 colleagues who were attending an academic conference in Beijing, 5 of us had our belongings that we had put under the table stolen or rifled while we having breakfast.
Use the crook!
Selected readings
---