« previous post | next post »
On her way back from Cornwall in April, Janet (Geok Hoon) Williams saw this sign, put up by Great Western Railway, at the train station: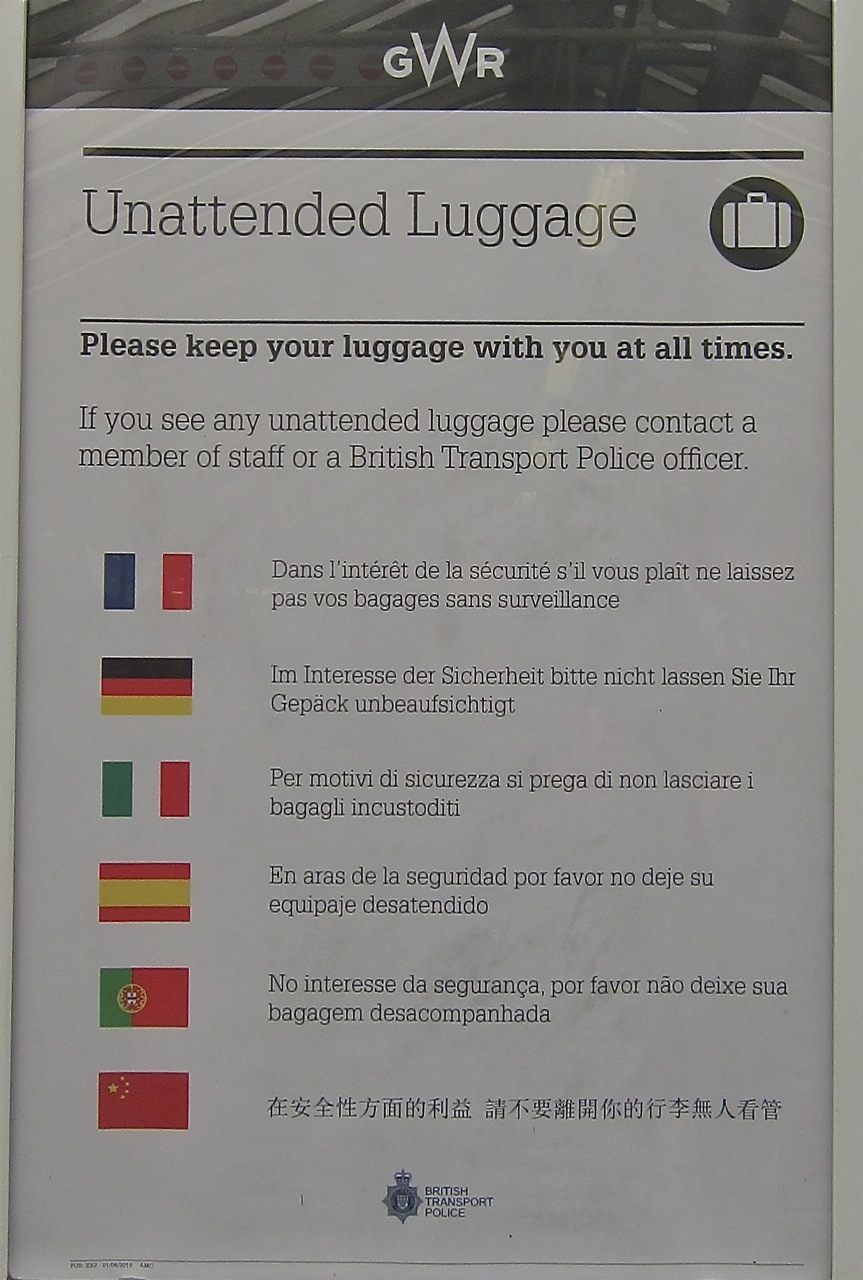 The Chinese reads:
zài ānquánxìng fāngmiàn de lìyì qǐng bùyào líkāi nǐ de xínglǐ wú rén kānguǎn
在安全性方面的利益 請不要離開你的行李無人看管
"For the benefit of the aspect of security, don't depart from your luggage with no one to look after it."
Although it is fairly easy to get the basic gist of the Chinese sentence, it sounds awkward.
It's interesting that all six of the foreign languages on the sign seem to be working from this English sentence which is not on the sign:  "In the interest of security, please do not leave your luggage unattended".
I don't know about the other languages on the sign, but it seems difficult to me to express "unattended" in Chinese.  One could say, in a rather forced, unidiomatic manner, wèi jīng zhàokàn 未經照看 ("not having been taken care of"), but I think that Chinese would prefer to state the matter positively as zhàokàn hǎo 照看好 ("well taken care of"), or some such.
In English, "unattended" is an adjective, but the Chinese phrase "wú rén kānguǎn 無人看管" ("no one / nobody looking after [it]") has the subject expressed.  If you want to turn this phrase into an adjective, you have to add the magical marker "de 的" at the end — "which has no one looking after it" — and then you can modify "luggage" with it, but that would still sound unnatural.
Here are three alternative Chinese translations of the standard, but unwritten, English announcement:
chū yú ānquán kǎolǜ, qǐng bùyào ràng nǐ de xínglǐ wú rén kānguǎn
出於安全考慮,請不要讓你的行李無人看管
("…please don't let your luggage [be in a condition of having] no one to look after it")
chū yú ānquán kǎolǜ, qǐng bùyào líkāi nín de xínglǐ
出於安全考慮,請不要離開您的行李
("…please don't go away from your luggage")
chū yú ānquán kǎolǜ, qǐng kānguǎn hǎo nín de xínglǐ
出於安全考慮,請看管好您的行李
("…please watch over your luggage well")
[Thanks to Fanyi Cheng and Yixue Yang]
---