« previous post | next post »
The "sǎo hēi chú è 扫黑除恶" ("sweeping away blackness and eliminating evil") campaign in China not only has not waned, but rather is going in a hysterical direction. The local authorities in Wuxi are marching into the kindergartens; below is their conclusion after investigating one of them: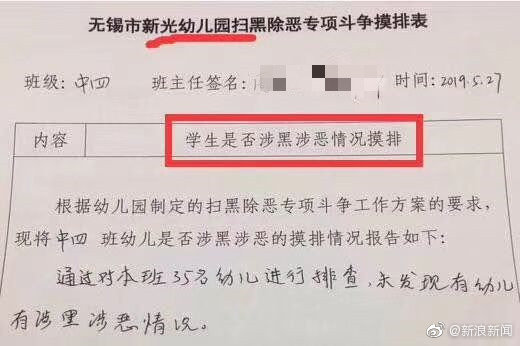 (For news coverage, see here, here, here, and here.)
Here's the title of the form on which the report is written:
Wúxī shì Xīnguāng yòu'éryuán sǎo hēi chú è zhuānxiàng dòuzhēng mōpái biǎo
无锡市新光幼儿园扫黑除恶专项斗争摸排表
"Report of the Investigation of the Special Campaign to Sweep Away Blackness and Eliminate Evil at the Wuxi City Xinguang Kindergarten"
To get a better sense of the flavor of the language used, here are two key terms:
dòuzhēng 斗争 ("campaign; struggle; fight; combat; battle; accuse and denounce at a meeting")
mōpái 摸排 ("follow up clues one by one to solve a criminal case")
The rubric highlighted within a red box telling the contents of the report:
xuéshēng shìfǒu shè hēi shè è qíngkuàng mōpái
学生是否涉黑涉恶情况摸排
"Investigation concerning the situation whether the students were involved in blackness and evil"
Handwritten conclusion at the bottom:
Tōngguò duì běn bān 35 míng yòu'ér jìnxíng páichá, wèi fāxiàn yǒu yòu'ér yǒu shè hēi shè è qíngkuàng.
通过对本班35名幼儿进行排查,未发现有幼儿有涉黑涉恶情况。
"Having carried out a close investigation of the 35 young children in this class, we have not discovered evidence that any of them were involved in blackness or evil."
Relax!  Alles klar im Kindergarten!
To tell the truth, though, people need to be clear about who the real goons, thugs, bullies, bandits, criminals, and hooligans are in Chinese society.

Reading
"Baffling propaganda: 'black' and 'evil' in contemporary Chinese society" (4/7/19)
"Insect name" (5/20/19)
[h.t. onsite correspondent, whose identity obviously cannot be revealed for having exposed such a crucial state secret]
---