« previous post | next post »
David Leonhardt, "Did He Say 'bird'?", NYT 2/10/2023:
As President Biden was reciting a list of bipartisan accomplishments during his State of the Union address this week, he seemed to use a phrase that I had never heard before: toxic bird pits.
Was it some major news story that I had missed while on leave over the past few months? Or was it the latest Biden malapropism, destined to dominate post-speech commentary? I tried to figure out the answer by typing the words into Google and Twitter, but they offered no clarity. Google had nothing for me. A Twitter search yielded dozens of people tweeting a version of "toxic bird pits???" and not much else.
Like a large percentage of the mass- and social-media pieces over the past few weeks, Leonhardt's article is actually about ChatGPT — subtitled "We talk with Sam Altman, the C.E.O. of OpenAI, about the artificial-intelligence craze."
There's plenty to say about Large Language Models — I'm fated to talk about them this afternoon, in a panel discussion organized by Penn's Critical Writing Center — but this post is actually about phonology and phonetics.
Executive summary: Biden didn't mis-speak; Leonhardt mis-heard. Or to be fair to both: Biden's pronunciation of "burn pits" was within the norms of current American speech patterns, though maybe a little under-articulated given the low contextual likelihood of that phrase for his listeners; and Leonhardt's mishearing was also reasonable, given the signal and his mental language model.
And the details are exactly on point for the current topic in a course I'm currently teaching — Phonetics II: Data Science — where we're discussing the nature of "allophonic variation", i.e. the different ways that speech sounds of a given category can be realized in different contexts.
Specifically, syllable-final nasals in English (like the /n/ in "burn") cause the previous vowel to be nasalized, but depending on the context, the canonical "nasal murmur", which the dictionary says should follow, may be extremely short or even entirely absent. Such lenition or deletion is especially likely when the next syllable starts with a voiceless consonant (like /p/). And syllable-final coronal stops, like /t/ or /d/, are also subject to lenition, to the point of apparent deletion when a consonant follows, even in "standard" formal speech — consider the (often imperceptible) difference between tends and tens, or tents and tense, or tend to and ten to.
And of course the vowels of burn and bird have been phonologically the same in (most varieties of) English for several centuries. So the difference between "burn pits" and "bird pits" will come down to how nasalized the first word's vowel is — often hard to hear — and the difference between a (perhaps short and soft) nasal murmur and the residue of a /d/ closure, which may not be well distinguished (if at all) from the following /p/ closure.
I hope it's clear that my point is not to adjudicate between Biden and Leonhardt, or to defend either one, but rather to illustrate the interesting complexities of the real-world relationship between phonological symbols and phonetic signals.
Here's the relevant passage of the SOTU (larger context here):
You know, we're often told
that Democrats and Republicans can't work together
but over the past two years, we've proved the cynics and naysayers wrong.
Yes,
we disagreed plenty.
And yes, there were times when Democrats went alone,
but time and again,
Democrats and Republicans came together.
Came together to defend a stronger and safer Europe.
We came together to pass one in a generation-
((once in a)) generation infrastructure law,
building bridges connecting our nation and our people.
We came together to pass most significant law ever,
helping victims exposed to toxic burn pits.
And the final "burn pits" phrase:
And here's the waveform and spectrogram of the relevant two words: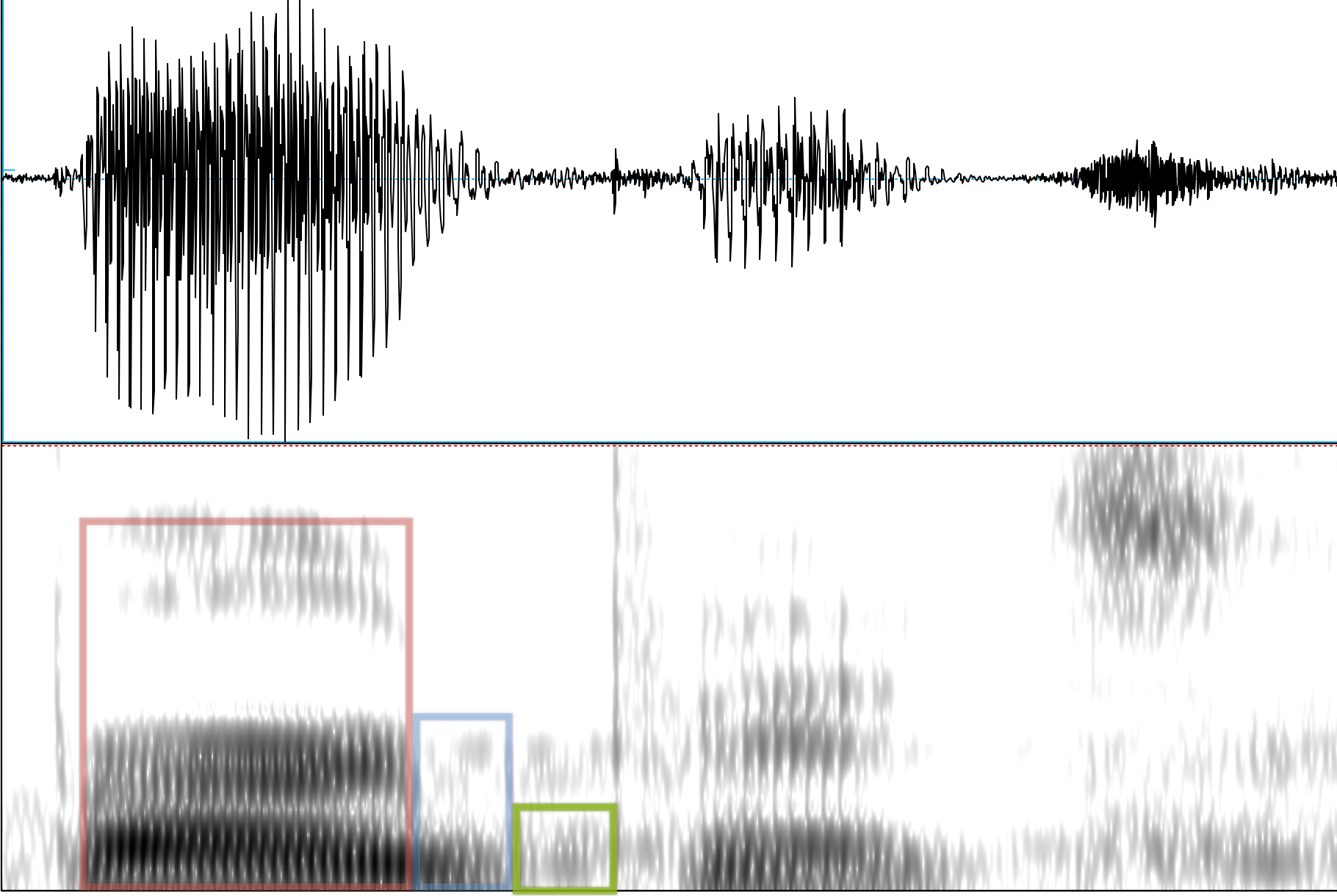 The red square outlines the open and voiced part of the /ɚ/ vowel (in "bird" or "burn"); the blue square outlines the /n/ murmur, about 50 msec. long; and the green square outline the /p/ closure, which is about 55 msec. long. As I said at the start of the post, this pronunciation is well within the bounds of "standard" American English variation, though it's arguably under-articulated given how the low contextual likelihood of the phrase for most of his listeners.
In a Postscript to his article, Leonhardt explains why the contextual likelihood of that phrase was greater for Biden:
Postscript: Biden was actually referring to — or meant to refer to — toxic burn pits, the name for bonfires in which the U.S. military incinerated trash while fighting overseas. These fires caused health problems for many troops, and Biden believes they contributed to the cancer that killed his son Beau.
(For a deeper dive into the theoretical issues around allophonic variation, see my 2018 paper "Towards progress in theories of language sound structure".)
---