« previous post | next post »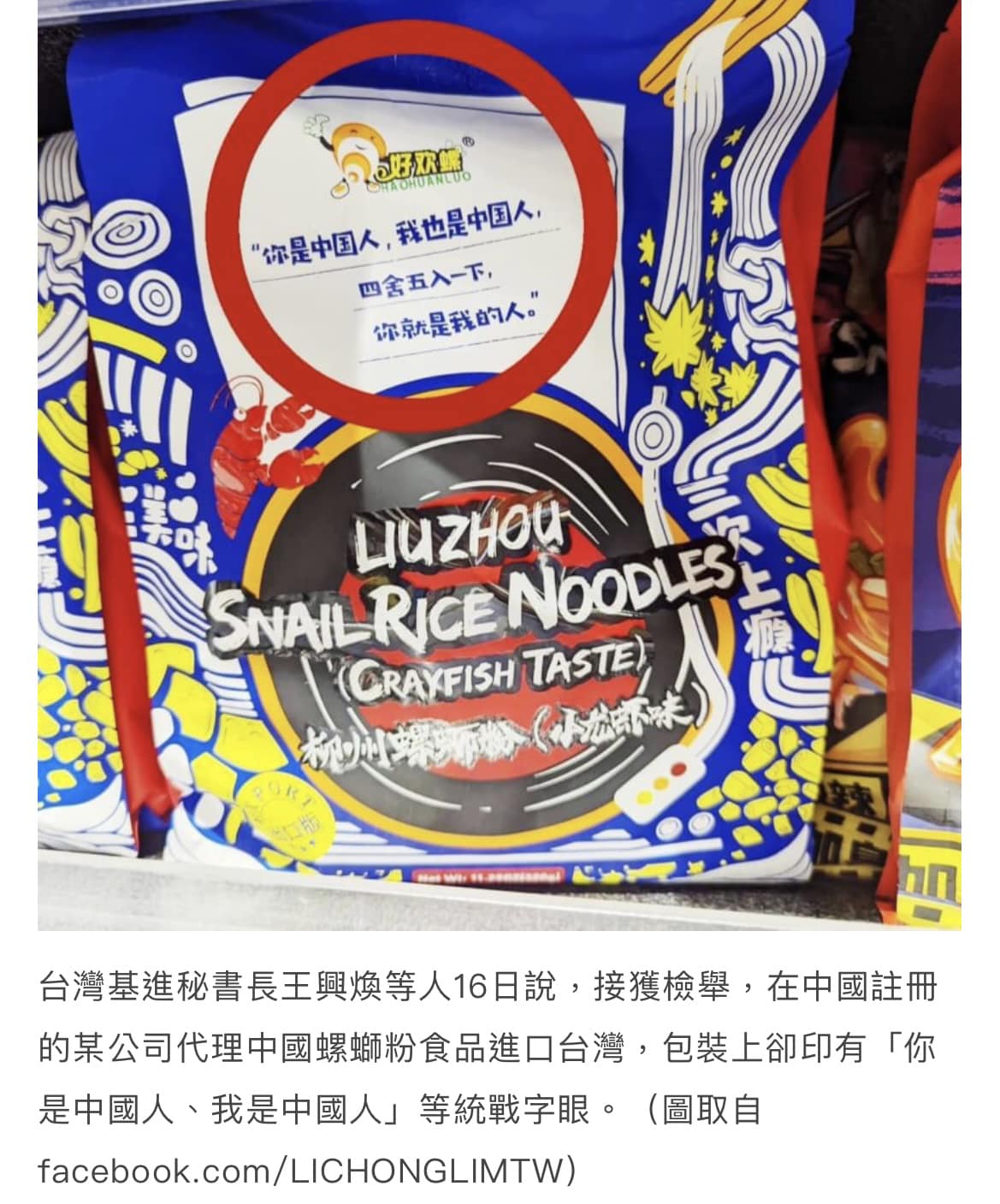 Liuzhou Snail Rice Noodles from China. (Facebook, Li Chong-lim photo)
The photograph is from this article:
China's 'propaganda noodle soup' ordered off the market in Taiwan
Noodle packaging has 'You are Chinese, and I am too' emblazoned across it
By Huang Tzu-ti, Taiwan News (1/17/23)
This really is blatant mainland propaganda on the island nation of Taiwan.
The writing in blue inside of the red circle reads:
Nǐ shì Zhōngguó rén, wǒ yěshì Zhōngguó rén, sìshěwǔrù yīxià, nǐ jiùshì wǒ de rén.
你是中国人,我也是中国人,四舍五入一下,你就是我的人。
"You're Chinese and I am Chinese too; round it up a bit and you are mine."
AntC asks:  "Aside from the linguistic aspect of putting propaganda on noodle packs, I'm curious what 'Round it up and you are mine.' is trying to say. Eat them up?"
That may be how the Taiwanese feel in the face of such blatant aggrandizement, but the idea that the mainlanders want to get across is this, as explained by Zihan Guo:
I know this sentence makes awkward logical sense, but the central idea is that Taiwanese / Taiwan belong to Chinese / China. The political implication of this slogan is clear, given that it is a product from the mainland imported in Taiwan. The article also says that it is "part of Beijing's unification propaganda."
If you are asking about the phrase sìshěwǔrù 四捨五入 ("round off to the nearest whole number"), I have recently, by accident, explained this to my parents. You have it right that it means to round it up. Sometimes it is used for real approximation, suggesting that two things can be treated as identical, like the wǔrù 五入 part in mathematic calculation. More often it is for comical exaggeration. For instance:   Wǒ wàngle zuótiān chāoshì dǎzhé, sìshěwǔrù jiùshì sǔnshīle yīgè yì 我忘了昨天超市打折,四捨五入就是損失了一個億。[I forgot that there was a sale st the supermarket yesterday. Round it up, I lost 100 million.]
I figured that you would not like the idea of luósī fěn 螺螄粉 ("snail rice noodle") anyway.
I kept a pet grove snail named Arnold for five and a half years, so I would never dream of eating such a creature, and the idea of consuming escargots does not appeal to me either.
Selected articles
---