« previous post | next post »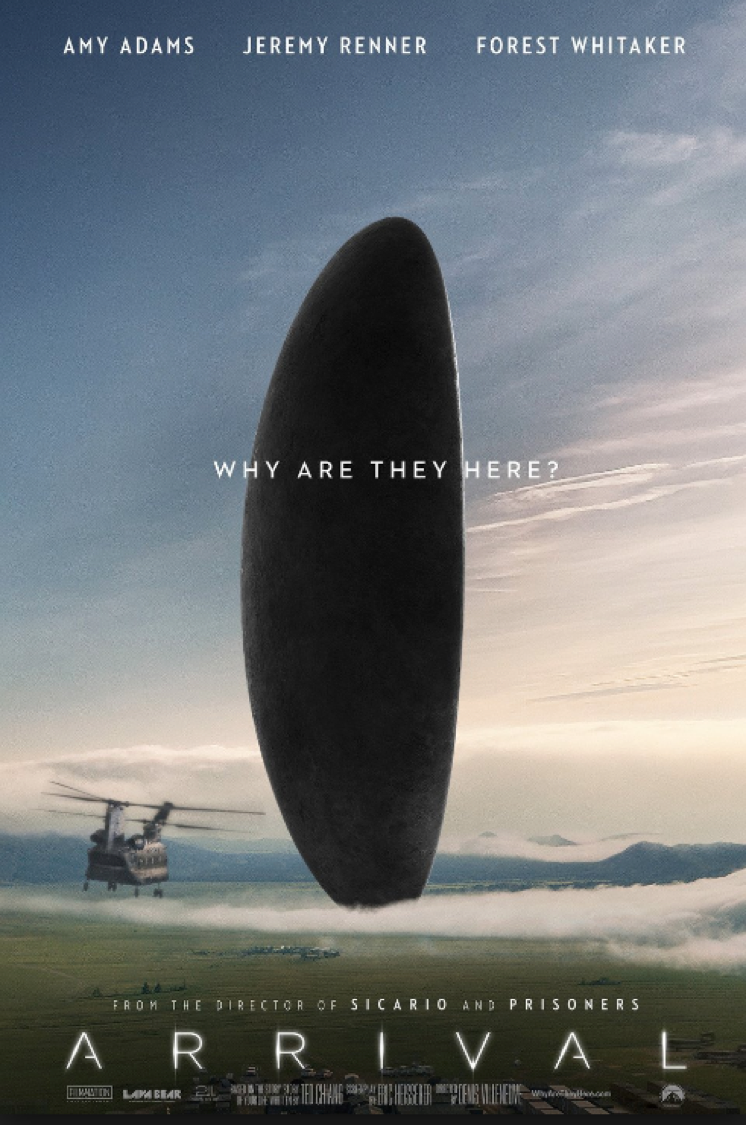 The blurb for the movie Arrival, due to open in November:
When mysterious spacecrafts touch down across the globe, an elite team, lead by expert linguist Louise Banks (Amy Adams), is brought together to investigate. As mankind teeters on the verge of global war, Banks and the team race against time for answers – and to find them, she will take a chance that could threaten her life, and quite possibly humanity.
Last week, a magazine writer asked me for a linguist's perspective on first-encounter communication strategies. She posed a set of interesting questions, starting with this:
An alien is standing in front of you, apparently peaceably. What is the first thing you try, in an attempt to communicate with it? Is a greeting important? Are there any underlying rules for communication across cultures (and language barriers) that govern your decision?
I never got to the rest of the questions, because this is what I wrote in response to that first one:
Many imaginary encounters with "aliens" are modeled after the "monolingual demonstration" of first-contact fieldwork techniques, invented by Ken Pike in his own work, and developed over time as a sort of public performance for pedagogical reasons. The personal and social context is described in this obituary:
Pike's practical contribution in linguistics was in his amazing ability to train so many students to learn, analyze, and publish data on unwritten minority languages. One of his major goals was to help colleagues with their linguistic challenges. To that end he established linguistic workshops around the world, in which he and his junior colleagues helped thousands of field researchers and Bible translators with difficult analytical challenges in aboriginal languages. When Pike first went to live with the Mixtec people in southern Mexico in 1935, he knew no Spanish, nor did the San Miguel Mixtecs. So he began learning their language monolingually, since there was no common language. This method eventually developed into his famous pedagogical monolingual approach for learning hitherto unknown tribal languages.
Who would have guessed then that there were some four to five thousand such languages spoken around the world that were unidentified and unknown even to linguists in the 1940s? This holistic approach to language learning became Pike's trademark. He eventually taught thousands of his students how to learn such languages by using the method that he demonstrated countless times in his legendary monolingual demonstrations over the decades.
Take a look at this detailed description by Adam Makkai, or this YouTube video of a demonstration by Dan Everett.
The trouble with this model is that "aliens" are likely to be, well, alien. All human languages are quite similar in many ways — but aliens' modes of communication might be very different.
There's no guarantee that their senses and their modes of action are going to be a good fit to ours. They might communicate via skin color changes like cuttlefish, except maybe theirs are only visible in the ultraviolet. Or maybe they can modulate and sense electric fields, like electric eels. They might use gestural and postural changes in a body that's very different from ours, or rapid morse-code-like modulations of sound at a dozen different frequencies independently and simultaneously. Maybe pheremone-like chemical signals are a crucial part of the process.
Whatever the modalities of communication, it's quite likely that we won't be able to imitate them without building some specialized apparatus. And it's quite possible that it would be hard even to recognize the fact that they're communicating with one another, before we even get to the point of trying to understand and imitate.
More likely, the process would be:
(1) Persuade them not to kill us, and vice versa;
(2) Persuade (or coerce) them to let us observe their within-species interactions, or vice versa;
(3) Design and build systems for recording, analyzing, and synthesizing their communicative signals (or wait for them to do the same thing for ours);
(4) Use those systems to engage in a sort of "monolingual demonstration", and hope that we can come to understand them and communicate with them to some extent.
It's possible that the nature of the physical world constrains physical evolution to make technologically-capable entities similar in various ways that make communication easier. So it's hard to imagine a species that communicates by generating and perceiving modulated gamma-ray bursts, just because the physics of the situation is against it. But I'd be surprised if this is enough to make it possible to give a useful answer to your first question "An alien is standing in front of you, apparently peaceably. What is the first thing you try, in an attempt to communicate with it? Is a greeting important?"
Like I said, you could pretend to be Ken Pike, because what else are you going to do? But don't count on it working.
When I wrote that, I obviously hadn't seen the movie, which won't be released for another couple of months. But (except for traveling to San Francisco for Interspeech, and giving a talk at Rutgers, and a few other things) I could have read Ted Chiang's "Stories of Your Life", which the movie is based on.
I skimmed it this morning, and Louise Banks' monolingual excercise with the Heptapods exhibits in a mild way a few of the issues I raised. She needs to use a "sound spectrograph" to analyze the aliens' utterances, which sound to her ears "vaguely like […] a wet dog shaking the water out of its fur", and she needs recording and playback to communicate in the other direction, since they don't recognize her attempts to imitate their speech.
Their writing system poses few visual decoding problems for her, other than a sort of cursive connection of symbols and a non-linear system for arranging them in space and time — but the analysis of content is problematic in various ways, starting with her discovery that their writing system is "semasiographic" rather than "glottographic", and in fact constitutes an entirely separate linguistic system, which she calls "Heptapod B" in contrast to their spoken language, which is "Heptapod A".
The aliens' inventory of concepts seems to have a different basis from that of humans, e.g.
Physical attributes that humans defined using integral calculus were seen as fundamental by the heptapods. As an example, Gary described an attribute that, in physics jargon, bore the deceptively simple name "action," which represented "the difference between kinetic and potential energy, integrated over time," whatever that meant. Calculus for us; elementary to them.
And it turns out that this arises out of a fundamental difference in interpreting the "grammar" of the physical universe:
Consider the phenomenon of light hitting water at one angle, and traveling through it at a different angle. Explain it by saying that a difference in the index of refraction caused the light to change direction, and one saw the world as humans saw it. Explain it by saying that light minimized the time needed to travel to its destination, and one saw the world as the heptapods saw it. Two very different interpretations.
The physical universe was a language with a perfectly ambiguous grammar. Every physical event was an utterance that could be parsed in two entirely different ways, one causal and the other teleological, both valid, neither one disqualifiable no matter how much context was available.
When the ancestors of humans and heptapods first acquired the spark of consciousness, they both perceived the same physical world, but they parsed their perceptions differently; the worldviews that ultimately arose were the end result of that divergence. Humans had developed a sequential mode of awareness, while heptapods had developed a simultaneous mode of awareness. We experienced events in an order, and perceived their relationship as cause and effect. They experienced all events at once, and perceived a purpose underlying them all. A minimizing, maximizing purpose.
As you can imagine, this difference turns out to play a role in the story's plot.
Anyhow, Chiang's Heptapod communication systems, as alien as they are, are much more easily accessible to human analysis and synthesis than I suggested that such systems might be. That's essential to his plot development — learning to deal with de-multiplexing a dozen frequency-divided channels of amplitude-modulated ultrasound, or whatever, would have been a narrative distraction.
Chiang's choice allows Louise Banks to apply Pike's method, and to come tragically close to getting it right. And it also lets Chiang introduce a wide array of linguistic concepts and associated terminology — I'll be interested to see how much of that makes it into the movie.
---
An earlier LLOG post on this story and movie:
"'Language is messy,' says our new linguistic hero", 8/11/2016
And some earlier discussion of Ted Chiang's thoughts about writing systems:
"Ted Chiang uninvents Chinese characters", 5/11/2016
"Backward Thinking about Orientalism and Chinese Characters", 5/16/2016
"Firestorm over Chinese Characters", 5/23/2016
---