« previous post | next post »
Two Guys and Guy for 5/29/2013 offers a rare case of litotes with the classical motivation of modesty: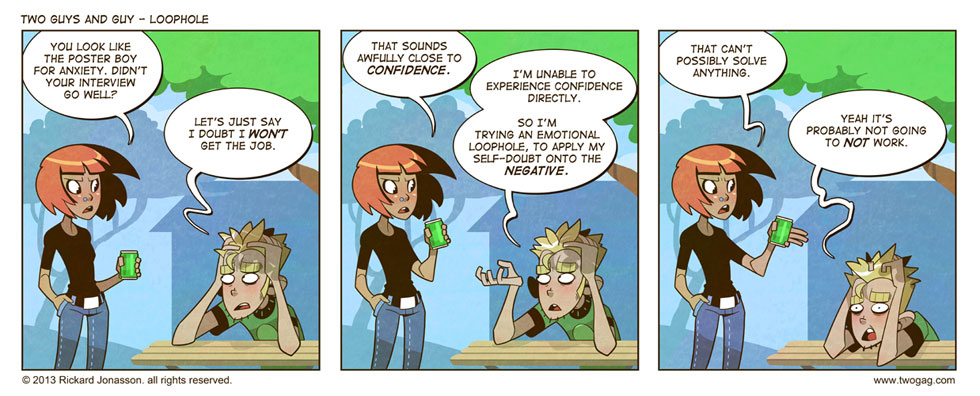 But most examples have some other motivation. And whatever the motivation, the litotic impulse often reaches the border of misnegation, as in this stack of three negative morphemes from Jorge Luis Borges, "A Lecture on Johnson and Boswell", as translated by Katherine Silver:
Macaulay says that the preeminence of Homer as an epic poet, of Shakespeare as a dramatic poet, of Demosthenes as an orator, and of Cervantes as a novelist is no less indisputable than the preeminence of Boswell as a biographer.
Despite the dictum that "Triplex negatio confundit", this one comes out right in the end. Inexperienced users might need to work out the polarity with pencil and paper, but "no less indisputable" is (or at least was) a common fixed phrase in certain kinds of writing.
[Update — or maybe Borges' sentence doesn't come out right after all, as suggested by haamu in the comments. Given that the stature of Homer, Shakespeare,  Demosthenes, and Cervantes is established from the start as the point of reference for preeminence, we should say that their preeminence is "no more indisputable than that of Boswell as a biographer". Or we could  turn the whole thing around and say that "the preeminence of Boswell as a biographer is no less indisputable than …".
What Macauley actually wrote took the first of these options:
Homer is not more decidedly the first of heroic poets, Shakespeare is not more decidedly the first of dramatists, Demosthenes is not more decidedly the first of orators, than Boswell is the first of biographers.
The inversion is due to Borges and not to his translator, since the original reads:
Dice Macaulay que la primacía de Homero como poeta épico, de Shakespeare como poeta dramático,de Demóstenes como orador, de Cervantes como novelista, no es menos indiscutible que la primacía de Boswell como biógrafo.
So the quotation from Borges is a case of misnegation, or at least scalar inversion, after all!]
Of course, there are plenty of common fixed phrases whose polarity almost always comes out wrong, from "impossible/hard/difficult to underestimate", to the pattern underlying "No head injury is too trivial to ignore".
---