« previous post | next post »
A few days ago, I received this poignant note from an anxious parent in Pittsburgh:
I have developed a serious interest in the origination of uptalking and methods to treat it. As absurd as it may sound, my daughter is a Ph.D. and lives in another city. When she visits me, she populates most of her explanations with uptalking. She is a psychologist.
When I am conversing with her I become extremely anxious since I have fixated on the uptalking and it puts me at a severe level of discomfort. I discussed it with her several times. She claims that it is a speech pattern she developed which is normal and that it is my problem. I noticed that many of her friends, all professionals including psychologists, attorneys and physicians also engage in uptalking. Though she vehemently denies that she can stop uptalking to me, when she is angry she speaks perfectly. It appears that it is a psychological insecurity requesting some sort of approval or affirmation from the listener that what the talker says is correct, approved by the listener or adequately explained to the listener.
My daughter recommended that I seek therapy and that it is my problem. Has any research been done to show that not only has the phenomenon of uptalking been documented and described, but that it can have very negative affects on the listener?
Dear Anxious,
You're certainly entitled to your crotchets and irks, just as your adult daughter is entitled to her prosodic preferences. But in order for the two of you to get along, something's going to have to give. And realistically, it's you — children generally speak like their peers, not like their parents. Luckily, experience shows that cognitive therapy can be very effective in such cases.
As a first step, you should get your peeve on, primal scream style, by listening to Taylor Mali reciting his poem "Totally like whatever":
In case you hadn't realized
it has somehow become uncool
to sound like you know what you're talking about?
Share his outrage. Then ask your daughter to listen with you, to help her understand the nature and strength of your reactions. As you listen, though, consider this: do Mali's phrase-final rises really indicate "psychological insecurity requesting some sort of approval or affirmation from the listener"?
Or is he compelling the audience to confront his (mock) anger?
When I wrote about this a few years ago, I invited readers to imagine me poking my finger at him and explaining, rising on every phrase, that
That is, like, such total crap?
You've got no idea whatever
about how people actually, like,
communicate, you know?
In her 1991 dissertation, Cynthia McLemore suggested that final rises iconically signal some kind of connection. This might be a connection between ideas, as in non-terminal list items; or it might be a connection between speaker and hearer, as in a question and the answer or a statement and the listeners' attention. But she pointed out that this kind of reaching out to listeners need not be a sign of insecurity or even politeness. And in her data, taken from a careful study of the role of intonation in a University of Texas sorority, final rises were associated with statements by more senior and more powerful members that required audience attention and action.
Winnie Cheng and Martin Warren found something similar in a 2005 corpus study of English in Hong Kong. In four business meetings, two chaired by women and two by men, the chairs used rising tones almost three times more often than the other participants did (329 times vs. 112 times). In conversations between academic supervisors and their supervisees, the supervisors used rising tones almost seven times more often than the supervisees (765 times vs. 117 times). Cheng and Warren cite David Brazil's idea that what he called "rise tones" can be used to "assert dominance and control" by holding the floor, by exerting pressure on the hearer to respond, or by reminding the hearer(s) of common ground.
But Taylor Mali's poetic screed simultaneously illustrates and subverts a deeply embedded stereotype that final rises are young, insecure, and feminine. Thus Kate Zernike, "Postfeminism and Other Fairy Tales", NYT 3/16/2008 NYT 3/16/2008, quotes from Katha Pollitt's essay in the book Thirty Ways of Looking at Hillary:
[T]he hysterical insults flung at Hillary Clinton are just a franker, crazier version of the everyday insults — shrill, strident, angry, ranting, unattractive — that are flung at any vaguely liberal mildly feminist woman who shows a bit of spirit and independence, who puts herself out in the public realm, who doesn't fumble and look up coyly from underneath her hair and give her declarative sentences the cadence of a question.
This view of final rises was popularized among feminists by Robin Lakoff's 1975 monograph Language and Women's Place, where she wrote
There is a peculiar sentence intonation pattern, found in English as far as I know only among women, which has the form of a declarative answer to a question, and is used as such, but has the rising inflection typical of a yes-no question… The effect is as though one were seeking confirmation, though at the same time the speaker may be the only one who has the requisite information.
But in fact, final rises are often used by males attempting to assert dominance, as exemplified by Taylor Mali's poem, and documented by Cheng and Warren, and discussed in earlier Language Log posts here


(where the uptalker is a very angry former NASA official) and here


(where the uptalker is President George W. Bush).
The association of uptalk with insecure women seems exemplify the complex of selective attention and confirmation bias that Arnold Zwicky has called the "out-group illusion": "… people pay attention selectively to members of groups they don't see themselves as belonging to and so locate phenomena as characteristics of these groups." (See my post "The social psychology of linguistic naming and shaming" for some further discussion.)
On the other hand, there's evidence — from sources other than your daughter — that the relative frequency of final rises (and thus their effective meaning) has changed over the past few decades, among younger speakers of both sexes in many parts of the English-speaking world.
And in interpreting this historical change, it's also important to note that regional varieties of English have long-established differences in the relative frequency — and also in the conventional interpretation — of various phrasal melodies. Thus Esther Grabe, Greg Kochanski and John Coleman, "The Intonation of Native Accent Varieties in the British Isles: Potential for Miscommunication?" (from Katarzyna Dziubalska-Kolaczyk and Joanna Przedlacka (eds.), English pronunciation models: a changing scene, 2005) reproduces this "tadpole diagram" of the traditional distinction between the intonation of emphatic statements in the south of English and in Ulster:

They categorized and counted intonation patterns in the IViE ("Intonational Variation in English") corpus, and their counts confirm this traditional account in a more detailed form. In Cambridge English, final rises occurred very rarely on statements: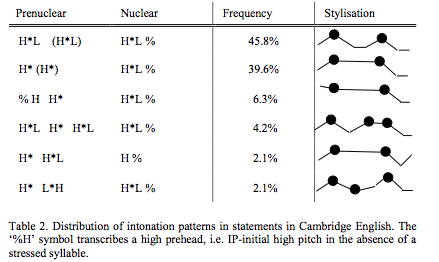 In contrast, in Belfast, more than 95% of statements had a rising pattern on the last stressed syllable, and most ended with a phrase-final high as well: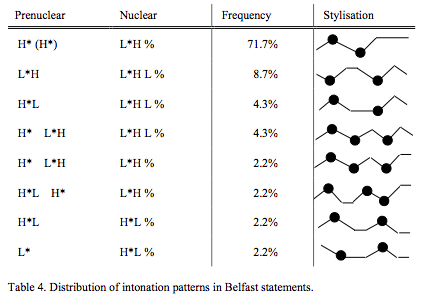 Does this reflect a greater prevalence among Belfast natives of insecurity, need for confirmation, or desire to assert dominance and control? Surely not — it's just a regional difference in intonational patterns, just as there is regional variation in vowel quality.
Daniel Hirst has recently suggested a historical explanation for the prevalence of rising intonations on statements in the north of Britain:
A number of North British accents (Glasgow, Belfast, Liverpool, Birmingham, Tyneside) (Cruttenden 1986) … systematically use rising pitch at the end of what are clearly statements. In one of the first descriptions of the [these] rising patterns, Knowles (1975) suggested that the pattern could be of Celtic origin since the speakers of the Liverpool dialect which he studied (Scouse) were mostly of Irish origin. Cruttenden (1995) questioned this hypothesis, since while it would account for most of the UNB cities it would not account for Tyneside (Pellow & Jones 1977). Cruttenden cites evidence that the Irish population there was almost inexistant before 1830 and that the Scots there were mainly from the Eastern lowland regions where the pattern is not observed, whereas there is documentary evidence that the "Tyneside Tone" was well established before the nineteenth century. The hypothesis also fails to explain why the pattern is found in only some parts of the Celtic speaking areas of Britain but not in others (Southern Ireland, Wales, Western Scotland). There does not seem to be any historical distribution to explain this distribution.
I have observed (Hirst 1998) that the original distribution of these populations (before the shift from Western Scotland to Northern Ireland then to West Midland England) did have something in common: both Tyneside and Western Scotland were areas of intense raiding and settlement by Norwegian Vikings in the early 9th century. Recent genetic evidence (Oppenheimer 2006) suggests in fact that strong connections between these populations largely antedates the Viking raids.
The fact that West Norwegian intonation has also been described as having rising terminal tunes in statements (Fretheim & Nilsen 1989) makes the hypothesis of a Nordic Prosody origin for these intonation patterns even more attractive.
Let's note in passing that 9th-century Viking warriors were not stereotypically insecure or in need of approval or affirmation from their interlocutors.
Whether or not Daniel's hypothesis is correct, the recent world-wide rise in "uptalk" can't be blamed on the Vikings, at least not directly. But perhaps this historical perspective will help you to make linguistic peace with your uptalking daughter and her professional friends. Think of them as urban Vikings, striking out from home and hearth to conquer new cities with their ascending assertions.
---