« previous post | next post »
On May 28, 2013, I made the following post: "Vietnamese in Chinese and Nom characters". The discussion that followed, as usual at Language Log, was lively and informative, and raised a lot of very interesting issues concerning the history and nature of Nom and its relationship to Chinese characters and Chinese languages.
John Balaban had wanted to participate in that discussion, but was delayed by heart surgery (he's all right now), and has taken the first opportunity to send in these remarks, which help us to understand why many people, including some of my own students and colleagues, still care passionately about this unique writing system.
---
[begin remarks by John Balaban]
Fourteen years ago I helped found the Vietnamese Nôm Preservation Foundation which has as its main goal the digital preservation of texts–manuscripts, inscriptions, and woodblocks–in the 1,000-year Nôm tradition. We have created Nôm fonts for the ISO/Unicode Standard and we have digitized 2000+ Hán-Nôm texts (the two scripts are often mixed) from the collection of the National Library of Vietnam, (please see this site).
I do not have the skills to answer directly the many wise as well as the few scatter-shot comments here, but wish to refer those interested to a blog regarding the late scholar Nguyễn Tài Cẩn.
If you go to the footnotes, you will find ample scholarly sources on the structural nature of chữ Nôm. But you would have to be able to read modern Vietnamese. This blog is authored by a brilliant young scholar in Hanoi, Nguyễn Tuấn Cường.
For those who read English primarily, there's an interesting recent discussion by the linguist John Phan available on the internet. The title is "Chữ Nôm and the Taming of the South" in the Journal of Vietnamese Studies, Vol. 8, No. 1 (June 2013), pp. 1-33.
Let me add an anecdote: Years ago, when the Ideographic Rapporteur Group (IRG) was deciding which historical East Asian glyphs represented independent writing systems, Nôm was at first rejected. Then, at the very site of the Institute of Hán-Nôm Research mentioned in this line of discussion, the Chinese members of the IRG panel were confounded by the following poem, inscribed in Nôm on a huge marble wall (see photograph below), and commemorating the Vietnamese defeat of a Chinese army in 1789.
打 朱 底



打 朱 底 顛


打 朱 伮 隻 輪 不 返
打 朱 伮 片 甲 不 還
打 朱 使 知 南 國 英 雄 之 有 主
光 中 阮 惠
Đánh cho để dài tóc
Đánh cho để đen răng
Đánh cho nó chích luân bất phản
Đánh cho nó phiến giáp bất hoàn
Đánh cho sử tri Nam Quốc anh hùng
chi hữu chủ.
–Quang Trung, Nguyễn Huệ
We beat you because we like to wear our hair long.
Beat you because we like to blacken our teeth.
Beat you, so none of your war chariots could run off.
Beat you to keep your weapons from going home.
Beat you so history knows the South has its own king.
–Nguyễn Huệ, Emperor Quan Trung, 1789
To their credit, the Chinese scholars changed their vote and recognized a writing system representing Vietnamese speech, but employing the habits of what corresponders here are calling "classical Chinese."
Please take a look at our website. We are a 501c3 public charity and any help is absolutely welcomed. I would be happy to answer any questions.
Here is a photo of the poem on the marble wall mentioned above.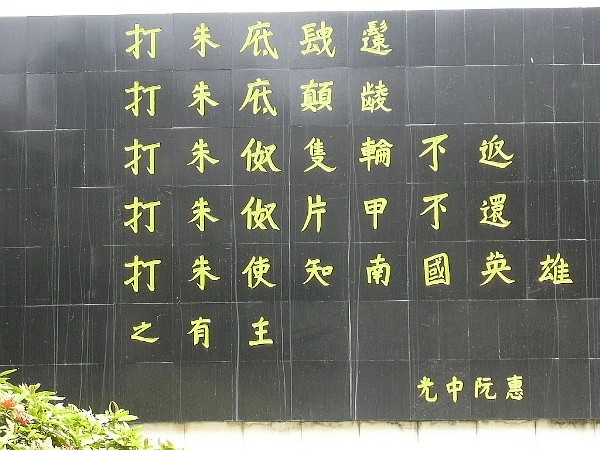 ---