« previous post | next post »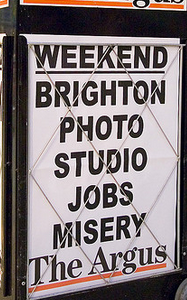 Joe Manfre writes:
I was looking through a Flickr group celebrating the always sensationalist headlines for the Argus newspaper in Brighton and Hove,  and in it I found a few pretty good noun piles:
FIREWORKS BLAZE BOSS VERDICT
HOVE GARDEN POND CLASH – PICTURE
BLAZE DEATH MURDER QUIZ
DOG KNIFE KILLING VERDICT
BRIGHTON COCKROACH CURRY HOUSE FINE
BRIGHTON PHOTO STUDIO JOBS MISERY
We can add:
SURF GIRLS' BEACH BATTLE
WORTHING RUNAWAY ELECTRIC BUGGY CHAOS
(though "electric" is an adjective, really), and
RUBBISH ROW RESIDENTS IN VILE CARDS SHOCK
(though that is two three-element noun piles connected with a preposition).
Some previous LL coverage of British noun pile headline culture:
"Brit noun pile heds quizzed", 3/5/2009
"Headline noun pile length contest entry", 4/18/2010
"Eight word BBC headline noun pile construction", 5/31/2011
"BBC Brit head noun pile win", 5/18/2011
"Lightning strike crash blossom", 10/27/2011
"Coin change 'skin problem fear' hed noun pile puzzle", 4/21/2012
"Brit noun pile head hoard win", 9/10/2012
As I noted in one of those posts,
So this is a sociological puzzle, a linguistic puzzle, and a historical one.  Is there really a systematic difference between British and U.S. headline culture? Is the difference purely quantitative (more frequent noun compounds) and lexical (particular phrases like "death crash"), or are there constructional ("X row Y" to mean "the Y involved in a scandal over X") and syntactic differences? And when and why did all this start?  (The London broadsheets in 1774 didn't run headlines like "Tea tax row governor replaced".)
And in another,
Has anyone previously noted the syntactico-semantic similarity between British Headline English and classical Chinese poetry?
---