« previous post | next post »
Unless you've been living under a rock, you've probably already seen Business Insider's "22 Maps That Show How Americans Speak English Totally Differently From Each Other." (Or, as it was originally titled, "22 Maps That Show the Deepest Linguistic Conflicts in America.") The piece has truly gone viral, garnering more than 21 million views, according to Business Insider. But there's been some confusion about the origins of the dialect survey data.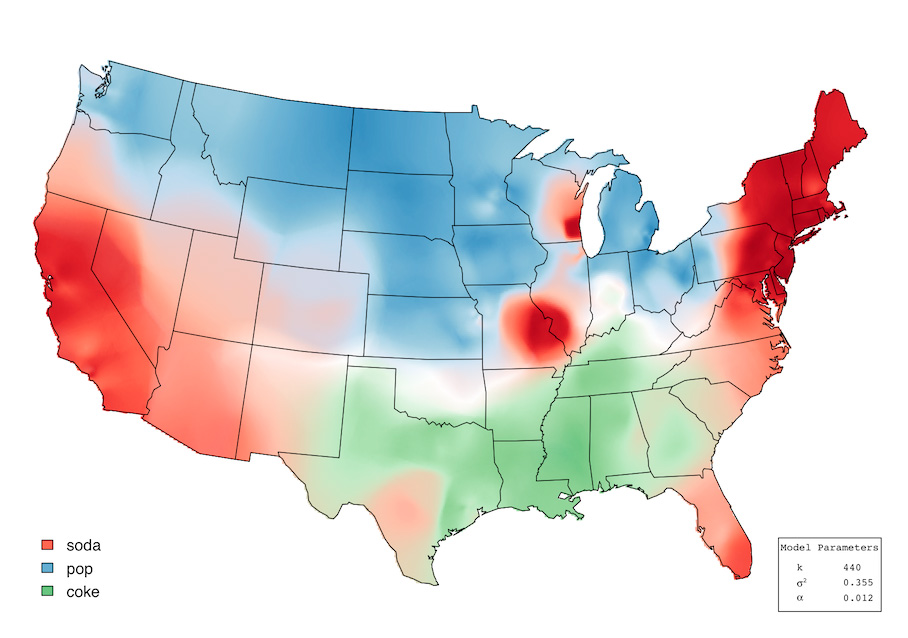 As Business Insider's Walter Hickey explains, the maps were generated by Joshua Katz, a PhD student in statistics at North Carolina State University. Katz's heat-map visualizations of dialectal variants are attractive and eye-catching, but they're based on a resource that's been readily available for about a decade now: the online dialect survey conducted by Bert Vaux and Scott Golder in the early aughts. The survey dates back to Vaux's time at Harvard — he later taught at University of Wisconsin-Milwaukee (which continues to host the survey results), and he is now at Cambridge University, where he and Marius L. Jøhndal are conducting the Cambridge Online Survey of World Englishes.
Vaux and Golder's survey was based entirely on the self-reporting of students and online participants, with questions given in multiple-choice format. The survey covered phonological variation (e.g., caramel, grocery), lexical variation (e.g., soda/pop/coke), and even some syntactic variation (e.g., Are you coming with?). Now, clearly this type of online elicitation is less than ideal for a dialectological study, particularly when it comes to the phonological variants. But in a relatively short amount of time Vaux and Golder were able to amass a sizable amount of data from around the country, without requiring an army of researchers making field recordings, as the Dictionary of American Regional English did with its famous Word Wagons.
The fact that Katz's maps are based on a decade-old survey has been lost in the media attention generated by the Business Insider piece. (When the piece first went up, after Katz's mapping project was posted on the linguistics subreddit on Reddit, it didn't even mention Vaux and Golder, but that was eventually rectified.) See, for instance, this segment on the Today Show:
This is hardly the first time that Vaux and Golder's survey has been repurposed with its provenance lost in the process. As Vaux writes on his website,
In 2011 or so, people started posting on youtube videos of themselves performing their answers to some of the questions on my old Harvard Dialect Survey. This internet phenomenon normally goes under the name "(Regional) Dialect Meme", "Accent Tag", or "(Tumblr) Accent Challenge".
Vaux posts links to a selection of the hundreds of videos that have been created. The Regional Dialect Meme also popped up recently in a WBEZ piece on varieties of African American English in Chicago and around the country. Even though the writer was conscientious enough to interview such sociolinguistic experts as Richard Cameron, Dennis Preston, John Baugh, and Walt Wolfram, Vaux and Golder again go unmentioned.
It's heartening to see so much public interest in dialectal variation, but it would also be nice to give credit where credit is due.
(The voracious public appetite for dialect maps makes me hopeful that the forthcoming digital edition of DARE, complete with more maps than you can shake a stick at, will be a raging success.)
[Update: More thoughts on the maps from Asya Pereltsvaig on GeoCurrents.info.]
[Update #2: More on Katz's maps from North Carolina's News & Observer, and more on what digital DARE has in store on the Harvard University Press blog.]
---