« previous post | next post »
"MIT and Haiti sign agreement to promote Kreyòl-language STEM education", MIT News Office 4/17/2013:
MIT and Haiti signed a new joint initiative today to promote Kreyòl-language education in the science, technology, engineering and math (STEM) disciplines, part of an effort to help Haitians learn in the language most of them speak at home. […]
The idea that more Haitian education should occur in Kreyòl is a longtime belief of MIT linguistics professor Michel DeGraff, a native of Haiti, who has contended that Kreyòl has been improperly marginalized in the Haitian classroom. DeGraff's extensive research on public perceptions of Kreyòl, and on the language itself, has led him to assert that its perception as a kind of exceptionally simplified hybrid tongue, in comparison to English or French, unfairly diminishes the language.
The initiative is meant not to replace French, DeGraff added, but to help Kreyòl-speaking students "build a solid foundation in their own language."
The technology-based open education resources, he noted, are meant to promote "active learning," as opposed to drill-based rote learning techniques.
The initiative is being funded by the U.S. National Science Foundation and by MIT.
According to this video, "Ayiti Pare":
[Full disclosure: as an undergraduate, Michel DeGraff was an intern in my department at Bell Labs in 1985, and he got his PhD from Penn in 1992 — in computer science.]
Update — The comments below about the nature of "Creole languages" represent a standard view, which Michel has argued is spectacularly wrong. For a clear presentation of his arguments, see the slides from his presentation in the AAAS 2013 symposium on Historical Syntax, "A Null Theory of Creole Formation". The abstract:
Creole languages have traditionally been excluded from the scope of the Comparative Method in historical linguistics. To date, the most persistent and popular theories of Creole formation claim that Creole languages constitute an exceptional "Creole typology" whose members lie outside well-established language-family trees. Furthermore Creole languages are often claimed as the least complex human languages. Another view takes Creoles as relexified versions of their substrates. Our ongoing work suggests that these claims are all mistaken. We've argued that Creoles duly fall in the scope of the Comparative Method as languages genealogically affiliated with their lexifiers. Here we offer the bases of a framework for a null theory of Creole formation, a theory that we believe is empirically more adequate than the popular exceptionalist claims. This null theory does away with any sui generis stipulation that applies to Creole languages only. Instead it is rooted in basic assumptions and findings about Universal Grammar—assumptions and findings that apply to all languages. In this approach, the creation of new languages, whether or not they are labeled "Creole," sheds lights on the interplay of first- and second-language acquisition as new grammars are built from complex and variable input. The effects of this interplay are similar across familiar cases of Creole formation as in the creation of Haitian Creole and familiar cases of language change as in the history of French or English. Such null theory undermines various traditional claims about "Creole simplicity" and "Creole typology" whereby Creoles are considered exceptional languages of lowest complexity. This approach also makes for a better integration of Creole phenomena to our general understanding of the cognitive bases for language change.
Or, more succinctly and in larger type, the first slide from Michel's presentation: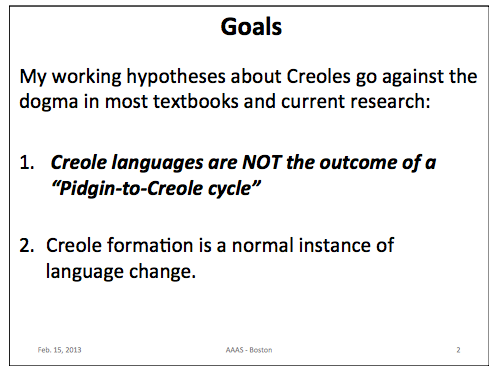 As you can see from Sally Thomason's comment, aspects of this view remain controversial — but if you're interested in such things, and have uncritically accepted the recently-standard wisdom on the subject, I recommend that you read through Michel's slides to learn more about the issues.
---