« previous post | next post »
Over the years, we've often blogged about signs in China (and sometimes elsewhere) forbidding people to urinate where they're not supposed to, e.g., "Urination is inhuman", with references to earlier posts near the end.
Now Morgan Jones has sent in what is probably the most unusual of all such warnings in this genre.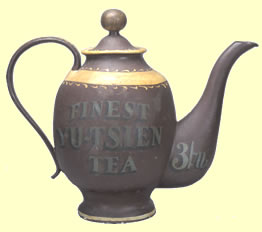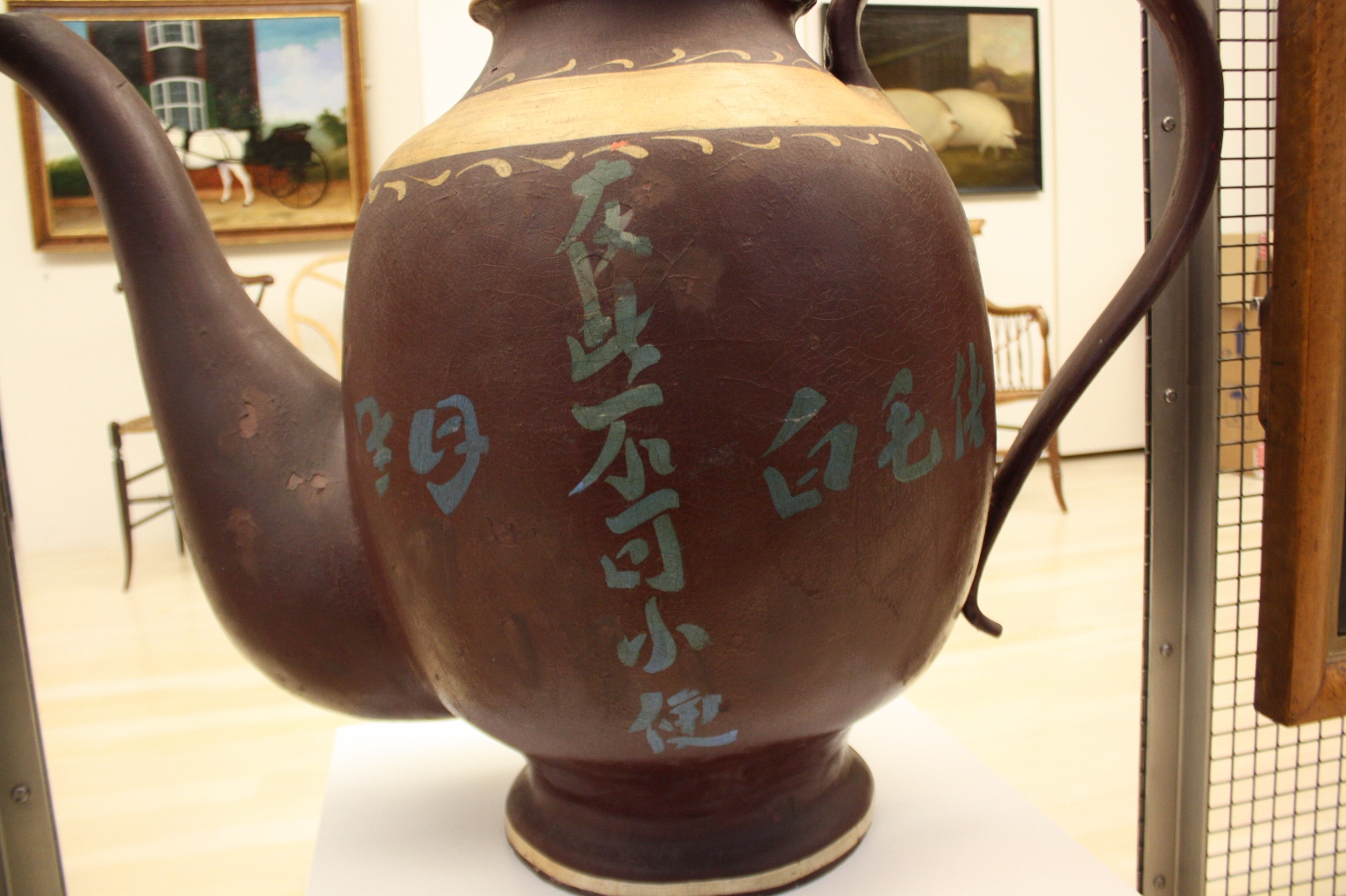 This late 19th century papier mache teapot belongs to the British Folk Art collection of Compton Verney, the UK museum where Morgan works. The teapot is 77.7 cm (about 30 inches) high. Here's the gallery guide, with the teapot on the fourth page. It was probably made as an advertisement, perhaps for the window of a grocer's or tea shop. On the front side it advertises "Finest Yu-Tsien Tea" (referring to yǔqián chá 雨前茶 ["before rain tea"], I believe).
More mysteriously, the back reads:
zài cǐ bùkě xiǎobiàn 在此不可小便 ("it is not permitted to urinate [lit., 'small convenience'] here") — in the vertical column
bái máo lǎo 白毛佬 ("white haired guy") — in a line to the right of the column
bái máo 白毛 ("white haired") — upside down, in a line to the left.
The somewhat odd calligraphy (connecting 在 with 此 and 大 instead of 土 in 在) looks like it comes from a later restoration. It seems possible (though not at all certain) that the Roman letter writing was put on with a stencil, so one suspects that the maker of the pot, trying to give it an exotic appearance, unwittingly had an inappropriate message added to it.
Who the 'white-haired fellow' is supposed to be is a bit of a mystery. Nor is it clear why he is being invoked next to an injunction against urination. A member of the gallery staff at Compton Verney reported that a visitor once translated it rather freely as "beware the White-haired Spirit — no pissing here." Morgan says that he always found this rather unconvincing — at least until he read all the LLog entries detailing warnings for those who urinate where they aren't meant to.
Compton Verney also has a large collection of Chinese bronzes, and this attracts visitors who are interested in these impressive vessels. A while ago a visitor from the Shanghai museum (which holds one of the world's premier collection of Chinese bronzes) said he thought it had been put there as a joke by some Chinese person to, in his words, "mà wàiguórén" 罵外國人 ("dis foreigners").
At any rate, Morgan hopes that we find this amusing, and if we have any comments he'd be very glad to hear them. At our convenience, of course!
---