« previous post | next post »
Sign in the window of a snack shop in Houhai district of Beijing called Beijing Snacks (Bǎinián lǔ zhě 百年卤者 [Century Braiser]):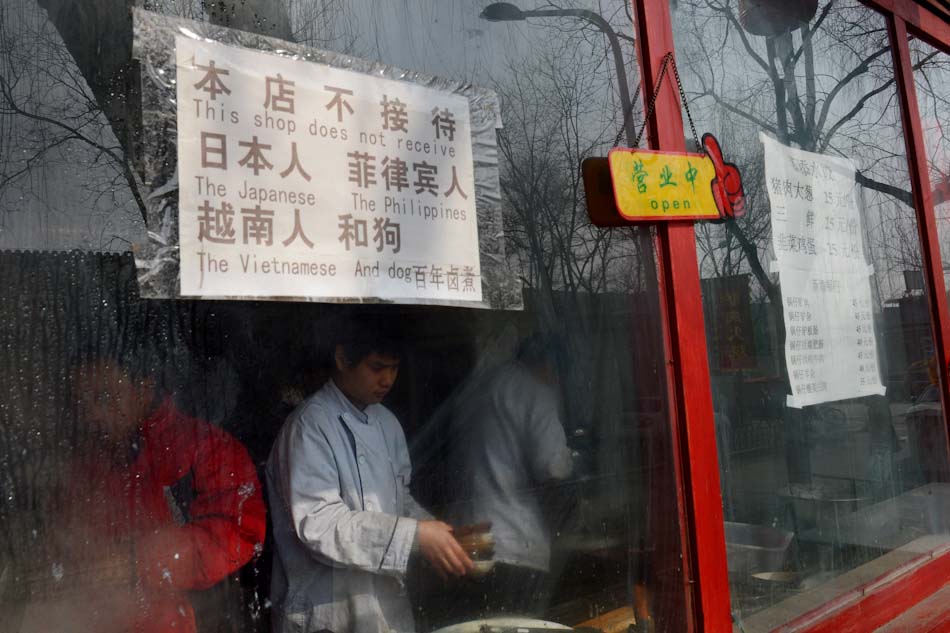 The sign reads:
Běndiàn bù jiēdài Rìběnrén Fēilǜbīnrén Yuènánrén hé gǒu
本店不接待日本人菲律宾人越南人和狗
This shop does not receive the Japanese, the Philippines, the Vietnamese, and dog.
I find it extremely interesting and encouraging (in terms of orthography) that the characters on the sign that constitute proper nouns are grouped together and set off with spaces. Moreover, there is an attempt to have the translation positioned in such a manner that the English words are paired with the corresponding Chinese words, as though they were running glosses or annotations.
See "Beijing restaurant bans Pinoys and dogs" and "No Dogs, But Also No Japanese, Filipinos, Or Vietnamese Allowed?."
This sign calls to mind the widespread legend that Huangpu Park (at the northern end of the Bund in Shanghai) used to have at its entrance a sign that read "No dogs or Chinese allowed" — popularized in the Bruce Lee film "Fist of Fury" — but which is fictitious in that form.
[A tip of the hat to Geoff Wade]
---