« previous post | next post »
"Hacked" (editorial cartoon by Scott Stantis, Chicago Tribune, Feb. 21, 2013):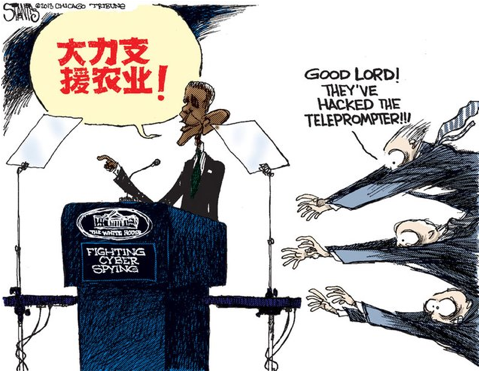 The words in the bubble spoken by Obama are:
Dàlì zhīyuán nóngyè 大力支援农业 ("Vigorously support agriculture")
One wonders where the cartoonist dug up such an outmoded slogan. Ever since Deng Xiaoping, the push has been for manufacturing. The cartoon as a whole, however, is highly topical, since China's cyberwar against the United States has been very much in the news for the past few days ("China's Army Is Seen as Tied to Hacking Against U.S."), especially with the release of the Mandiant Report. (Watch the video in full screen so that you can see the details.)
Incidentally, if the Chinese characters in the bubble were phonetically annotated with Pinyin, Obama really would be able to "speak Chinese", but if the teleprompter only provided the characters, the president wouldn't have a clue about how to pronounce them.
[Hat tip to Bob Bauer]
---