« previous post | next post »
Vito Acosta sent in this photograph of a sign at Tianmu Lake ( Tiānmù hú 天目湖) in Jiangsu: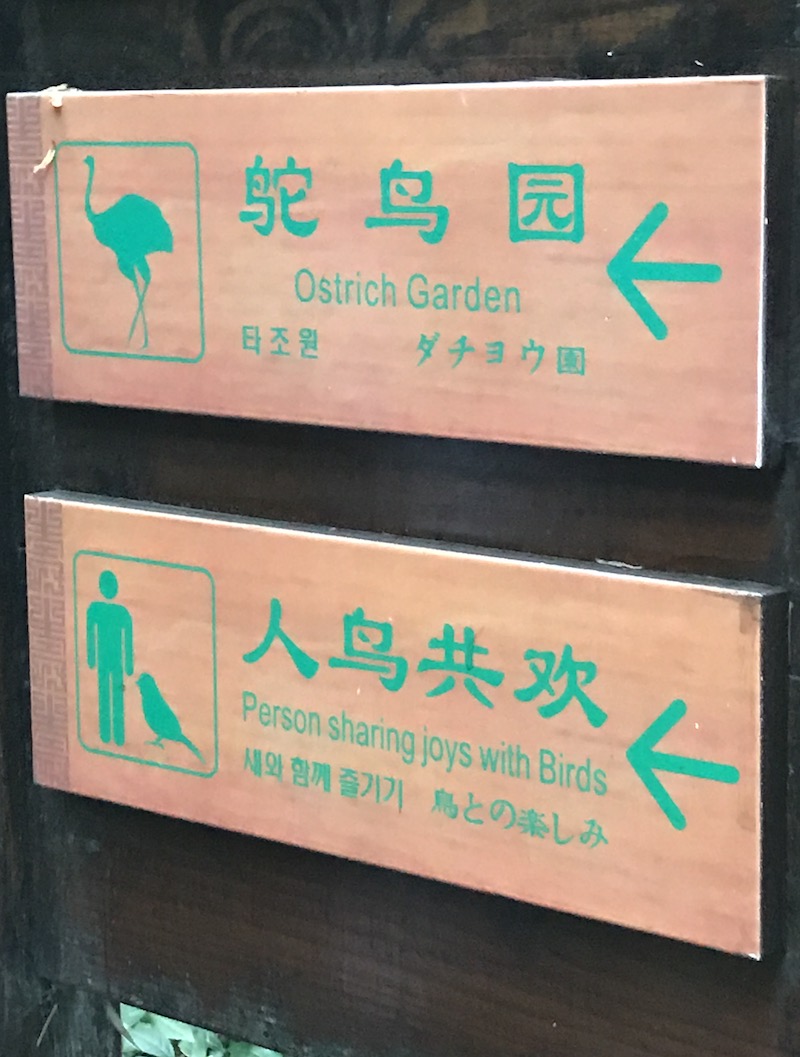 1.
Chinese:  tuóniǎo yuán 鸵鸟园 ("ostrich garden")
Korean:  tajoweon 타조원 ("ostrich garden")
I am not sure how you can have fun with ostriches!
From a person with ornithophobia
Haewon Cho
Japanese:  dachō-en ダチョウ園 ("ostrich garden")
2.
rén niǎo gòng huān 人鸟共欢 ("people and birds happy together")
Korean:  saewa hamkke jeulgigi 새와 함께 즐기기 (lit., "bird-with together enjoying", i.e., "enjoying with birds")
Japanese: tori to no tanoshimi 鳥との楽しみ ("our/your/my pleasure with birds") ("enjoyment with birds")
a.
The Chinese version is more objective, or the third person's view, whereas the Japanese one is more subjective, or human-centered view,  I think.
Hiroko Sherry
b.
My guess is that it's not likely to be native Japanese, but also that it's not going to cause any ruffled feathers, either.
Nathan Hopson
The thought of sharing joys with feathered friends more than compensates for any slight infelicities of translation.
---