« previous post | next post »
Carley De Rosa sent in the following photograph taken at the Niujie (Ox Street) Mosque (Niújiē lǐbàisì; simplified 牛街礼拜寺, traditional 牛街禮拜寺) in Beijing: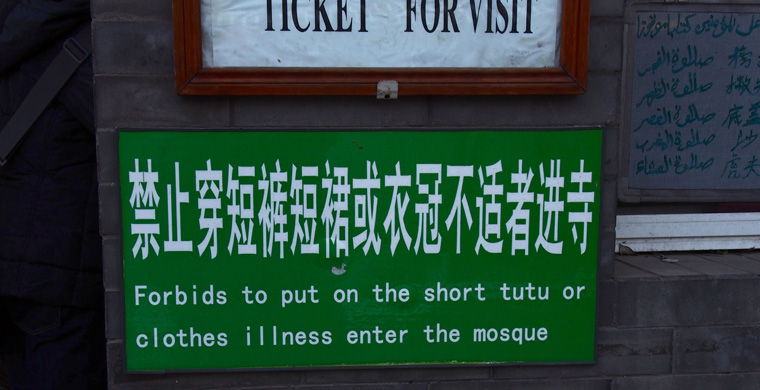 Chinese on sign:
Jìnzhǐ chuān duǎnkù duǎnqún huò yīguān bùshì zhě jìn sì.
禁止穿短裤短裙或衣冠不适者进寺。
Chinglish on sign:
Forbids to put on the short tutu or clothes illness enter the mosque
Correct English:
It is forbidden to enter the mosque wearing shorts, a short skirt, or other improper clothing.
Since I have just spent the New Year's holiday with my three-year-old granddaughter in Dallas, who loves to wear a gauzy, short skirt — whether at her dance class or at home — I am quite familiar with what a "short tutu" is, but I still have to work at grasping the connotations of "clothes illness" before I am satisfied that I understand all the nuances of this charming sign.
---