« previous post | next post »
The following series of emoticons is supposedly a detailed rendition of the plot of "Les Miserables":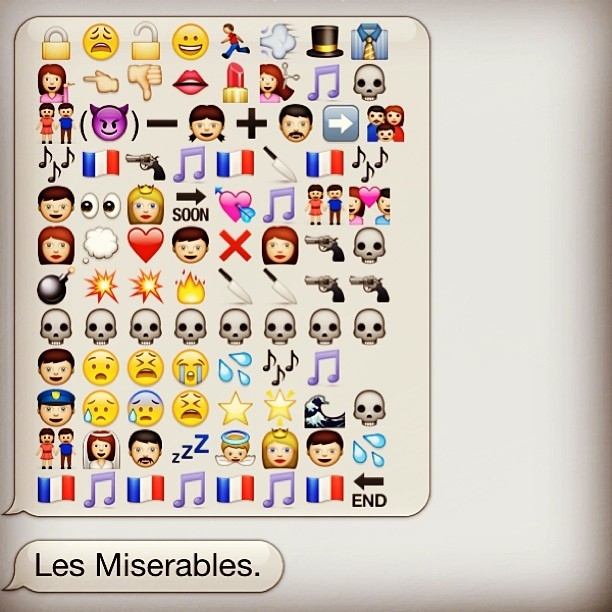 I'm not familiar enough with emoticons to tell whether these 95 symbols constitute an adequate rendering of "Les Miserables", but I did notice that the story as "depicted" here on two occasions has to resort to words ("soon" and "end") and once uses Roman letters ("Z Z Z", presumably to convey the notion of "sleep"). There is also an awful lot of repetition, which seems a terrible waste of space if one is trying to be concise.
In any event, even if I did know emoticons well, I doubt that I would have the patience to try to work my way through the story as told in this form. Moreover, quite frankly, I'm dubious that this really constitutes a " Very Detailed Summary Of 'Les Miserables'", as claimed by the BuzzFeed headline.
Incidentally, I suppose that the range of symbols displayed in this "summary" should not really be called emoticons, but might better be designated by the Japanese term emoji ("picture writing") since the variety of symbols employed is much greater than even those found in an extended list of emoticons.
Perhaps, however, "emoticon" now signifies more than just those cute little faces that one inserts at strategic points in one's electronic messages. Be that as it may, emoji composition is quite popular in certain circles, and not just in Japan, as attested here, here, and here.
This is all great fun, but not very functional when one needs to communicate something precisely and concisely. Furthermore, as is evident from the sites I have just cited and many others that are available on the web, it is evident that emoji writing often feels the need to insert real words.
For a nonmystifying summary of "Les Misérables", I would suggest this, this, this, or this.
[A tip of the hat to Brendan O'Kane]
---