« previous post | next post »
In "Which justifies what?" (7/3/2019) and "Thematic spoonerisms" (7/14/2019), we noted cases where writers exchanged noun phrases so as to produce literally nonsensical propositions: the inconvenience didn't justify the cause instead of the cause didn't justify the inconvenience, and ampicillin is resistant to multiple strains of U.T.I.s instead of multiple strains of U.T.I.s are resistant to ampicillin.
In this morning's email, Bob Ladd point out a letter referencing the story where the inconvenience didn't justify the cause, not to complain about the swap but to repeat it — "Have your inconvenience now and avoid it later", The New Scientist 7/17/2019:
Chelsea Whyte mentions that many people resented the disruption that the Extinction Rebellion protests created because they "felt the inconvenience didn't justify the cause" (22 June, p 20). I think this sums up the global attitude to action on climate change.
Maybe people need to be reminded of the inconveniences that global warming will cause. Instead of stopping trains, perhaps future protests should cordon off low-lying coastal areas and hand out flippers and snorkels to those who want to enter?
Any complaints can be met with a polite reminder that this will soon become a permanent inconvenience.
Bob's comment:
I find it hard to believe that even with attention drawn to the specific phrase, both the letter-writer and the letters editor still failed to notice that anything was wrong.  This may prove something about "monkey brains", etc., but it surely also proves that linguists are weird.
The obligatory screenshot: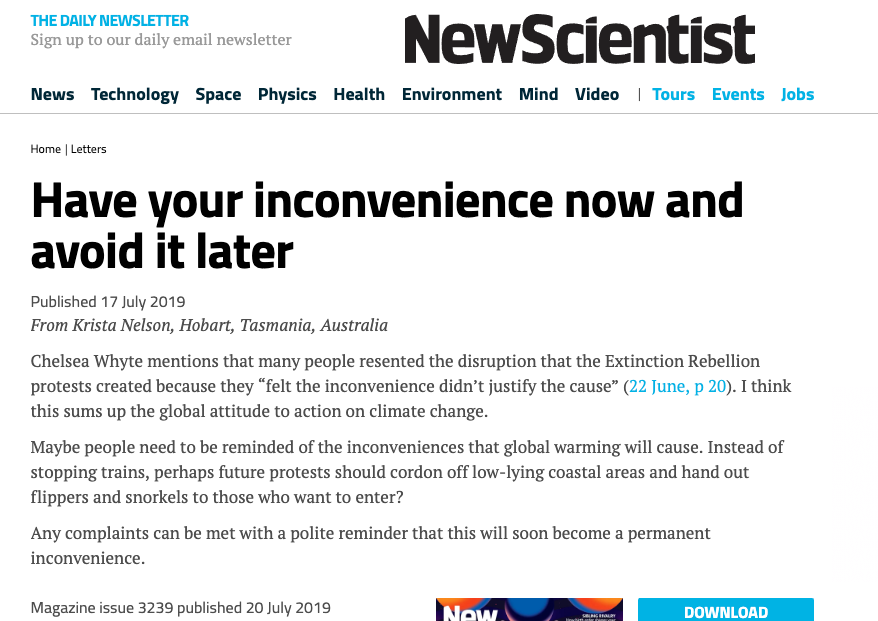 Is it possible that justify has a new meaning, in which the traditional roles of subject and object are reversed, so that a fault justifies an excuse rather than an excuse justifying a fault? That would be analogous to the development of infer to mean imply — if the standard prescriptive story about those words were true; but see "The truth about infer", 8/11/2008. As far as I can tell, there is no similar history of thematic uncertainty in the case of justify.
---