« previous post | next post »
Matt Richtel, "Urinary Tract Infections Affect Millions. The Cures Are Faltering", NYT 7/13/2019 [emphasis added]:
For generations, urinary tract infections, one of the world's most common ailments, have been easily and quickly cured with a simple course of antibiotics.
But there is growing evidence that the infections, which afflict millions of Americans a year, mostly women, are increasingly resistant to these medicines, turning a once-routine diagnosis into one that is leading to more hospitalizations, graver illnesses and prolonged discomfort from the excruciating burning sensation that the infection brings.[…]
The drug ampicillin, once a mainstay for treating the infections, has been abandoned as a gold standard because it is so often resistant to multiple strains of U.T.I.s.
Normally — and elsewhere in that article — infections (or the organisms that cause them) are resistant to drugs, not the other way around. So I'm going to assume this was a compositional or editorial slip rather than the leading edge of a new usage.
We noted an analogous syntactic role reversal ten days ago ("Which justifies what?", 7/3/2019). Is there a name for this kind of error, perhaps from the terminology of psycholinguistics? Or maybe from rhetoric? There are lots of ways of talking about the relationships involved — see e.g. Framenet and Verbnet — but I don't know of any term for exchange errors in the mapping from thematic roles to syntactic positions. Thematic spoonerisms?
The mandatory screenshot: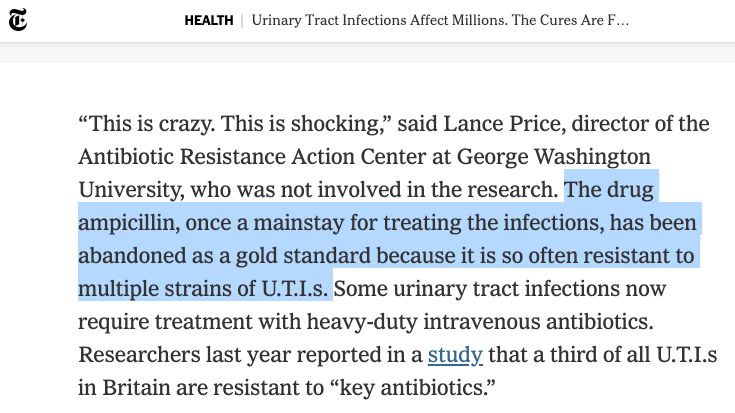 [h/t Charles Belov]
Update — more here: "Changelings".
---