« previous post | next post »
A food writer recently tried to find an effective euphemism for moist, in order to avoid the associated word-aversion problems (Hate Moist? You're Not Alone", Huffington Post 12/10/2012):
At HuffPost Taste, the word moist comes up a lot in our work and, we have to admit, it nauseates us. It's an occupational hazard we can't seem to avoid. We inevitably come across the word as positive descriptors for cakes and cookies every day. Sometimes, we even have to write it (like right now, which makes us feel a little dirty). […]
Because we can no longer use a word to describe a perfectly cooked cupcake that can also be interpreted to mean clammy and water-logged, we've come up with 5 great alternatives.

The five proposed euphemisms (not dry, hydrated, good crumb, spongy, divine) are not even a little bit great, in my opinion. William Ian Miller, The Anatomy of Disgust, 1998, explains why the problem is a difficult one to solve:
The qualities of consistency and feel provide the bulk of our lexicon of disgust. Thus the oppositions squishy vs. firm, moist vs. dry, sticky vs. non-adhering, scabby vs. smooth, viscid vs. free flowing, wriggling and slithering vs. still. Add further certain qualities without easily paired opposites, for which the opposite is simply the absence of the trait: oily, filmy, curdly, gooey, slimy, mucky. All these qualities deserve some special comment. For one thing, it is easier to come up with words to describe disgusting sensations when these are moist, viscid, pliable, than when they are dry, free flowing, or hard. For every disgusting scabby or crusty thing there are tens of disgusting oozy, mucky, gooey, slimy, clammy, sticky, tacky, dank, squishy, or filmy things. and even the scabby and the crusty borrow their disgustingness from the fact that they are formed from the coagulation of viscous substances. Note how hard it is to find non-pejorative terms to describe some of these consistencies, primarily those which are characteristics of what I earlier called life soup. Just how is it possible to name slime or indicate something that slithers without the term taking on a heavy negative moral and aesthetic baggage? [emphasis added]
After all, most of moist's semi-synonyms are complete non-starters: a food writer is unlikely to use words like damp or soggy as positive descriptors of baked goods.
A related perspective comes from a 1987 Fry and Laurie comedy skit, "Lavatory humour", 1987, in which "moistness" gets the biggest laugh:
Fry:
… what's meant by lavatory humour is
saying things like
bottom
ploppies
Laurie:
Number twos
guppies
Fry
Moistness.
Nipple.
Laurie:
Nipple.
Fry:
You see?
Say words like that and it's giggle, giggle, giggle.
But word aversion is as much about sound as about meaning, as "Eustacia" observed in a comment on The Perfect World forum, 6/2/2003 (quoted in "Ask Language Log: The moist panties phenomenon", 8/20/2007). She is explaining why she hates baffle, cornucopia, and squab:
I really just don't like those words. I don't dislike their meanings, but phonetically they conjure up all sort of unpleasant textures.
(That whole 1814-comment thread is worth reading…)
In thinking about word aversion over the years, I haven't come up with anything much to add to what I wrote in response to a reader's question in 2007:
The words in question are not taboo in the culture at large. Women seem to be more more likely to have this reaction, though perhaps they are just more likely to talk and write about it.. Sounds and sound associations may play a role (the diphthong usually spelled 'oi', certain consonant clusters, etc.); semantic associations may play a role (slimy textures, lower-body garments like panties and slacks); but the process seems pretty random and erratic, also hitting on random-seeming words like hardscrabble, baffle and tissue. Nevertheless, certain specific words (such as moist and panties in English) seem to be frequent victims. This lexical specificity could be because the process is more deterministic than it seems, or because of cultural transmission that doesn't reach the threshold of creating new lexical taboos, but does create a widely-shared aversion to particular words well above chance levels.
Anyhow, moist seems to have the optimal combination, in today's English-speaking world, of whatever the crucial word-aversion features may be. Last spring, over at the New Yorker, moist won first place in a sort of reader poll of lexical usage peeves and word aversions (all mixed up together, since this is the New Yorker, after all). "Words came in, marked for death", New Yorker 4/23/2012:
Last Friday, we débuted "Questioningly," a Twitter-based game show. In the first installment, we asked readers to propose a single English word that should be eliminated from the language. […]
Words came in, marked for death. Popular objects of dissatisfaction included "awesome" and "epic" (pointlessly inflationary), "phlegm" and "fecund" (pointedly ugly), "bling" and "swag" (self-conscious slanguage), "impacted" and "efforting" (boardroom blather), "like" and "but" (only ever taking up space), and "irregardless" and "inflammable" (are they even words?). That was how the pack travelled, in the main. […]
In the end, there was a runaway un-favorite: "moist." People, particularly women, evidently prefer aridity.
Note that semi-synomyms like wet, damp, dewy, humid, soggy didn't even make the list.
The use of moist in English-language publishing seems to have risen from around 6 per million in 1810, to a peak just before WW I of about 13 per million words, and a subsequent fall, back to about 6 per million. I have no idea what that means, if anything: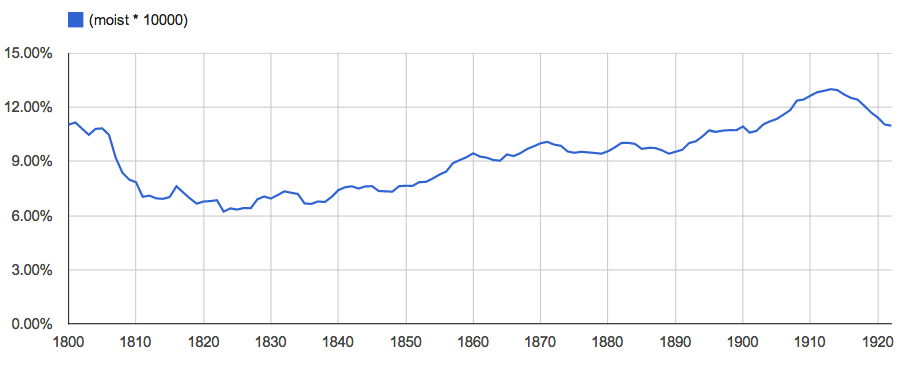 Partial word-aversion blogography:
Language Log posts: "The moist panties phenomenon", 8/20/2007; "Don't say 'tin' to Rebecca, you know how it upsets her", 8/20/2007; "Morning mailbag", 9/10/2007; "The long moist tail", 10/6/2007;  "From cringe to offense", 10/25/2007; "Moist aversion: the cartoon version", 8/27/2008; "Word attraction", 5/13/2009; "Word aversion and attraction in the news", 5/19/2009; "The 'moist' chronicles, continued", 8/8/2009; "Six words", 7/23/2010; "Toot chuckle lil' kidnap Snooki", 2/23/2011; "Hated words", 7/1/2011.
Some other citations: "Words you hate", The Perfect World, 6/2/2003; Ben Zimmer, "Which Words Do You Love and Which Do You Hate?", Word Routes 5/19/2009; David Pescovitz, "Moist, and other words people dislike", BoingBoing 5/19/2009; Mark Peters, "Why do we hate the word moist?", Good 8/1/2009; "Movies, Easy Listening, Ugly Words", Wait Wait…Don't Tell Me! 8/8/2009.
Cartoons — Rob Harrell's Big Top, from 2003: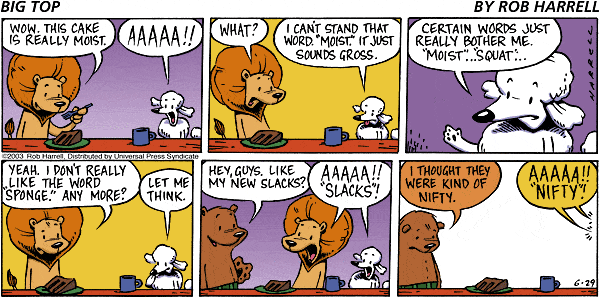 And xkcd, from 2011 (another mixture of word aversion and usage peeving):

---