« previous post | next post »
Earlier this year, I wrote about "The unpredictability of Chinese character formation and pronunciation". In that post, I had a long section on the artist Xu Bing's "Book from the Sky".
Now the artist has created a parallel "Book from the Ground". Here's what it looks like: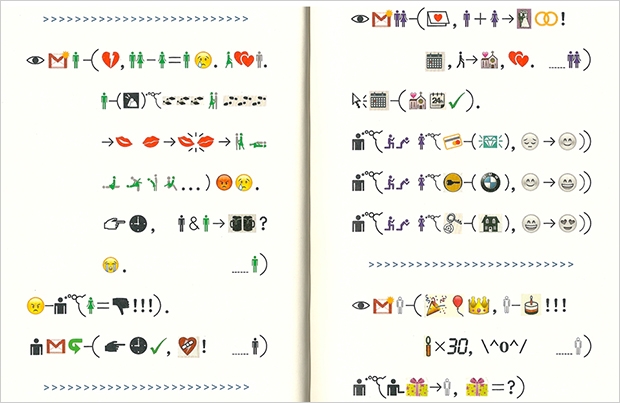 This is supposedly the Everyman Tale in icons. Forgive me, but even after studying up on Xu Bing's principles employed in creating his "Book from the Ground", I must confess that I cannot read off what he has written in English, which is theoretically supposed to be possible. I wonder how many Language Log readers are capable of doing so. Since Xu Bing has been engaged in this project since 2003, we may politely say that it is a "work in progress".
All of Xu Bing's experimental scripts probe the boundaries of the established conventions of writing. For example, in Square Word Calligraphy Xu arranged the letters of English words into quadrilateral shapes like Chinese characters. David B. Kelley went a step further and adapted Xu Bing's system of Square Word Calligraphy by replacing the Roman letters of English words with Chinese character components that resemble them.
Kelley's Square Word Calligraphy even made it into Omniglot, so somebody seems to have taken it (half) seriously.
There are many other artists in China who are exploring ways to transform and revitalize the Sinographic writing system, but most of them are whimsical or satirical, with few making any real pretensions to replacing or modifying the existing script. I'm quite certain that Xu Bing's "Book from the Ground" will never be refined to the point that it can replace existing scripts either. Consequently, when it comes to reforming the Chinese writing system, which has been a preoccupation of countless linguists, artists, and activists during the past century and more, for practical purposes reformers are forced to fall back on the two main approaches of simplification and phoneticization.
[A tip of the hat to Anne Henochowicz]
---