« previous post | next post »
The current xkcd: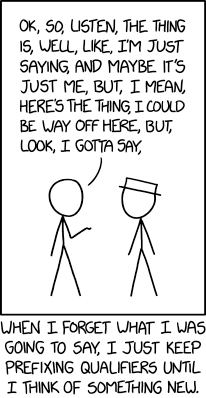 Mouseover title: "[20 minutes later] ", hi.""

I'm not sure that there are 20 minutes worth of additional "qualifiers" beyond those given in the cartoon, though there are certainly plenty left off of that list: you know, really, yeah, seems like, believe it or not, apparently, sort of, … And there isn't a bright line between pure "qualifiers" (if any exist) and more contentful ways of framing a message or adjusting its impact, like "It's hard to believe this, but …", or "Recently I noticed…". Our president is fond of "Many people are saying …".
In the less contentful direction, as the cartoon's caption suggests, the listed words and phrases are not only qualifiers, they're also (one of the types of) fillers. Which in turn are considered to be one of the types of dysfluency (or disfluency).
And as I suggested in "Dysfluency considered harmful" (5/19/2019), the thing is, I gotta say, all of the many types of dysfluency have a double life. They might be symptoms of a breakdown in the flow of communication, signaling a problem in planning or execution. Or they might be an intrinsic part of the communicated message, contributing to its meaning like any other words and phrases. Or they might be something in between.
That's why I suggested that in linguistic discourse, the terms dysfluency and disfluency ought in most cases to be replaced by a more neutral word, such as interpolation.
---