« previous post | next post »
… as a technical term, that is. Disfluency is no better, although the prefix is less judgmental. There are two problems:
These terms pathologize normal behavior, creating confusion between pathological symptoms and common phenomena in normal speech, which may be different not only in their causes and their frequency but also in behavioral detail;
Applied to normal speech, these terms often treat intrinsic aspects of the content and performance of spoken messages as if they were disruptions or failures.
My suggestion: we should use the term interpolation for silent pauses, filled pauses, filler words or phrases, repetitions and corrections, etc. This leaves open the question of whether such interpolations are normal or pathological, and whether or not they're an intrinsic part of the content and performance of the message.
Merriam-Webster's definition of dysfluency/disfluency is
an involuntary disruption in the flow of speech that may occur during normal childhood development of spoken language or during normal adult speech but is most often symptomatic of a speech impairment
especially : a disorder of vocal communication that is marked by frequent involuntary disruption or blocking of speech (as by repetition of all or part of a word or by prolonging vocal sounds) and typically has an onset during childhood
Wikipedia focuses on the phenomena that are common in everyone's everyday speech, leaving out the use of the same terms for behaviors viewed  as disorders or symptoms of pathology:
A speech disfluency, also spelled speech dysfluency, is any of various breaks, irregularities, or non-lexical vocables that occurs within the flow of otherwise fluent speech. These include false starts, i.e. words and sentences that are cut off mid-utterance; phrases that are restarted or repeated and repeated syllables; fillers, i.e. grunts or non-lexical utterances such as "huh", "uh", "erm", "um", "well", "so", "like", and "hmm"; and repaired utterances, i.e. instances of speakers correcting their own slips of the tongue or mispronunciations.
Amazingly enough, the OED apparently has no entry for dysfluency/disfluency (perhaps because it's a relatively recent word?).
Nine of the first ten hits on Google Scholar for dysfluency, and three of the first ten hits for disfluency, deal with symptoms of disorders (Parkinsonism,  Down's syndrome, stuttering, etc.).
I'll leave aside for now the general question of whether the medicalized "dysfluencies" are the same as the everyday "dysfluencies" and just assert that it's a mistake to use terminology that presupposes an answer to that question.
But let's note in passing that the speech pathology referred to as stuttering or stammering is generally very different from the rapid repetitions common in everyday speech. As an example, listen to this short passage from Terry Gross interviewing Illeana Douglas on Fresh Air in 2015. Do you hear any stuttering?
Here's the show's transcript of that segment: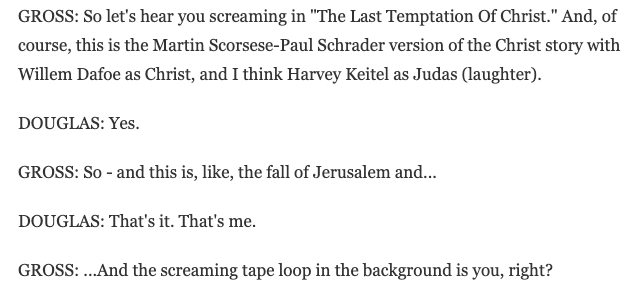 But here's Terry Gross's last sentence, where careful listening will reveal that she repeats the word the three times within half a second:
And the- the- the screaming tape loop in the background is you, right?
Zeroing in still further: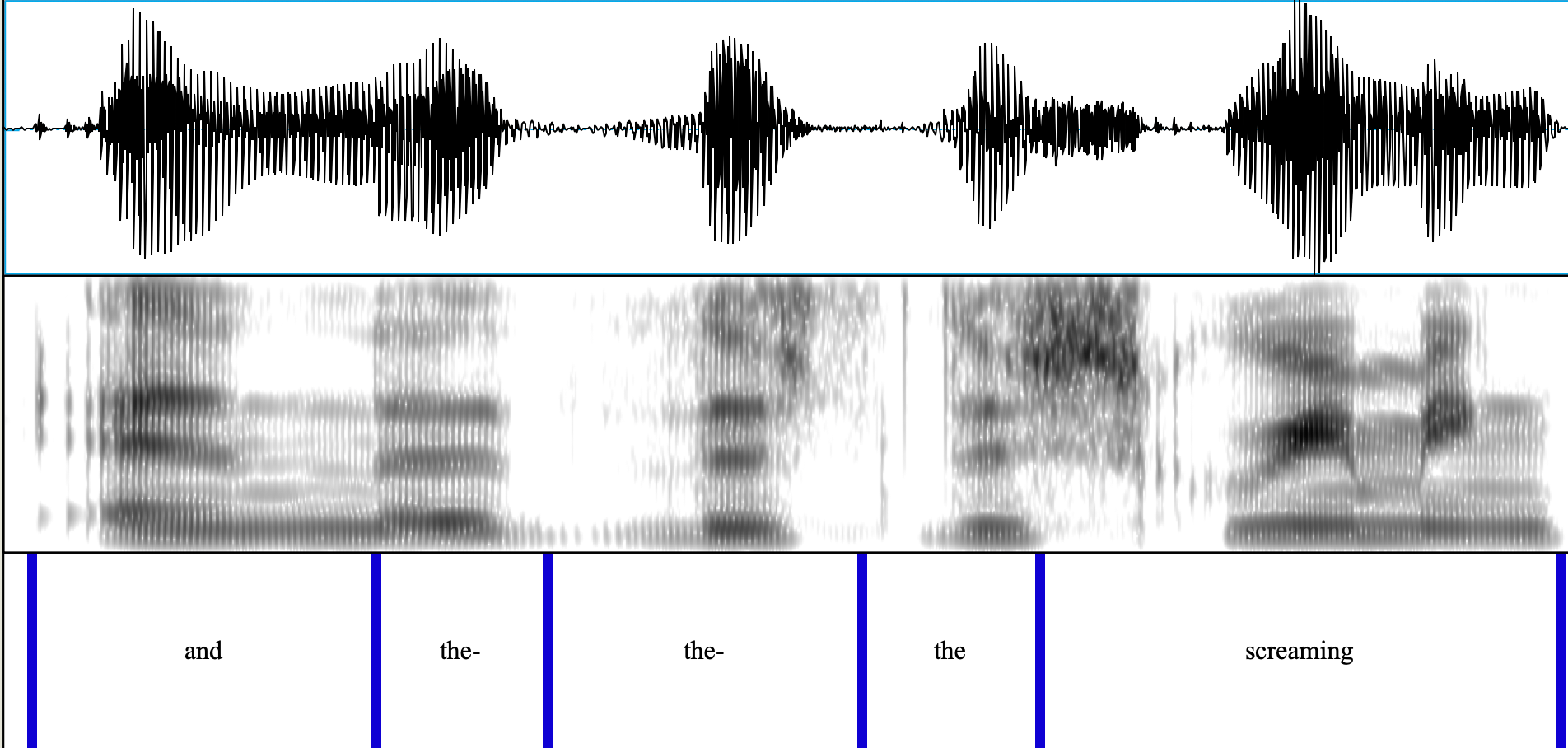 As you may well not have noticed, Terry Gross also repeats several words earlier in that segment. Transcriptionists generally leave out such things, which with tongue in cheek I used to call "fluent dysfluencies". A better term would be "rapid repetitions" — and they're very common. Terry Gross is a skilled professional speaker and one of the world's great interviewers, but in a selection of her interviews where I've "dis-edited" the transcripts to restore various sorts of interpolations, she has 579 rapid repetitions in 23,427 words, for a rate of 2.5%. This is not evidence that Terry Gross suffers from stuttering — though in comparison, the word the has a frequency of 3.2% in the same collection.
And if we add in the ums and uhs and likes and you knows and I means, her overall  interpolation rate rises to 4.6%. This is well within the normal range — but it would also be an enormous mistake to see this as representing her rate of "involuntary disruptions in the flow of speech" (Merriam-Webster) or "breaks, irregularities, or non-lexical vocables" (Wikipedia). A significant fraction of these interpolations are clearly planned aspects of her performance, contributing to its communicative effect.
This is especially clear in the case of silent pauses. A pause may reflect a disruption or delay in speech planning, but often it's a sign of the syntactic, semantic and rhetorical structure of the message. And sometimes it's both at once.
Silent pauses can have a clear communicative function even when they occur in places where they don't belong from a purely structural point of view, for example between a determiner and the following noun phrase. Here's an example from another Fresh Air interview:
This is Fresh Air, and if you're just joining us, my guest is Jill Soloway, she's the
creator and show-runner of the Amazon TV series
Transparent
The 218-msec silence between "us" and "my" marks a phrase break — but the 310-msec silence between "the" and "creator" — like the 473-msec silence between "series" and "Transparent" — is there to add emphasis to what follows, not to give Terry Gross time to remember where to look in her notes.
Many researchers have suggested that "filled pauses" — um and uh in American English — often function communicatively, sometimes just as delay signals but also often as markers of discourse structure (see e.g. here).
It's easy to find suggestive examples of this kind in Terry Gross's interview techniques, such as the common structure
<FRAMING INFORMATION> um <QUESTION>
Here's an example from her 2015 interview with Shonda Rhimes:
so your first big show, of course, was "Grey's Anatomy." Why was your first show a medical show?
I mean, there had been very successful shows before that.
um why did you want to do a medical show yourself,
and what did you think would be different
about your show?
Another example, from an interview with Willie Nelson:
now
the last couple of summers you've been touring minor league
baseball parks with- with Bob Dylan
um what do you feel you
and Bob Dylan have most in common as friends or as
songwriters or lovers of music?
In an interview with Carrie Brownstein:
You didn't know it at the time, but your father was gay. He didn't come out until he was 55, and you were probably in your 20s by then.
um Do you think he knew at the time, when you were in your teens and living at home with your parents?
Do you think he knew he was gay?
um so- so when- when you look at your writing now – and again like we- we mentioned, you turned 70 this year
have you ever cared much about like, legacy, like, how your books are regarded
in- in- in- the future and are- will they be read in the future and how will you be interpreted and
how much do you need to write?
um and I'm wondering what you thought about that as a young man compared to how you feel about that now?
OK — enough, or too much.
But I hope I've persuaded you that it's at best tendentious to describe as "dysfluencies" a collection of ordinary-language behaviors whose only real common characteristic is that they're usually omitted from written transcripts. Each instance may reflect a failure at some level of planning or performance, or alternatively a communicatively relevant part of the plan or the performance — or both at once.
And it's often wrong to see these interpolations as interrupting "the flow of otherwise fluent speech", since in many cases the resulting speech stream flows more smoothly than regions without such "dysfluencies". A young person of my acquaintance, criticized by a teacher for over-using the discourse marker like, responded that "for me, like is the engine of speech".
---