« previous post | next post »
As most people are aware, Australia had its general election last week.  Chinese politicians and signs promoting them were very much in evidence.  Here's an example of one that caused a lot of controversy: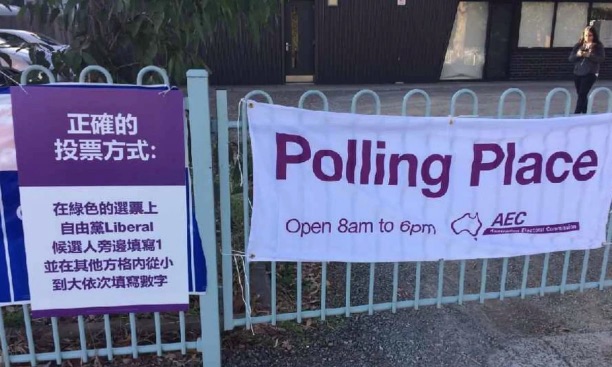 The Chinese sign says:
zhèngquè de tóupiào fāngshì 正確的投票方式
correct voting method
zài lǜsè de xuǎnpiào shàng 在綠色的選票上
on the green ballot
Zìyóu dǎng | Liberal 自由黨 | Liberal
Liberal Party | Liberal
hòuxuǎn rén pángbiān tiánxiě 1 候選人旁邊填寫1
next to the candidate fill in 1
bìng zài qítā fānggé nèi cóng xiǎo 並在其他方格內從小
and in the other squares, from smaller
dào dà yīcì tiánxiě shùzì 到大依次填寫數字
to larger fill in the numbers in order
Before proceeding further, I wish to declare that I do not follow Australian politics closely, so I don't know which party has the bad guys and which party has the good guys.  I merely wish to describe what I see on the sign and give my impression of whether deception was involved, which is what some of my Australian colleagues who do not read Chinese (or don't read it well) asked me about.  What they were curious about is the extent to which a Mandarin-speaking Australian would regard that sign as some form of "official" instruction.
Australian correspondents who are literate in Chinese state that the language of the sign indicates that there is only one correct way to vote, e.g., "The heading should have been along the lines of 'How to cast a correct ballot for the Liberal Party' rather than the equivalent of 'How to cast a correct ballot'."
——
"It was very wrong of the Liberal Party to engage in this basically fraudulent act."
——
"The sign is certainly not AEC-sponsored but created to appear to be. Clearly intended to deceive."
——
"If this had been a how to vote card handed out by Liberal Party supporters, it would not have raised any eyebrows.  The problem is the adoption of AEC colours and style to make it look like an official instruction.  However, the electoral act has allowed this poster simply because it does say in miniscule print (which I cannot see myself) the it was authorized by a Liberal Party spokesman.  One could conclude that the AEC needs revising to take into account the latest lot of 'rorts" of our system, including this one.
"I also note that the offending Chinese sign appears to be placed over a blue poster.  Liberal Party signage is blue.  There appears to be another blue poster next to it, which I assume is a genuine 'vote Liberal' type of poster.
"Would Chinese voters be fooled by this one and blindly follow this instruction to put the Liberal Party first?  Not necessarily.  The other candidate was also a Chinese-Australian.  I think overwhelmingly they would understand they do indeed have a choice of which Chinese-Australian to vote for in this electorate (called Chisholm in middle-class Melbourne.
"The Labor Party (the main opposition party) is now taking this to the High Court.  They may not win, but one can hope that the terms of the AEC are revised to take this and other fraudulent acts into account.  However, I will not hold my breath."
——
"The colors of the Australian Electoral Commission (AEC) are always purple and white."  See here.
Newspaper articles covering the controversy:
"'Massive rort': Liberals accused of misleading Chinese voters by imitating AEC signage", by Michael Koziol, The Sydney Morning Herald
Labor has lodged a complaint with the Australian Electoral Commission over Liberal signage targeting Chinese voters that appears to imitate official AEC communications.
The signage appeared in the key marginal seat of Chisholm – previously held by Julia Banks – which has a high Chinese population.
——
"Labor lodges complaint over Liberal Chinese-language signs they say 'deceived voters'", Lisa Cox, The Guardian (5/18/19)
Labor describes posters using Australian Electoral Commission colours as a 'massive rort'
——
"Australian Electoral Commission finds 87 cases of election ads breaching law", Christopher Knaus and Paul Karp, The Guardian (5/21/19)
AEC received almost 500 complaints about election advertising, including protests over online campaigns, during 2019 federal election
…Prof Graeme Orr, a political law expert at the University of Queensland, said election campaigns now risked being "awash with material that is not authorised or misleads electors in how to cast vote".
Orr believes it is critical that action be taken on the Chisholm case, where a third party imitated AEC signage to convince voters to vote Liberal.
"The AEC must protect its own integrity against material, like that in Chisholm, that imitates its style and colours," he said. "The AEC and rival parties could have sought court injunctions to restrain any unlawful material: the AEC retains power to investigate further and refer any breaches to police."
Twitter background on the person who organized the complaints against the Liberal Party signs.
A couple of Australian expressions I encountered in the newspaper articles and in correspondence with colleagues on the subject of this post:
1. a "massive rort"
2. "the government was narrowly returned, after trailing in the polls for several years"
After asking around, I found that:
#1 means "a scam; a cheating action; a large-scale con-job; some form of chicanery; a huge fraud, terrible dishonesty; a fraudulent act, often involving misuse of public resources"
#2 "returned" means "returned by the electorate", i.e., "won the election" and "the government" refers to the government in power, i.e., the Liberal coalition government, although I'm still not confident that I fully understand how this works.
"The government only just retained its hold on power through the election."
"The Liberal National Party Coalition (the conservatives) federal government that has been mismanaging Australia's political affairs for the past decade, which had widely been expected to be thrown out of office at this election, first seemed to just get back in to power, but now turns out to have a 10 seat majority in the House of Representatives (our 'Congress')."
What chutzpah the Liberal Party had to place that pseudo-official sign right next to the AEC's own sign!
[Thanks to Jim Breen, Geoff Wade, Geremie Barmé, David Holm, Anne McLaren, and Catherine Churchman]
---