« previous post | next post »
Reader PH feels that the meaning of entitlement has changed from "a legitimate claim" to "an illegitimate claim", and wonders when and how and why this happened. As an example of currrent usage, he points to Philip Rucker, "Romney sees choice between 'entitlement society' and 'opportunity society'", Washington Post 12/20/2011:
Mitt Romney framed the 2012 presidential election in a speech here Tuesday night as a choice between an "entitlement society" dependent on government welfare and an "opportunity society" that enables businesses to flourish.
The relevant sense of entitle is fairly old, according to the OED:
II. From title n. = 'right to possession'. a. To furnish (a person) with a 'title' to an estate. Hence gen. to give (a person or thing) a rightful claim to a possession, privilege, designation, mode of treatment, etc. Const. to with n. or inf.; also simply. Now said almost exclusively of circumstances, qualities, or actions; formerly often of personal agents.
1530 J. Palsgrave Lesclarcissement 538/1 By what meanes is he entyteled unto these landes.
But the nominalization entitlement was rare until recently:

Entitlement doesn't even have an independent OED entry, and the sub-entry (under entitle v.) references a different meaning, glossed "a means of entitling; a designation, name", as in this passage from an 1890 novel:
The Emperor, in his light boat, remained standing during the passage to the shore that he might be seen by the people; and as he then appeared, helmed and in close-fitting cuirass, his arms in puffed sleeves of red silk, his legs, below a heavily embroidered narrow skirt, clothed in pliant chain mail intricately linked, his feet steel-shod, a purple cloak hanging lightly at the back from neck to heel, and spurred and magnificently sworded, and all agleam with jewels and gold, it must be conceded he justified his entitlement.
The earliest cluster of uses of entitlement meaning "(rightful) claim" that I've found is associated with post-WWII veterans' benefits, as in this 1947 Popular Mechanics ad: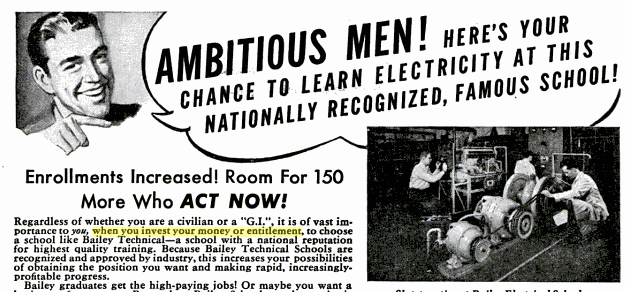 Or this one from 1950: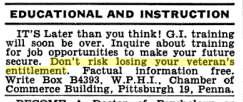 But this seems to be the last as well as the first context where entitlement is commonly used in a positive or even neutral way. By the early 1960s, some business publications are using entitlement, referring to workers' benefits, in contexts where those benefits are viewed as anything but legitimate. Thus "THE LOOPHOLES: claims like these cost railroads $55 million a year", Railway Age 1/23/1961: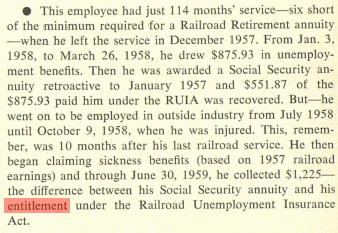 In the 1960s, psychoanalysts also start using entitled and entitlement with strongly negative connotations, resulting in the emergent term of art "narcissistic entitlement". Thus John Murray, "Narcissism and the Ego Ideal", Journal of the American Psychoanalytic Association, 1964:
The fabric of the system is woven out of the warp of the regressive libidinal fantasy elements and the woof of the entitlement to the regressive world which the narcissistic attitudes provide.
John Blitzer and John Murray, "On the Transformation of Early Narcissism During Pregnancy", The International Journal of Psychoanalysis, 1964:
The case under discussion clearly illustrates how fantasies of narcissistic entitlement to primitive wish fulfilment may activate post-partum depression.
S. Levin, "A common type of marital incompatibility", Journal of the American Psychoanalytic Association 1969:
A husband's depression often arises in response to his wife's ego-syntonic patterns of rejecting his masculine position. It is proposed that these patterns of response in the wife, which are often denied by her, usually reflect her unconscious resistance to the mastery of shame affect. This resistance is typically supported by a pathological attitude of narcissistic entitlement which has been camouflaged through a variety of defenses, including the use of denial.
Gerald Adler & Dan Buie, "The misuses of confrontation with borderline patients", International Journal of Psychoanalytic Psychotherapy, Aug 1972:
Rules for the therapist to follow in treating his patient include: (a) Assess reality stress in the patient's current life; (b) Avoid breaking down needed defenses; (c) Avoid overstimulating the patient's wish for closeness; (d) Avoid overstimulating the patient's rage; (e) Avoid confrontation of narcissistic entitlement. It is suggested that various countertransference issues may lead to the misuse of confrontation.
Meanwhile, by the 1970s, the phrase entitlement programs is being used in its modern sense (defined benefits paid by the federal government) in discussions of the federal budget — and the connotations are by no means positive. These entitlements may or may not be legitimate (in the view of those using the term), but they are certainly a Big Problem. Thus Soma Golden, "Ash Hints at Need to Cut Social-Program Benefits", NYT 8/24/1974:
One of President Ford's economic advisors hinted broadly yesterday that the Government would not be able to balance the budget in the next fiscal year without reducing future benefits in some social programs legislated long ago.
"We must turn the uncontrollables into controllables," Roy L. Ash, director of the Ofice of Management and Budget,, told a luncheon audience at the Bankers Club here.
In a telephone interview after the speech, Mr. Ash stressed that it would be "very, very difficult" to balance the budget in the 1976 fiscal year without cutting into some social programs.
He ruled out Social Security as a possible target. "We have no desire or intention" of cutting that one, he said. But, he added, "if we are going to do a thorough job of reviewing the budget, we have to take a look at the entitlement programs."
Until now, the Government's so-called "entitlement" programs — which include Social Security, Medicare and Medicaid, veterans' benefits, welfare and retirement — have been considered virtually untouchable by Federal budget-cutters. Benefit levels and eligibility requirements are specified in legislation and few politicians have wanted to risk disappointing voters who feel "entitled" to their share.
And the psychoanalysts' sense of entitlement is also getting into the newspapers. Thus Dee Wedemeyer, "Poor Little Rich Children? Study Shows They Often Are", NYT 8/3/1978:
Robert Coles, the child psychiatrist who has written extensively about the children of the poor and working class, has completed a study on the children of the rich and upper middle class in which he records their developing a class and money consciousness, a sense of entitlement he calls "mind-boggling" and their struggles with the moral ambiguities of their wealth.
It's quickly adopted by public intellectuals, as in Anatole Broyard, "On Authority", 1/2/1983:
Authority is a subject on which most Americans consider themselves philosophers. No other people talk so insistently about the nature and the limits of authority as it applies to various social groups. The word "right," in the sense of entitlement by authority, is constantly being expanded so that we even talk now of the right to sexual pleasure.
And the ends of the circle were hammered together in a 1992 Harper's Magazine essay by Shelby Steele, "The New Sovereignty". Steele uses the word entitlement 43 times in a 5344-word essay whose thesis is this:
[I]n the late 1960s, without much public debate but with many good intentions, America […] embarked upon one of the most dramatic social experiments in its history. The federal government, radically and officially, began to alter and expand the concept of entitlement in America. Rights to justice and to government benefits were henceforth to be extended not simply to individuals but to racial, ethnic, and other groups. […]
By the late Sixties, among a new set of black leaders, there had developed a presumption of collective entitlement (based on the redress of past grievances) that made blacks eligible for rights beyond those provided for in the Constitution, and thus beyond those afforded the nation's non-black citizens.
The basis of Gov. Romney's division between the "entitlement society" and the "opportunity society" is presumably the same as the one implied by his widely-cited remarks about the "47 percent":
There are 47 percent of the people who will vote for the president no matter what. All right, there are 47 percent who are with him, who are dependent upon government, who believe that they are victims, who believe that government has a responsibility to care for them, who believe that they are entitled to health care, to food, to housing, to you name it. That that's an entitlement. And the government should give it to them. And they will vote for this president no matter what. And I mean, the president starts off with 48, 49, 48—he starts off with a huge number. These are people who pay no income tax. Forty-seven percent of Americans pay no income tax. So our message of low taxes doesn't connect. And he'll be out there talking about tax cuts for the rich. I mean that's what they sell every four years. And so my job is not to worry about those people—I'll never convince them that they should take personal responsibility and care for their lives.
But Gov. Romney's negatively-evaluated use of entitlement is nothing new — the word was used in essentially the same way in that 1961 Railway Age article, and in the psychoanalytic jargon of the 1960s and 1970s, and in Steele's 1992 essay.
[For additional discussion of the pop-psychology "Age of Entitlement" meme, see "Textual Narcissism", 7/13/2012. And for more on the politico-linguistic issues, take a look at Geoff Nunberg's 8/14/2012 Fresh Air piece — which I didn't see until after I'd written this post…]
---