« previous post | next post »
When I went to the Einstein Bros Bagels shop in Houston Hall at 7:39 a.m. this morning to get my usual sausage, egg, and cheese on a ciabatta loaf, I noticed this sign taped to the cash register: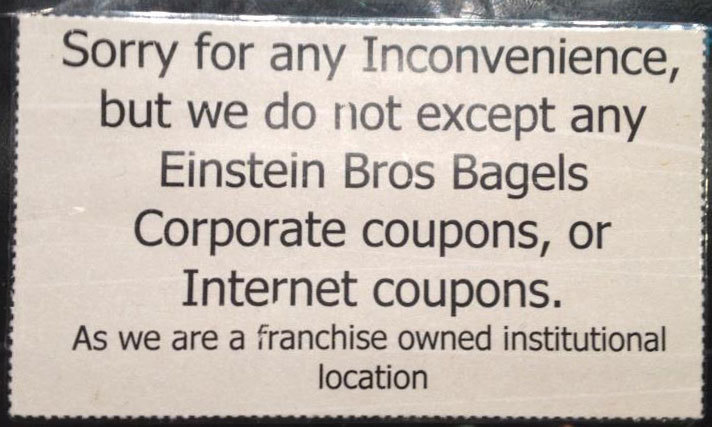 Seriously, how long did it take you to catch that?
But what this post is really about is how to pronounce "ciabatta". The first time I went to the shop and ordered what has become my breakfast on Tuesdays and Thursdays this semester, I said something like "May I have a chee-ah-but-tah with sausage, egg, and cheese?", to which the person behind the counter replied, "We don't have none of 'em."
I repeated myself, pronouncing the name 4 or 5 different ways, but each time the reply was, "Sorry, we don't have that." Yet I was certain that they had ciabatta sandwiches because a friend of mine had told me that he often buys them from that shop.
Because I kept persisting earnestly, several other workers gathered around, and they all said that they didn't have any "chee-ah-but-tah" sandwiches. Finally, I got the bright idea to spell out the name, and I did so very slowly and carefully, whereupon all the assembled staff said, "Oh! You mean chabutteh." Gratefully, I exclaimed, "Yes! Yes!! That's what I want."
But, really, how are you supposed to say the name of this delicious Italian bread in English?
In Italian, it's supposed to be [tʃaˈbatta]. I think that it means "slipper", presumably from the shape of the loaf.
For American pronunciation, online I've seen the following: [tʃəˈbætə] \chə-ˈbä-tə\ [chuh-bah-tuh] British: /tʃəˈbɑːtə/ tʃəˈbætə
When the folks at Einstein Bros see me coming, they start to giggle. Before I can mispronounce "ciabatta", they all shout out gleefully, "We know what *you* want!"
[Thanks to Chia-hui Lu for taking the photograph for me]
---