« previous post | next post »
Jared Dubin, "The NBA's Other Offensive Revolution: Never Turning The Ball Over", FiveThirtyEight 3/14/2018 [emphasis added]:
We're in a golden age for NBA offense. Teams are scoring 110.1 points per 100 possessions during the 2018-19 season, according to Basketball-Reference.com — a full 1.3 points per 100 possessions more than the previous high of 108.8, which was set two years ago.
This is largely — and rightly — credited to the boom in 3-point attempts. […]
But while the genesis of the other offensive changes can be neatly traced, the decline in turnovers is a bit more puzzling. […]
Regardless of why, the impact of turnovers cannot be undersold. […] You can't score if you don't have the ball.
Our interminable catalog of misnegations has many entries dealing with analogous cases, e.g. "We cannot/must not understate/overstate", "Overstating understatement", "'Cannot underestimate' = 'must not underestimate'", "…not understating the threat", "(Not) Underestimating the Irish Famine", "Overestimating, underestimating, whatever", "'Impossible to understate' again", "'Hard to understate'", etc. etc.
For a simple explanation from first principles, see "The Estimation Game", 4/3/2014.
I think this is the first example we've catalogued that involves over-/under-selling rather than stating, estimating, emphasizing, and so on. However, it's far from the only example Out There.  Here are the other five top examples of "cannot be undersold" from the current Google New index — and note that every one of them is upside-down:
[link] After the Flowers news was revealed, Renners called the deal a home run in a piece, and said the impact that it makes for the defense cannot be undersold.
[link] Solange's ability to elevate southern black aesthetics as high art, illuminate the oft-forgotten work of DJ Screw, and build space that allows for black femininity to become an entryway to spirituality cannot be undersold.
[link] And while that's certainly a worthwhile debate to have, the importance of that moment, a kiss shared between two proud warriors in love with each other, cannot be undersold.
[link] He knows this offense inside-out and that cannot be undersold.
[link] It cannot be undersold just how good the Pittsburgh Steelers offensive line has been this season.
So we need to repeat a question asked many times before: if (almost) everyone (almost) always uses a turn of phrase "wrong", doesn't that make their usage actually right? After all, we linguists believe with Horace that language changes "si volet usus / quem penes arbitrium est et ius et norma loquendi" ("if it be the will of custom, in the power of whose judgment is the law and the standard of language"), right?
I don't think so. Norma loquendi certainly governs word meaning and morphosyntax, which are basically matters of cultural convention. Things are arguably different in compositional semantics, which is the logical combination of simpler meanings to form more complex ones.
Of course, I've argued elsewhere that "could care less" is an idiom, and therefore OK.  So why not treat "cannot be under(estimated/stated/sold/etc.)" the same way? For me, it just doesn't feel right to do that — but maybe I'm being a hypocrite.
The obligatory screenshot: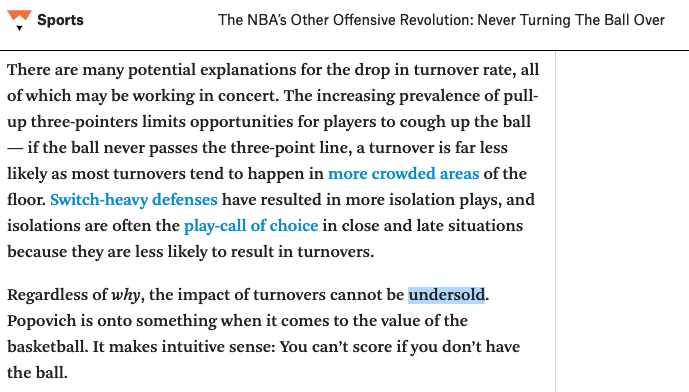 [h/t Rick Rubenstein]
---