« previous post | next post »
Rachel Frazin, "Trump: I told Republicans to vote for 'transparency' in releasing Mueller report", The Hill 3/16/2019   [warning — annoying autoplay video clip]:
President Trump said Saturday that he told Republican leadership to vote in favor of releasing special counsel Robert Mueller's highly anticipated report, saying that transparency "makes us all look good." […]
Sen. Lindsey Graham (R-S.C.), a Trump ally, blocked the resolution in the Senate later Thursday, after it passed the House.
Graham, who chairs the Senate Judiciary Committee, objected to the resolution after Senate Minority Leader Charles Schumer (D-N.Y.) refused to add a provision to the measure asking the Department of Justice to appoint a special counsel to investigate DOJ misconduct in the probe of 2016 Democratic presidential nominee Hillary Clinton's email use and the Carter Page Foreign Intelligence Surveillance Act applications.
Schumer accused Graham of using a "pre-text" to block the resolution.
When I read this, I wondered whether a "pre-text" was a term for some obscure senatorial maneuver, like the "layover rule" or a "recess appointment". But no, it was just a mistake, as indicated by the fact that the hyphen is now gone from the story. Here's a screenshot to support the idea that it was once there: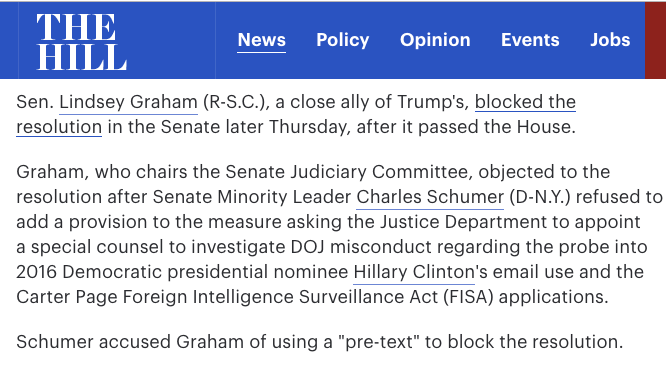 Actually I had never consciously registered the fact that pretext is pre+text, and so I'll share with you the historical metaphors thus revealed, via the online etymology dictionary's entry for text:
… from Medieval Latin textus "the Scriptures, text, treatise," in Late Latin "written account, content, characters used in a document," from Latin textus "style or texture of a work," literally "thing woven," from past participle stem of texere "to weave, to join, fit together, braid, interweave, construct, fabricate, build," from PIE root *teks- "to weave, to fabricate, to make; make wicker or wattle framework."
And for pretext:
… from French prétexte, from Latin praetextum "a pretext, outward display," noun use of neuter past participle of praetexere "to disguise, cover," literally "weave in front" (for sense, compare pull the wool over (someone's) eyes); from prae- "in front" (see pre-) + texere "to weave," from PIE root *teks- "to weave," also "to fabricate."
In even deader metaphors, the same IE root apparently underlies
architect; context; dachshund; polytechnic; pretext; subtle; technical; techno-; technology; tectonic; tete; text; textile; tiller; tissue; toil
In the case of pretext, I just never thought about its history, which is pretty clear once the issue comes to mind. But I wouldn't have guessed subtle and dachshund — another piece of evidence that etymology is not always destiny.
---