« previous post | next post »
Zeyao Wu found this picture on Weibo: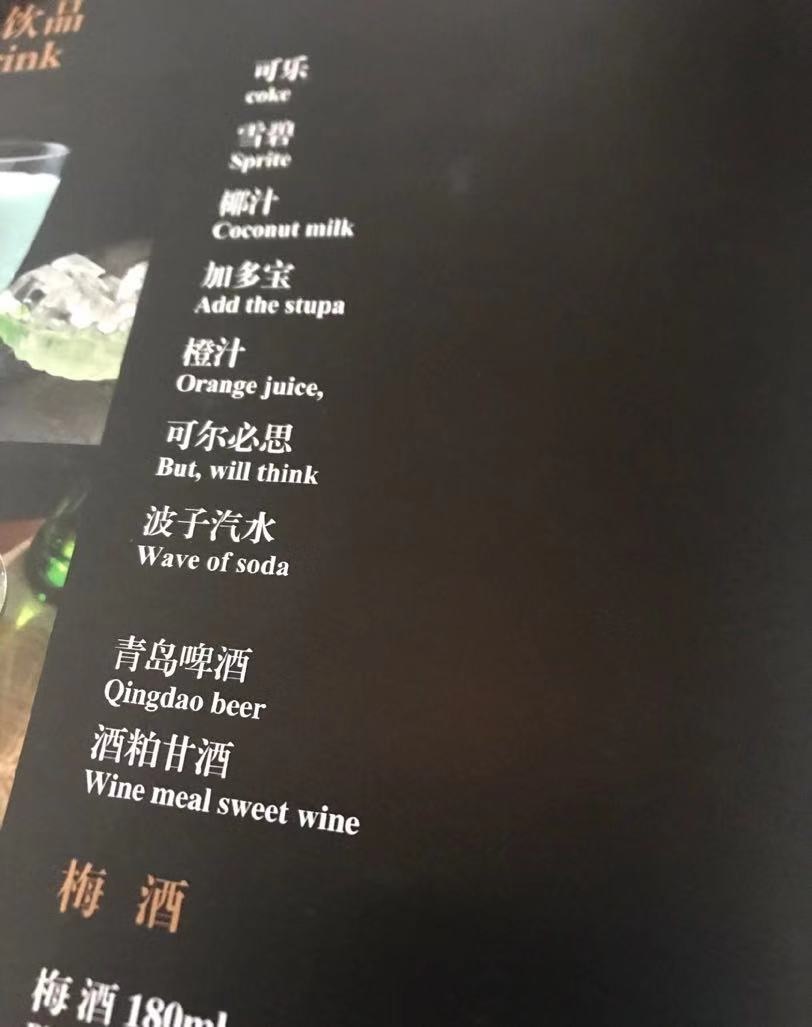 There are several entertaining specimens of Chinglish translations on this list of drinks.  My favorite is this one:
Kěěrbìsī 可尔必思 ("But, will think")
I recognized this immediately as Calpis, a watery yoghurt drink that I used to enjoy from time to time when I was living in Taiwan during 1970-72.
The name Calpis was constructed as a portmanteau, by combining cal from calcium and pis from Sanskrit सर पिस sarpis (butter flavor). Primarily in North America, the name Calpis is changed to Calpico with カルピス in katakana either below or on the reverse side of the packaging.
(Source)
Kěěrbìsī 可尔必思 is the Sinographic Mandarin transcription of "Calpis" intended to represent the sounds of that name, but the translator lamely tried to convey the meanings of the individual characters, and did a pretty poor job of it.
After "But, will think", my favorite Chinglish translation on this list is "Add the stupa".
Jiāduōbǎo 加多宝 ("JDB" — the name of a large nonalcoholic beverage manufacturer, as well as their main drink; it's actually a rather clever choice of characters for the transcription, since they literally mean "add many treasures")
Here again, the translator feebly attempted to translate the meaning of the first character and assumed that the last two characters were some sort of nonce transcription for "stupa".  There are many established Sinitic transcriptions of the Sanskrit term stūpa स्तूप, Pali thūpa (see the beginning of this article), but none of them include the characters duōbǎo 多宝, though they do sound vaguely like the Pali form of the word.
---