« previous post | next post »
Two days ago, in "'All Japanese must be killed'", I wrote about violently anti-Japanese sloganeering over the Senkakus that has been going on in China. But now, inspired by the government-sponsored "kill all the Japanese" slogans, the same types of slogans are being directed against the government. This is a development that many China-watchers have predicted, since the government has been engaging in various types of agitation to cover up for its own weaknesses, including a sharply factionalized Chinese Communist Party on the eve of its 18th Congress and rising public discontent.

Here are some examples of the types of non-government and anti-government slogans that have been appearing.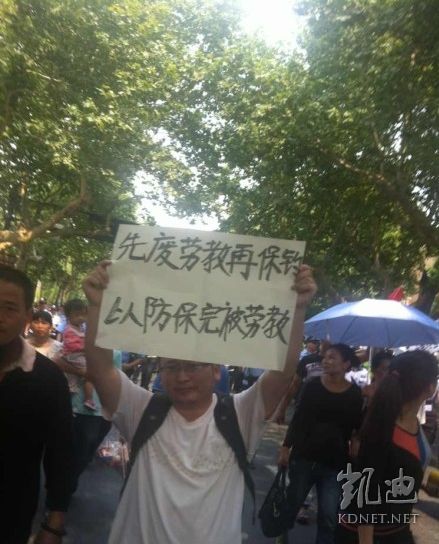 Xiān fèi láojiào zài bǎo Diào, yǐ fáng bǎo wán bèi láojiào
先废劳教再保钓,以防保完被劳教
[The government should] first abolish its labor reeducation [policy] (i.e., reeducation through labor [often in camps and gulags]) and then defend the Diaoyu Islands, in order to avoid having people be "reeducated" after defending [Diaoyu Island].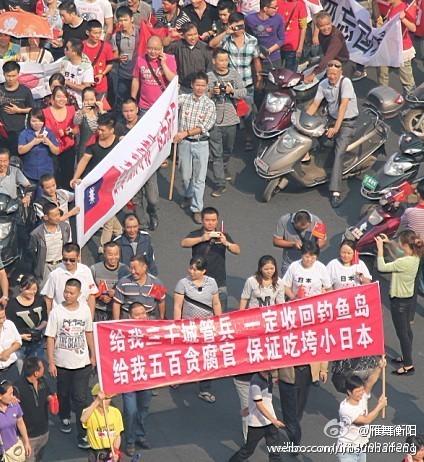 Gěi wǒ sānqiān chéngguǎn bīng, yīdìng shōufù Diàoyúdǎo.
Gěi wǒ wǔbǎi tānfǔ guān, bǎozhèng chī kuǎ xiǎo Rìběn
给我三千城管兵,一定收复钓鱼岛
给我五百贪腐官,保证吃垮小日本
Give us three thousand urban management soldiers, and the Diaoyu Islands will certainly be recovered;
Give us five hundred corrupt officials, we guarantee that their gluttony will cause the collapse of "Little Japan".
Notes:
The chéngguǎn (Urban Management officers) are the dreaded parapolice who are the cause of so much violent conflict with ordinary citizens (peddlers, people whose houses are being demolished [see below], etc.) in Chinese cities.
The difficult-to-translate expression, chī kuǎ 吃垮 (lit., "eat till collapse") refers to the insatiable appetite of all officials, whether corrupt or not (though people also say that wú guān bù tān 无官不贪 ["there are no officials who are not corrupt", i.e., "all officials are corrupt"). Official and unofficial statistics all indicate that CCP officialdom yearly spends billions of taxpayers' RMB on banquets and in restaurants. Consequently there are many trenchant sayings about officials who chī kuǎ 吃垮 cities, companies, countries, and so forth. In other words, send 500 corrupt Chinese officials to Japan for negotiations, and their hoggish appetites will "eat Little Japan into collapse".
Note that one of the banners in this photograph prominently displays the flag of the Republic of China (on Taiwan).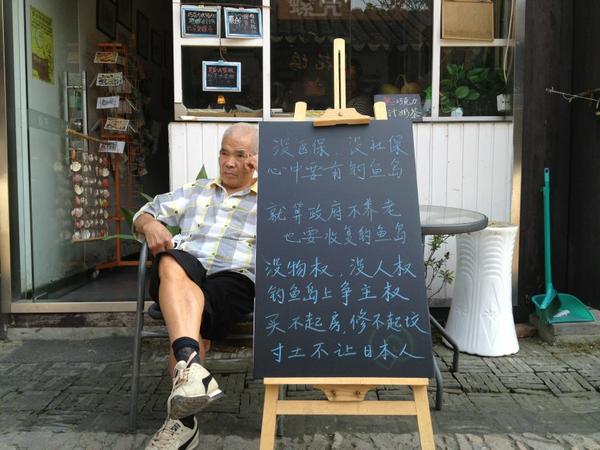 This is the saddest of all photographs coming from China that I have seen in recent days.
Méi yībǎo, méi shèbǎo; xīn zhòng yào yǒu Diàoyúdǎo.
Jiùsuàn zhèngfǔ bù yǎnglǎo; yě yào shōufù Diàoyúdǎo.
Méi wùquán, méi rénquán; Diàoyúdǎo shàng zhēng zhǔquán.
Mǎibùqǐ fáng, xiūbùqǐ fén; cùntǔ bù ràng Rìběn rén
没医保,没社保,心中要有钓鱼岛
就算政府不养老,也要收复钓鱼岛
没物权,没人权,钓鱼岛上争主权
买不起房,修不起坟,寸土不让日本人
No medical insurance, no social security, yet the Diaoyu Islands must be in your heart.
Even if the government does not take care of the elderly, we should recover the Diaoyu Islands.
No property rights, no human rights, but [our nation] contends for the sovereign rights of the Diaoyu Islands.
[We] can't buy a home, can't build a tomb, but we contest every inch of ground with the Japanese.
Here are some more specimens that I've come across:
Traditional, approved slogan
Shíyì qīngnián shíyì bīng, guóchǐ qǐ dài érsūn píng
十亿青年十亿兵,国耻岂待儿孙平
With a billion youth, a billion soldiers, why should we wait for sons and grandsons to wipe clean this national humiliation?
Sarcastic slogans
Nǎpà chī jǐn dú nǎifěn, yěyào shā guāng Rìběnrén.
Nǎpà hē biàndì gōuyóu, yěyào huī dāo zhǎn Wōkòu.
Nǎpà dùndùn shòu ròu jīng, yěyào chūbīng miè Dōngyíng.
Nǎpà tiāntiān bèi dàibiǎo, yěyào shōufù Diàoyúdǎo.
Nǎpà yǎnglǎo méi rén guǎn, yěyào zhànlǐng Fùshìshān.
Nǎpà lǎojiā bèi qiángchāi, yěyào huózhuō Fúyuán Ài.
哪怕吃尽毒奶粉,也要杀光日本人.
哪怕喝遍地沟油,也要挥刀斩倭寇.
哪怕顿顿瘦肉精,也要出兵灭东瀛.
哪怕天天被代表,也要收复钓鱼岛.
哪怕养老没人管,也要占领富士山.
哪怕老家被强拆,也要活捉福原爱.
Even though we drink nothing but tainted milk powder, we still must kill all the Japanese.
Even though we consume gutter oil everywhere, we still must brandish our knives and slay the dwarf pirates.
Even though all we eat is meat laced with clenbuterol, we still must send troops to destroy [those who inhabit] the Eastern Sea.
Even though every day we are "represented", but we still must regain the Diaoyu Islands.
Even though in our old age there's no one to take care of us, we still must occupy Mt. Fuji.
Even though are old homes are forcibly demolished, we still must capture Ai Fukuhara alive.
Notes:
dwarf pirates = Wōkòu 倭寇 (a derogatory Chinese name for the Japanese)
represented instead of having real democracy
Ai Fukuhara 23, who helped Japan win their first ever Olympic table tennis medal in London 2012 is seen here in an interview. Surprisingly she speaks excellent Chinese. In the semi-finals she beat Feng Tianwei 9-11, 6-11, 11-5, 9-11. Japan lost to China in the final.

London 2012 was her third Olympics. In Athens 2004, she was the youngest-ever female table tennis player in the Olympic Games history. She was 15 then. Fukuhara started playing table tennis at 3 and turned professional when she was 10. She was born in Sendai, Miyaki.
(From the Sina website, with embedded video showing her speaking excellent Mandarin)
demolished this is the infamous chāi 拆 that is the source of so much social unrest and protest in China
养贪官,做房奴,决不放弃钓鱼岛.
Though we nourish corrupt officials and are mortgage slaves, we will definitely never give up the Diaoyu Islands.
Judging from the proliferation of so many sarcastic slogans and the repetitiousness of the government sponsored patriotic rallying cries, at least a considerable portion of the citizenry is not being hoodwinked by the CCP campaigns to shift the attention from their internal crises to other targets, such as Japan, America, the Philippines, Vietnam, and so forth.
By now China is flooded with a backlash of cynical imitations of the regime's invective against Japan. Here are some more.
Perhaps Language Log readers who are able to read the sardonic rebukes in these photographs can help out by translating one or two and posting them in the comments.
[Many thanks to Sanping Chen, Gianni Wan, Maiheng Dietrich, and a graduate student who, for his own safety, must remain anonymous]
---