« previous post | next post »
From the After Deadline blog of Phil Corbett, style guru at the New York Times, comes this 1924 letter to the editor calling for a Congressional investigation into the imperiled state of the English subjunctive: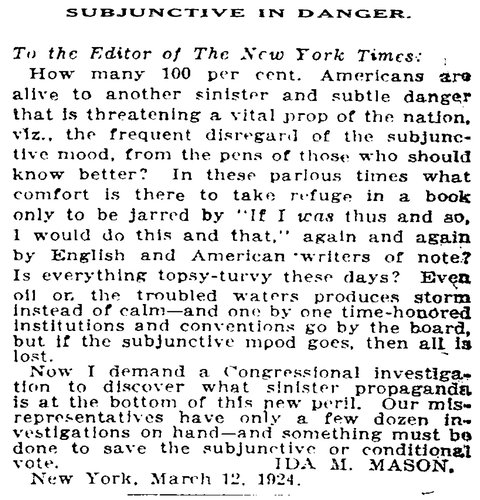 I suspect that Ida M. Mason's tongue was at least partially in cheek, but her alarmism should be familiar to peevologists. Corbett, in his column, continues to the sound the alarm, saying that "the crisis has only grown," as illustrated by numerous offending examples from the Times itself. If Corbett, who is in charge of the Times style manual, is unable to get the newspaper's writers and editors on board after repeated attempts, then it's clear that efforts to save the subjunctive are even more quixotic than they were in Ms. Mason's day.
(For why "subjunctive" isn't even a good grammatical descriptor for the if I were you construction, see Geoff Pullum's post here and Arnold Zwicky's here, plus more from Mark Liberman here. In The Cambridge Grammar of the English Language, Huddleston and Pullum refer to such 1st-singular or 3rd-singular use of were in counterfactual conditionals as "the irrealis form of the copula.")
---