« previous post | next post »
Sign in Beihai Municipality, Guangxi Province that is circulating on WeChat: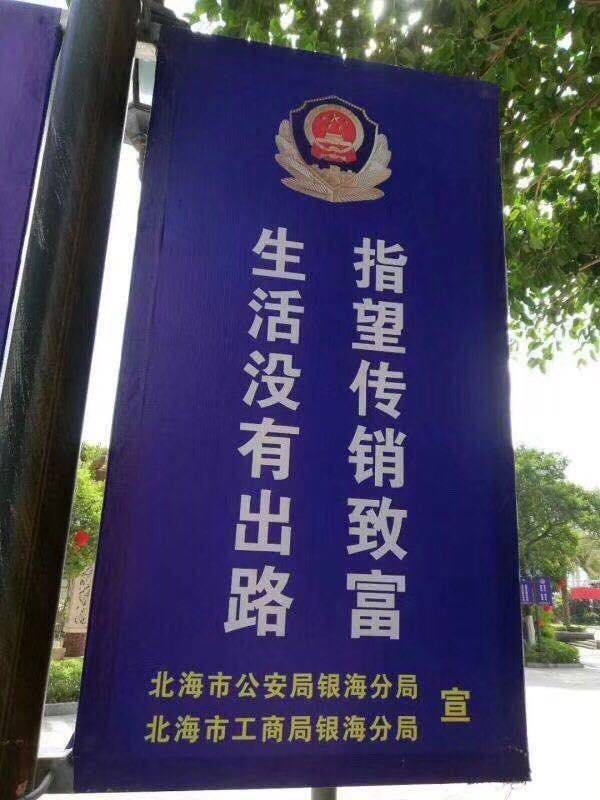 From top to bottom, right to left, it reads:
zhǐwàng chuánxiāo zhìfù
shēnghuó méiyǒu chūlù
指望传销致富
生活没有出路
"If you hope to get rich through MLM*,
your life will have no way out."
—–
*MLM
Multi-level marketing (MLM), also called pyramid selling, network marketing, and referral marketing, is a marketing strategy for the sale of products or services where the revenue of the MLM company is derived from a non-salaried workforce selling the company's products/services, while the earnings of the participants are derived from a pyramid-shaped or binary compensation commission system.
(Source)
In posting these signs, the government wanted to announce their firm opposition to MLM schemes.  However, unlike in premodern times, most contemporary Chinese, who are used to reading horizontally from left to right, after a moment of adjustment for the vertical orientation, would read these lines vertically from left to right:
shēnghuó méiyǒu chūlù
zhǐwàng chuánxiāo zhìfù
生活没有出路
指望传销致富
"If your life has no way out,
you can hope to get rich through MLM."
This is exactly the opposite message that the authorities wanted to convey.
In this WeChat shot, the first comment is made by a Cameroonian, and the response is from a Chinese: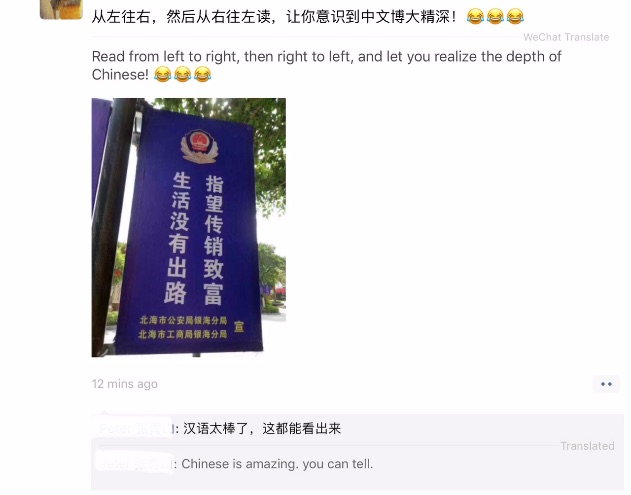 Philip Bowler, who called this sign to my attention, remarks:
I'm intrigued by the way it's being applauded as an example of the exceptional nature of Chinese. My wife (a Chinese) couldn't explain whether the reversible layout of the text was likely to have been deliberate or not. I would assume that the designers knew what they were doing and wanted to make the  message eye-catching. What do you think?
I, and most Chinese I know, think that the municipal authorities made a stupid mistake.
Two days ago, after news of this blunder went viral on social media in China, the Beihai authorities removed the offending signs and issued an apology, averring that that they were at war against MLM  and were determined to eradicate it from society.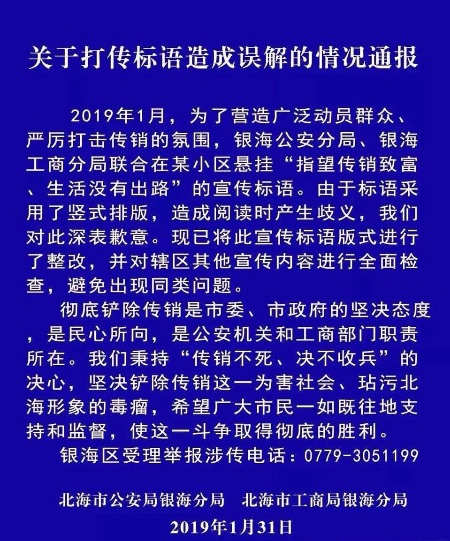 So, is the ambiguous nature of the orientation of the Chinese script great or not?
---