« previous post | next post »
From a post entitled "Paging Victor Mair" on his blog, Karl Smith sent me the following photograph: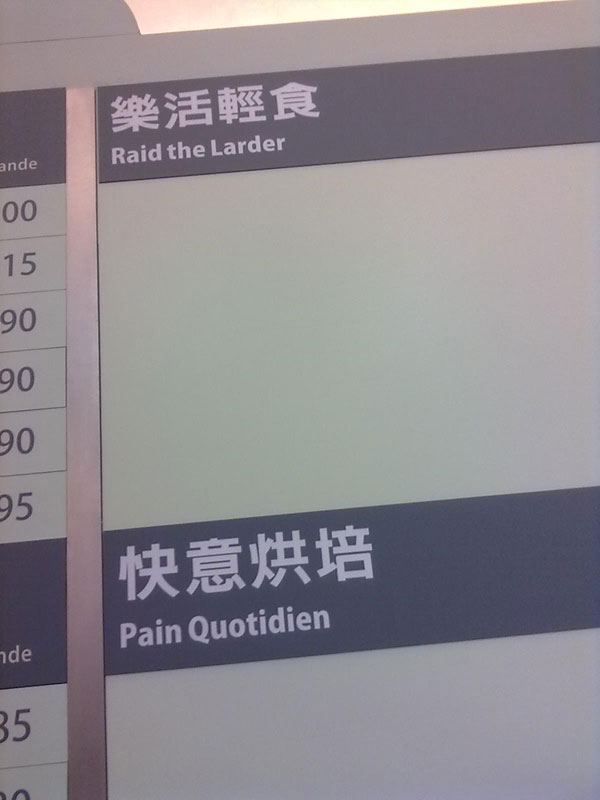 At first I was suspicious of the photograph for the following reasons:
a. the spaces below the items on the board — judging by analogy from the material to their left — would originally probably have had numbers on them
b. "Pain Quotidien" seems to be printed slightly larger than "Raid the Larder"
c. there is a black line at the left side of the panel containing these two expressions which is not matched by a comparable black line on the ride side of the panel to their left
So I asked Karl whether the photograph had been doctored somehow. His reply:
Absolutely not Photoshopped — just my lousy cellphone and poor photography. I took that picture this afternoon at the cafe on the first floor of the Taipei Maritime Museum. (Speaking of which, that museum is a lot more interesting than the name would lead you to believe. They have a full sized dhow in the lobby)
Granting that the wording on the photograph was genuine, I set about analyzing it.
The Chinese reads:
lèhuó qīngshí 乐活轻食 ("happy snacking")
kuàiyì hōngpéi 快意烘培 ("joyful baking")
N.B.:  lèhuó 乐活 is a topolectal expression meaning the same thing as kuàilè 快乐 ("happy") in Modern Standard Mandarin.  See Hanyu da cidian, 4.1290b.  The folks at Lifestyles of Health and Sustainability felicitously chose lèhuó 乐活 as the Chinese transcription of their acronym LOHAS.
So how do we get from "happy snacking" to "Raid the Larder" and from "joyful baking" to "Pain Quotidien"?
The first one is really not too hard to figure out, since "raid the larder" means to go into the pantry and take whatever one wishes, i.e., to snack merrily.
When I initially glanced at "Pain Quotidien", I thought that it referred to a daily dose of suffering, but then I noticed that "Quotidien" was spelled with an "e" as in French rather than with an "a" as in English, so I immediately shifted my interpretation of "Pain" from "suffering" to "bread". Hence, "Pain Quotidien" means "daily bread", not "daily suffering". How does that match up with the Chinese? Not bad, inasmuch as kuàiyì signifies "pleased; satisfied; delighted; elated" — hence the baker would bake whatever he pleases on a given day.
As to where in the world the cafe of the Taipei Maritime Museum picked up "Pain Quotidien", it most likely comes from the Belgian firm Le Pain Quotidien. Le Pain Quotidien explains the meaning of their name and how to pronounce it here. This Belgian bakery has shops in a dozen different countries (including two within 8 blocks of each other in Center City Philadelphia), but none that are in Chinese speaking countries, so the folks at the Taipei Maritime Museum cafe probably picked up the name while traveling abroad.
Writing about "Pain Quotidien" in this post brings back pleasant memories of "les baguettes" in this earlier post. It also reminds me of Mark Liberman's recent ruminations on "Believed ham". In all three of these cases we see interference between English and French, but in today's case we have in addition Chinese thrown into the mix.
---